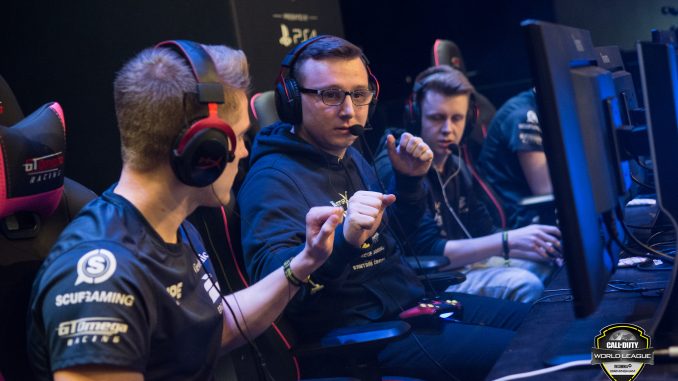 Unpredictable Epsilon must bring their CWL Birmingham dominance to Ohio.
by Kim Newsome, EIC
The third week of the first stage of Call of Duty: Infinite Warfare's Global Pro LAN league begins on Friday at MLG Arena in Columbus, Ohio.  The 16 team Global Pro League (GPL) run by Activision, MLG, and developer Infinity Ward features weekly matches culminating in a post-stage Playoffs period.  The Group Stage will end on May 14th.
More CWL Global Pro League Information
This week, Group Yellow starts their bid for the Playoffs, as eUnited, Luminosity, Millenium, and Epsilon go to battle in a double round robin of best of five matches mini-tournament.
Team Previews
Group Yellow
1
 

eUnited

2
 

Luminosity

3
 Millenium
4
 

Epsilon
eUnited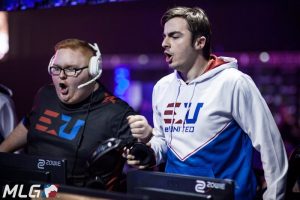 The wunderkind team of relatively unknown players stormed onto into the public eye at CWL Atlanta where they beat OpTic Gaming in two consecutive best of 5 matches to win the title.  They then went to their first ESWC for the CWL Paris Open and placed a disappointing 13th through 16th, but bounced back for a rematch against OpTic in the final at CWL Dallas.  The team came up just short there, forcing OpTic into a second match again, but this time OpTic prevailed and eUnited settled for second.
The four players (Justin "SiLLY" Fargo-Palmer, Preston "Prestinni" Sanderson, Alec "Arcitys" Sanderson, Pierce "Gunless" Hillman) have shown they have remarkable chemistry and talent to spare, with Gunless' skill belying his tag.  As long as the team continues to work well together, it's hard to imagine them struggling much in this group.
Luminosity
The sleeping giants of the Global Pro League, Luminosity are a team of incredibly talented veteran players who have unwittingly played the kingmaker role in recent tournaments, knocking out tough teams and inadvertently paving the road to the finals for others.  Renato "Saints" Forza, Nicholas "Classic" DiCostanzo, Josiah "Slacked" Berry, and Sam "Octane" Larew are 3/4ths of the Black Ops III Rise Nation squad that quietly put together a string of championships in 2016.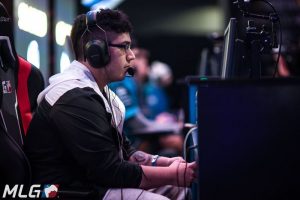 Since coming together in December, the team has struggled to stay within the top eight at tournaments, with their highest placings being 3-4th at Playstation Experience Invitational in December and 4th place at CWL Atlanta in February.  Consistency is not this team's strong suit, and they play hot and cold from game to game, typically losing very close matches.  Luminosity could win every match on Friday only to find themselves relegated by Sunday.  The team will have to find a rhythm and play style that suits them soon, or they could be in real danger of missing the Stage One Playoffs.
Millenium
A team of strong EU players, Millenium could do well in this group if they force the teams to play around their Search and Destroy strategies.  Mark "MarkyB" Bryceland, Adam "Peatie" Peate, Tom "Moose" Handley, and Nick Nolson have not been under the Millenium banner long; the team moved when Millenium released their French Call of Duty team (ZeeK, mAxxie, TonyJ's and Carbon) and picked up the UK players.
As Team Infused, the squad got two 4th place finishes in EU-based tournaments, and after a poor showing at CWL Dallas in March, the team took 4th again at CWL Birmingham.  Millenium has the teamwork to stay out of relegation, but pressure doesn't seem to suit this combination very well, so they could have a bit of a scare during Sunday's decisive matches.

Epsilon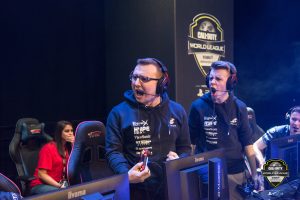 Lackluster finishes at the start of the Infinite Warfare season lead Epsilon to pick up Joshua-Lee "Joshh" Shephard, formerly Splyce back in March.  Since the switch the team has placed both 21-24th and 1st in their two LAN appearances, making them the wildcard of the bunch.
David "Dqvee" Davies, Stephen "Vortex" Allen, Billy "Hawqeh" Harris and Joshh could be world beaters. The team was a consistent middle-of-the-pack squad when Desiree was on the roster, but with Joshh's gunskill, the team should be able to beat anyone in their group with ease, barring a fired up eUnited.  At CWL Birmingham, the team tore through Pool Play and the Championship Bracket, finally losing to Splyce 2 -3 in the Winner's Final.  They met them again in the Grand Finals and delivered two swift 3 – 0's to take the tournament.  If the team still has the prowess they showed last month, they should have little trouble avoiding relegation.
ES Group Blue Predictions:
eUnited – 1st
Epsilon – 2nd
Luminosity – 3rd
Millenium – Relegated
Schedule (all times EST)
May 5th
| | |
| --- | --- |
| Time | Friday |
| 4:00 | eUnited v Millenium |
| 5:30 | Epsilon v Luminosity |
| 7:00 | Millenium v Epsilon |
| 8:30 | eUnited v Luminosity |
May 6th
| | |
| --- | --- |
| Time | Saturday |
| 2:00 | Millenium v Luminosity |
| 3:30 | Epsilon v eUnited |
| 5:00 | TBD |
| 6:30 | TBD |
May 7th
| | |
| --- | --- |
| Time | Sunday |
| 2:00 | TBD |
| 3:30 | TBD |
| 5:00 | TBD |
| 6:30 | TBD |
Map List and Full GPL Schedule
The Competition
Every match is a big one in Stage 1 of the GPL, as there's a lot of money and future tournaments at stake for the players.  The top two teams in the group will move on to the $500,000 Playoffs, plus they will automatically qualify for the CWL Anaheim Open Pool Bracket, Stage 2 of the Global LAN League, and the all-important 2017 Call of Duty World League Championship worth $1.5 million.
The third place team also qualifies for all of the above, but will not play in the playoffs.  The last place team is in the Relegation Zone and will have to play amateur teams in relegation matches to earn their spot in Stage 2.  Each team receives $12,500 for their participation in the GPL.
The matches will be broadcast on MLG.tv.
Photos courtesy of MLG and @sammylam_/iEventMedia.
Esports Source CWL Pro League Hub
Group Green Info | Scores | Group Green Recap
Group Yellow Info | Scores | Group Yellow Recap
Group Blue Info | Scores | Group Blue Recap