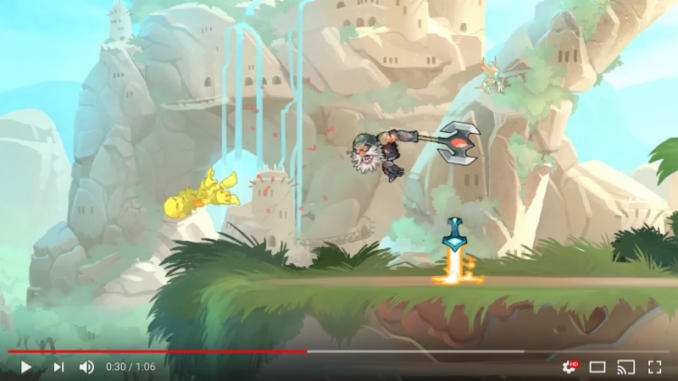 Hundreds of players are gearing up for the US Regional Qualifiers for the Brawlhalla World Championship Expo.  The West Qualifier will begin at 11:00am PT on Saturday, September 30, 2017. The East Regional Qualifier will begin at 2:00pm ET on Saturday, October 7, 2017.
More than 850 participants have already signed up to compete for the title of most dominant 1v1 warrior in North America and the honor of representing their corner of the world at the Brawlhalla World Championship Expo.  Enrollment for the Brawlhalla US Regional Qualifiers will close on Friday, September 29th, at 8:59pm PDT for the US-West Regional Qualifier and Friday, October 6, at 11:59pm EDT for the US-East Regional Qualifier. You can sign up for free on Smash.gg.
The first place winners of each tournament will qualify for one of the Top 32 spots in the second annual Brawlhalla World Championship Expo (BCX) and receive a flight to Atlanta and hotel accommodations to participate in the competition.
About BCX
The Brawlhalla World Championship Expo will take place in Atlanta, Georgia from Friday – Sunday, November 3-5. Six Regional Qualifier winners will fight among this year's top Brawlhalla Circuit point leaders at the Brawlhalla World Championship Expo for a share of the $100,000 USD prize pool.
Top 8 and other select matches will be broadcast live on the official Brawlhalla Twitch channel.
For more information about the Brawlhalla Circuit  visit the official website.
About the Game
Brawlhalla is a free-to-play platform fighter from Blue Mammoth Games. Players can choose from more than 30 Legends, each with their own distinct weapon combination and playstyle, then prove your might in Grand Tournament of Valhalla.
More than 6 million warriors have battled for supremacy, making Brawlhalla the most played fighting game on Steam in 2016 and 2017.  The game is available on PC and is in beta on console.
Giveaway
Get started in style with the Brawlhalla All Legends Pack ($19.99 on Steam), which unlocks all of the playable characters in the game as well as all future legends to be released.  The kind folks at Blue Mammoth Games have given us a code or two to give away, and we're doing it on our Twitter account!
Follow Esports Source on Twitter and retweet/like the tweet below to be entered to win the All Legends Pack!
We're giving away a @Brawlhalla All Legends Pack ahead of the US Regional Qualifiers!

Info: https://t.co/mIvJyLHQyZ

Like/RT to enter! pic.twitter.com/KOjXlsnkW4

— Esports Source (@EsportsSource) September 26, 2017