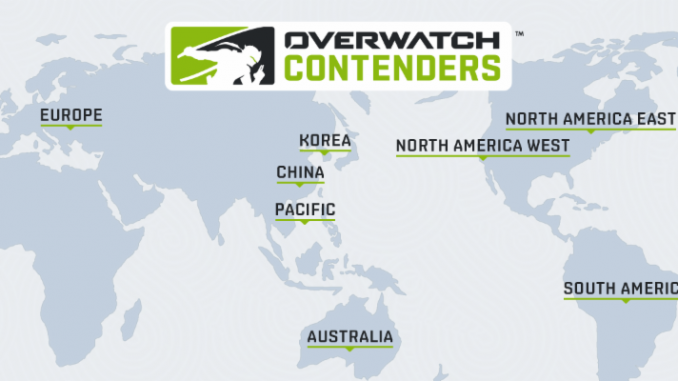 2019 Overwatch Contenders Info Revealed
Improvements are coming to the 2019 Overwatch Contenders. There will now be two seasons in Contenders 2019, and each will be longer. To maximize the level of play globally, each Contenders region will be moving from 12 competing teams to eight.* Additionally, North America Contenders will be split into two eight-team regions, bringing the total number of Overwatch Contenders regions to eight.
Depending on the amount of invitations accepted from Overwatch League Academy teams, many top-performing teams from 2018 Contenders Season 3 will be automatically qualified for 2019 Season 1. This will vary per region, but all existing teams will have the opportunity to re-qualify through Contenders Trials if not automatically invited back.
Soft region locking is also being introduced to Overwatch Contenders to help spur local talent development. Each team can have no more than three non-resident players on their roster.
Finally, the prizing structure will be revamped to more heavily reward each region's top teams. More information on the prize pool will be revealed before Season 1 in 2019 kicks off in late February.
*This change has yet to be confirmed for Contenders China. Details will be released at a later date.
DREAMHACK ATLANTA TO HOST COLLEGE AND HIGH SCHOOL  ESPORTS TOURNAMENTS
Southeastern Rivals to Take Center Stage for Fortnite, 
League of Legends, and Clash Royale Competitions
with Exclusive Livestream on Twitch
World's Largest Gaming Festival to Come to Atlanta
November 16-18, 2018
STOCKHOLM  — DreamHack is partnering with The American Video Game League(AVGL), High School Esports League (HSEL) and Twitch's Twitch Student program to launch high school and college esports matches at DreamHack Atlanta. The series will include a League of Legends tournament, based on a nationwide, online qualifier. In addition will be grudge matches for Fortnite, League of Legends, and Clash Royale mobile, all featuring regional school rivalries. The events will all be livestreamed exclusively on Twitch (twitch.tv/dreamhack).
DreamHack, the world's largest video game festival, will host an event Friday, November 16 through Sunday, November 18 at the Georgia World Congress Center. During the three-day, non-stop festival, DreamHack Atlanta will host its keystone event — a massive 24-hour-a-day LAN party — along with a host of other activities. Gamers can participate or watch professionals compete in esports tournaments offering a prize pool of more than $1.8 million. In addition to DreamHack Atlanta's entertainment and esports tournaments, the festival offers a gaming exhibition, BYOC tournaments, cosplay competition, free play zones, open play PC/console areas, indie playground, video game tournaments open to the public, events for families, panels, films, live music, these collegiate and high school esports matches and more! Complete festival lineup and details are here.
"DreamHack Atlanta will feature players from major universities battling for supremacy on the main stage," said DreamHack Chief Executive Officer Marcus Lindmark. "Video games as a college sport was unthinkable just a few years ago. But since its inception, collegiate esports has exploded in growth. We're excited to be partnering with Twitch's Student program and AVGL to showcase America's best in collegiate esports athletes."
"This is our fourth DreamHack event running collegiate esports matches on the main stage, and the tournaments continue to draw more support, players, and viewers every time — a testament to the strong momentum of collegiate esports," said AVGL CEO Victor Suski. "We look forward to continuing to build DreamHack as the largest hub of collegiate esports in North America."
The AVGL is the leading college esports organization in the world, providing high-quality competition, content and community support to thousands of college teams and millions of fans. This year, through a partnership with Turtle Beach, all collegiate players at DreamHack will be using Turtle Beach's newly released Elite Atlas Pro Performance PC Gaming Headset. Twitch Student is a Twitch-run program that provides support, knowledge and tools to empower students and give them confidence that they can have their voice heard and contribute to the gaming and esports industries.
COLLEGIATE GRUDGE MATCHES
Below are the list of collegiate matches scheduled to take place featuring Fortnite, League of Legends and Clash Royale.
Fortnite
Fortnite is a "battle royale" game.  In this tournament, seven groups of three college teams each will play each other in their group. It will be duo vs. duo played in a regular public match. The winner is the team with the most number of kills at the end of the game.
Teams include:
Ashland University
Clemson University
East Carolina University
Georgia State University
Georgia Institute of Technology
Grand Canyon University
Florida State University
Kennesaw State University
Lambton College
Louisiana State University
Mississippi State University
Robert Morris University
Rutgers University
University of Akron
University of Georgia
University of North Carolina- Chapel Hill
University of North Carolina- Charlotte
University of South Carolina
Washington University
League of Legends
League of Legends is a fast-paced, battle arena video game where teams battle head-to-head across multiple battlefields. Last team standing wins. Grudge matches include:
Kennesaw State University vs. University of Georgia
University of Central Florida vs. Georgia State
Georgia Tech vs.Clemson (if time allows)
Clash Royale
Clash Royale is a mobile video game combining elements from collectible card games, tower defense and multiplayer online battle arenas. The Clash Royale grudge match format will be as follows:
Set 1: 1v1 Bo3
Set 2: 2v2 Bo3, excluding the players from set 1
Set 3: 1v1 Bo3, excluding the players from set 1
Set 4: 1v1 Bo3, excluding the players from sets 1 and 3
Set 5: KOF**
**The Clash Royale KOF is a "king of the hill" format where two players face off in a best of one. The victor stays to play the next player of the opposing team. The first team to run out of players loses. 
Teams include:
Florida State University
Georgia State University
Kennesaw State University
University of Central Florida
University of Kentucky
AVGL COMMUNITY LEAGUE OF LEGENDS TOURNAMENT
AVGL's Community League of Legends Tournament
 includes online qualifiers culminating in a Grand Final on the DreamHack Atlanta main stage. To date, 100 teams have already played in the online qualifiers, which started with group stages on October 20.
Currently, 32 teams remain, and will compete in a playoff bracket on October 27 and 28. These teams include:
Columbia College (past winners)
Robert Morris University (past winners)
Miami University (of Ohio)
University of Houston (former finalists)
Rochester Institute of Technology
The top two teams in the AVGL Community League of Legends Tournament will earn the opportunity to compete on the DreamHack Atlanta Main Stage on 
Saturday, November 17
 with a travel stipend, hotel room, 3-day tickets to the event and product prizes.
HIGH SCHOOL FORTNITE TOURNAMENT
DreamHack, in partnership with High School Esports League (HSEL), is also hosting a High School Fortnite Tournament for teen duos who are ages 13-18 and currently enrolled in high school. Students can sign up to compete in one of three qualifiers at the BYOC LAN. The first-come, first-served sign ups will take place at the HSEL Booth near the Student Zone. Students must bring an ID that confirms age and proof of high school enrollment. The top duo from each qualifier will play on the Main Stage Sunday at 1:00 p.m.
Tournament — Duo-Squad Format, 4 Rounds
Duo with most cumulative eliminations moves forward to determine the DreamHack vs HSEL team victor.
Prizes
Trophies will be awarded to each member of the winning duo. All main stage finalists will each receive a DreamHack swag bag.
WATCH ON TWITCH
All of these matches will be exclusively broadcast on Twitch (twitch.tv/dreamhack) from November 16-18 as follows:
Friday, November 16 (10am – 6pm EST)

Fortnite Collegiate Grudge Matches

Saturday, November 17 (10am – 6pm EST)

AVGL Community League of Legends Tournament
League of Legends Grudge Matches

Sunday, November 18 (10am – 4pm EST):

Clash Royale Collegiate Grudge Matches
High School CS:Go Exhibition
DreamHack vs. HSEL Fortnite Final
ADDITIONAL INFORMATION
Tickets
 Day passes: $30; three-day weekend passes: $74
Purchase tickets here
 Kids under five are FREE
 Concert access is included with the cost of single day and 3-day event passes
Social
Facebook: DreamHackFestival
Twitter: @DreamHack
Instagram: @DreamHack
Snapchat: DreamHackLive
* * *