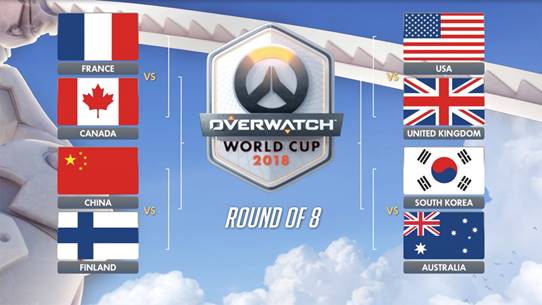 Overwatch World Cup Matchups Set for BlizzCon
We're less than six weeks away from crowing a champion at the 2018 Overwatch World Cup. And today in Paris, the final two teams—France and the United Kingdom—punched their tickets to BlizzCon, where the Top 8 teams will face off in Anaheim, California.
Those teams will join the other six teams that previously advanced out of the Group Stages:
Incheon—Finland and South Korea
Los Angeles—Canada and the USA
Bangkok—Australia and China
At the conclusion of matches in Paris, the final eight teams were divided into two groups based on each team's finish at the Group Stages: the first-place teams (China, France, South Korea, and the USA) and the second-place teams (Australia, Canada, Finland, and the United Kingdom).
The first-place teams from each group were randomly matched up against second-place teams from another group. Here are the results of the drawing process, and the official matchups that will be played on Friday, November 2: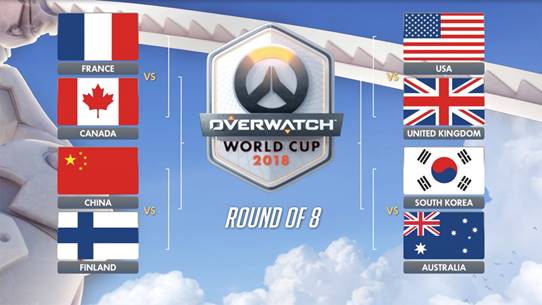 Specific match times will be announced at a later date.
The four teams that advance out of the opening-round games will play down to two finalists competing for the championship on Saturday, November 3. The two teams that don't reach the final will square off in a matchup to determine the third-place team.
HGG: Bulgaria and New Zealand Advance to BlizzCon, USA Fights for Its Life
After the first week of the Round of 16 – a Dual-Elimination tournament – in the Hearthstone Global Games (HGG), two teams – Bulgaria and New Zealand – have secured their spot in the Round of 8, which will be contested at BlizzCon in November.
This week – Portugal vs. Spain and Norway vs. China will decide the next two advancing teams. The future of several other nations' teams will also be determined this week as well. USA lost to Singapore 3:2 last week and will need to defeat both Chinese Taipei AND Singapore if they want to continue to BlizzCon. For more information about HGG, please visit:https://playhearthstone.com/en-us/esports/tournament/hearthstone-global-games-2018?matchInfoTab=1&eventTab=0
Remember – you can Cheer for your favorite HGG team with HGG Cheer now! Go to the official Hearthstone Twitch channel, purchase Bits, and Cheer for your team to show your support and unlock in-game and Twitch rewards.