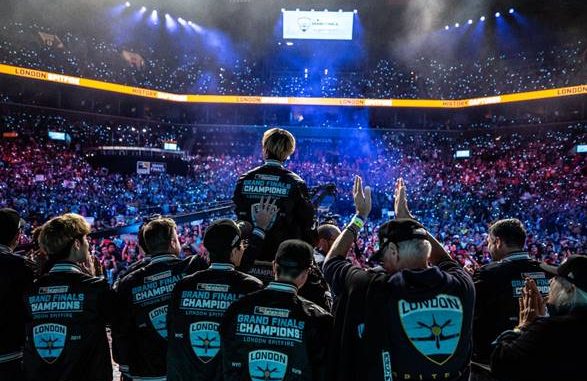 London Spitfire is the Overwatch League's First Champion
The London Spitfire defeated the Philadelphia Fusion in the Overwatch League Grand Finals at Barclays Center in Brooklyn, with London sweeping Philadelphia 2-0.
It was a packed house with 22,434 total attendance between the two days of competition. Fans from all around the world were able to watch the London Spitfire triumph over the Philadelphia Fusion as the Grand Finals matches were broadcast live on ESPN – a first for esports in primetime – as well as on ESPN 2, Disney XD, and Twitch. The London Spitfire earned a $1,000,000 prize, while the Philadelphia Fusion walked away with $400,000.
 Hearthstone
HCT: HCT Tokyo – Hinaya Takes First Place, Hunterace Becomes First Hearthstone Master. Season 3 Tour Stops Announced
Japanese Hearthstone pro hinaya dazzled the hometown crowd by taking first place at HCT Tokyo, earning him 15 coveted Hearthstone Championship points and prize money.  What was also very impressive was that the 17-year Norwegian wunderkind, Casper "Hunterace" Notto, finished in the Top 4, securing him 10 Hearthstone Championship points and making him the very first Hearthstone Master. With 151 points, he reached the first tier (one-star) of the Masters system, which grants him entry to exclusive tournaments, swag and more.
In addition, HCT Tour Stops for Season 3 were announced. Destinations for future Tour Stops include:  Taichung (Aug. 1-5), Germany (Aug. 11-12), Buenos Aires (Aug. 16-19) and Montreal (Sept. 7-9).
For more details about Season 3 Tour Stops, please visit: https://news.blizzard.com/en-gb/hearthstone/21362082/hct-2018-will-tour-the-globe
To learn more about HCT Tokyo : https://playhearthstone.com/en-us/esports/tournament/hct-tokyo-2018
To learn more about the Hearthstone Masters system: https://playhearthstone.com/en-us/blog/21295036
HGG: Week 2 – United States Falters Again, Poland Defeats South Korea
After only two weeks of competition, some of the teams that were projected to be top contenders are finding themselves on the brink of elimination and will need to secure a victory in Week 3 to avoid elimination.  Surprisingly, amongst them are the United States (0-2) and Japan (0-2).
Here are some of the key results from Week 2 of HGG:
Check the HGG website for a list of this week's matchups (including South Korea vs. Finland, United Kingdoms vs. Sweden!): https://playhearthstone.com/en-us/esports/tournament/hearthstone-global-games-2018?matchInfoTab=2#MatchInfo
A list of team's HGG Week 3 deck lists can be viewed here: https://imgur.com/a/DvGIP06
Heroes of the Storm
Qualified Teams For The HGC Western Clash
Blizzard Arena will play host to the first Western Clash in North America (Aug. 10 – 12)! The top four Heroes of the Storm teams from both Europe and North America will convene in Blizzard Arena Los Angeles to crown a new champion and dole out another $100,000 in prize money.
Teams are seeded based on current HGC standings into a double elimination bracket. Day one matches will be best-of-three. All remaining matches will be best-of-five, except for the best-of-seven grand final. The team coming into the grand final with no match losses (from the upper bracket) will start with a one Battleground advantage in the series (i.e. 1-0 in their favor to start).
Western Clash qualified teams:
The HGC Eastern Clash
From the new Paradise City resort in Incheon, Korea, the top four Heroes of the Storm teams from HGC China and HGC Korea will battle it out at the HGC Eastern Clash (Aug. 17). $100,000 in prize money will be up for grabs, along with the Eastern Clash trophy and international bragging rights.
Here are your Eastern Clash qualified teams: