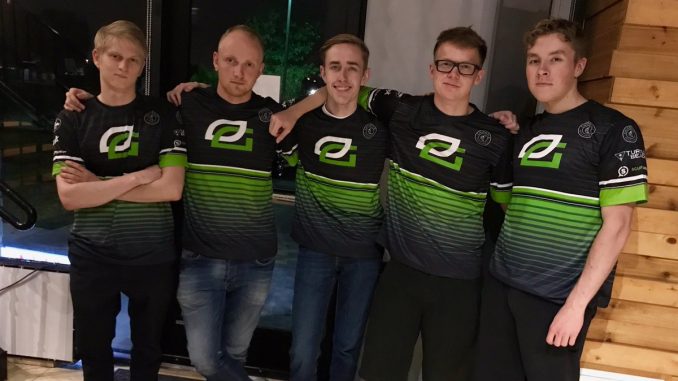 Once confined to the realm of Call of Duty esports and YouTubers, OpTic Gaming has been making some serious moves into the wider esports space.  Today the organization revealed their expansion into the Dota2 scene during the live broadcast of their documentary series Vision.
The team is lead by Peter "PPD" Dager, a former captain of The International 5 winning team Evil Geniuses and most recently, CEO of the organization. Ludwig "Zai" Walhberg, Per "Pajkatt" Olsen Lille, and Rasmus "MiSeRy" Filipsen are other well known pros on the team, and relative newcomer Quin "CCnC" Callahan rounds out the roster.
The new team should draw even more fans to an already rabid online base known for their fervent support of players wearing the black, white, and neon green. OpTic Gaming and its partners will hope that kind of support can bring more big sponsors to a Dota2 scene that has seen a drop in quality sponsorships in recent years.
The players themselves stand to rake in the cash if they well, due to the multi-million dollar prize pools at tournaments for the Valve game. The amount of prize money the OpTic Dota2 players have made in their careers is staggering, especially in light of the amounts generated from console FPS titles (OG's former bread and butter).  According to EsportsEarnings.com, PPD alone has earned 2.6 million dollars (USD) in prize money during his career. OpTic's longest running esports team, the 2017 Call of Duty World Champions, have earned 2.3 million in prize money combined.
Entry to Dota2 comes on the heels of OpTic Gaming's announcement concerning their franchise team in the newly formed Overwatch League and it's all happening as the organization continues to get settled in their new home in Houston, Texas. The team acquisitions may be thanks in part to OpTic's new "wide-ranging partnership with a Texas-based diversified esports and entertainment holdings company that is led by Chris Chaney, and Texas Rangers co-owner Neil Leibman", as cited by a PR firm representing the organization.
OpTic Gaming's CEO Hector Rodriguez has always touted a "slow and steady" approach to breaking into new esports territory, and in the latest Vision episode, he echoes his purposeful business tactics:
"We never sacrificed our job which was to create content to bring in the ad dollars that allow us to pay for salaries and allow us to expand to other esports", said the company head and content creator. "We didn't go out and raise capital early on just so we could get ahead of the game…we literally did it the way it should have been done, in my head, specifically for OpTic."
OpTic Gaming currently has teams representing their organization in Call of Duty, Halo, CS:GO, Gears of War, Overwatch, and Dota2 esports.
Featured image courtesy of OpTic Gaming.