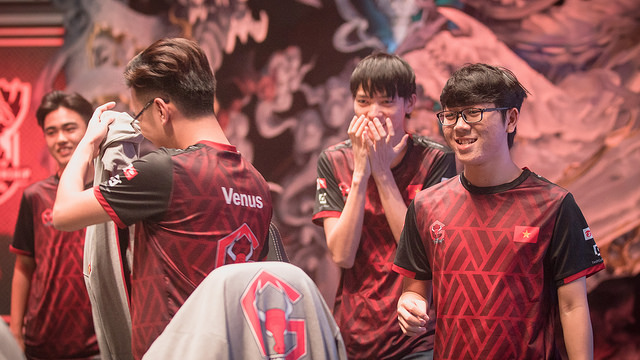 The final teams entering the knockout stage of the 2017 League of Legends World Championship Play-In were decided on Monday.  Fnatic and Young Generation advanced as the #1 and #2 seeds respectively from Group C, while 1907 Fenerbahce Espor and Hong Kong Attitude advanced as the #1 and #2 seeds respectively from Group D.
The groups were anything but easy for these four teams, as even fan-favorite Fnatic was upset by underdog squad Young Generation.  It was both the highlight of the day and the tournament so far, and the surprise victory allowed YG to earn the #2 seed without a tie-breaking match against Kaos Latin Gamers.
Fenerbahce and HKA split matches during the group stage, but Fenerbahce won a narrow tiebreaker to take the #1 seed and avoid a knockout stage match with a team from a major region.
Group C Final Standings
| | |
| --- | --- |
| Fnatic | 3-1 |
| Young Generation | 2-2 |
| Kaos Latin Gamers | 1-3 |
Group D Standings
| | |
| --- | --- |
| 1907 Fenerbahce Espor | 4-1 |
| Hong Kong Attitude | 3-2 |
| Rampage | 0-4 |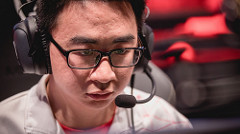 Game One: Hong Kong Attitude vs. Rampage
HKA simply had all the answers this game.  Whether it was cross-map Galio ultimates from HKA's Seung "Riris" Min Baek, or a surprise gank by Cheung "Godkwai" Wo Kwa, HKA outnumbered Rampage at every turn.  Up 6-0 and with an 8k gold lead, HKA successfully defeated Baron Nashor in the face of four Rampage members, leaving the Rampage base open to siege.  HKA swept into the Rampage base to easily take down the nexus and move to 2-1 in Group D.
Game Two: Kaos Latin Gamers vs. Young Generation
KLG made it clear that they wanted to pressure the YG bottom lane early and often, but poor execution meant that YG earned return kills while simultaneously applying pressure to top lane.  The kill score was tied 2-2 at the 23-minute mark, but YG's lead included three turrets, 7k in gold, and two infernal dragons.
Comfortably ahead, YG wiped out four members of KLG in a teamfight near mid before quickly moving to claim Baron Nashor.  YG empowered minions in all three lanes, destroying two inhibitors and the third inhibitor turret.  With the pressure creeping into the KLG base, YG dismantled the KLG roster one more time before destroying their first nexus of the tournament and staying alive at 1-2.
Game Three: 1907 Fenerbahce Espor vs. Rampage
Rampage came out swinging in game three, and Osamu "Ramune" Ozawa masterfully outplayed a 2-on-1 to earn First Blood!
Ramune picks up First Blood for @JapanRampage in a 1v2 mid! #Worlds2017 pic.twitter.com/WfTHdNeRgw

— lolesports (@lolesports) September 26, 2017
Rampage racked up a few more kills to take a 3-0 lead and made the confident move to the Rift Herald.
Fenerbahce support Bahadir "Japone" Colak then made a miraculous steal on Karma to kill the Rift Herald and send Rampage fleeing.  This victory was short-lived, as Rampage claimed yet another kill before moving quickly for a precarious Baron Nashor call.  Fenerbahce slapped Rampage's hand away from the Baron jar, killing two members in exchange for one.  The broken record continued to repeat, as yet another Fenerbahce member overextended and was killed by the Rampage squad.
The two teams postured in the Baron pit, trying to draw the other into a poor fight.  Rampage won the chess match, killing two Fenerbahce members to create a seemingly safe scenario for Baron.  Rampage hesitated, looking scattered and indecisive, and Fenerbahce punished the confused Rampage squad to kill three members, take the Baron, and completely flip momentum in their favor.  The Turkish squad stormed into the Rampage base, cleaned out the Rampage members, and closed out the 36-minute game to stay an undefeated 3-0 in Group D.
Game Four: Kaos Latin Gamers vs. Fnatic
I attributed Fnatic's previous lack of focus to pauses during the games yesterday, but their distracted play continued today.  A perilous Rift Herald call backfired horribly into a 2-0 lead and Fnatic gifted the Rift Herald over to KLG.  But Fnatic was a play-in favorite for a reason, and they vastly improved in later teamfights.  Fnatic scored five unanswered kills and a Baron Nashor in the next few minutes, and KLG looked rattled.
In addition to the kill lead, Fnatic quietly amassed a huge CS lead on both carries, and they descended upon the KLG inhibitors with ease.  Fnatic demolished the KLG roster one last time before moving to the nexus at 26-minutes to move to 3-0 and guarantee the #1 seed out of Group C.
Game Five: 1907 Fenerbahce Espor vs. Hong Kong Attitude
HKA needed a win here over Fenerbahce if they wanted to force a tiebreaker for the crucial #1 seed out of Group D.  Both teams shied away from action for most of the early game, with the kill score just 2-2 after 26-minutes of play.
The two teams shuffled in and around the Baron pit, repeatedly punishing the other for missteps around Baron, but neither team gained the advantage needed for a safe Baron attempt.  10-minutes later, HKA finally caught Fenerbahce out of position to secure two kills and the crucial Baron Nashor, and the game began to tilt in HKA's favor.  Nonetheless, Fenerbahce was impenetrable, defending against both Baron and Elder Dragon buffs for 9-minutes.  The team finally found an inside route into Baron Nashor, leaving HKA on the outside looking in, and somehow, HKA's Xiao "M1ssion" Xian Chen stole the Baron from outside the pit!
Hong Kong Attitude steal the Baron! #Worlds2017 pic.twitter.com/w7uF3yU63i

— lolesports (@lolesports) September 26, 2017
The camel's back was officially broken – HKA's Chun-kit "Unified" Wong was already trampling through mid before the Baron was stolen.  Now armed with Baron-empowered minions, he closed out the 46-minute game to earn a tie-breaker game with Fenerbahce.
Game Six: Fnatic vs. Young Generation
This final game of the Play-In Group Stage was meaningless for Fnatic, but YG needed an upset to avoid a tiebreaker match with KLG for the #2 seed in Group C.  While Fnatic's bottom-lane duo has been a source of strength for this team, some uncharacteristic mistakes gave YG a 5-2 lead to start the game off.
Fnatic hoped to overpower YG with superior mid-game strategy, but they continued to misfire as lone Fnatic members were caught out left and right. YG secured a 24-minute baron and a 6k gold lead before taking down a seemingly unimportant bottom inhibitor turret.  YG's mid-laner Thanh "Naul" Luan Vo began to split push the bottom lane while Fnatic attempted Baron, and it appeared the two teams were happy trading objectives.  But YG suddenly turned aggressive 4v5 on the Fnatic squad, and Fnatic desperately struggled to recall to defend against the backdoor!
When the dust cleared, it was Fnatic on the receiving end of the notorious "xPeke" Kassadin play, and YG won in the most awesome fashion Worlds had seen so far.  YG ended the 32-minute upset to earn the #2 seed in Group C and deny KLG a chance at a tiebreaker.
Tiebreaker: Hong Kong Attitude vs. 1907 Fenerbahce Espor
HKA surprised Fenerbahce with several kills to start the game, taking a 9-5 lead and destroyed four turrets to Fenerbahce's two.  But Fenerbahce mid-laner Kim "Frozen" Tae-Il put on an Ekko clinic, obliterating the HKA squad as well as earning Fenerbahce a Baron Nashor!
.@frozen2065 goes HAM and @FBespor pick up 4 kills! #Worlds2017 pic.twitter.com/UYm2pm8m0m

— lolesports (@lolesports) September 26, 2017
The momentum had shifted momentarily in Fenerbahce's favor, but HKA punished an over-confident Fenerbahce squad in the middle lane for three kills and was suddenly back in the driver's seat.  HKA found the inside lane on Baron and secured it, but Fenerbahce was hungry for a full 5-on-5 teamfight.  Fenerbahce's Frozen pumped out loads of damage before escaping with the Ekko chronobreak, and Ege "Padden" Acar Koparal hopped in to finish the job with a Triple Kill for Tristana.  With the HKA base now defenseless, Fenerbache marched to the HKA nexus and ended the 47-minute game to take the #1 seed out of Group D.
The 2017 World Championship Play-In Knockout Stage Begins on Wednesday, Sept. 27th at 8:00 pm (PT) as Cloud9 takes on Lyon Gaming and Fnatic battles Hong Kong Attitude.
Photos courtesy of Riot Games