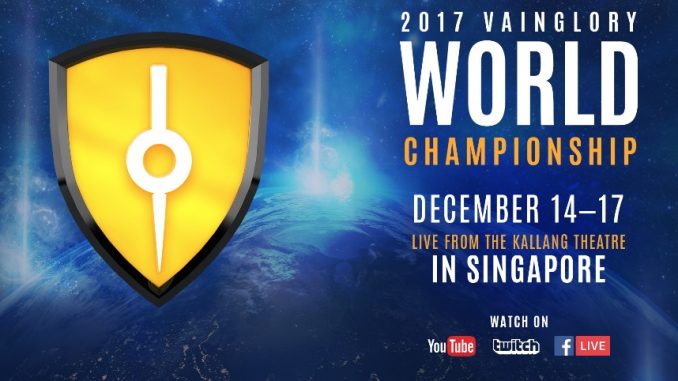 This year, the top 12 Vainglory teams from across the globe will meet at the Kallang Theater in Singapore for the Vainglory World Championships.  The country is the place where the original game, then known as "Kindred" was first launched in 2013.  The World Championships will be held December 14th through 17th.
"When deciding where to crown the World Champion and celebrate the rebirth of our game, we had to return to where it all began. The players in Singapore – first in beta, and then widely Southeast Asia – embraced Vainglory before anyone else and paved the way for all the success that has followed," says Super Evil Megacorp CEO Kristian Segerstrale.
"And as we embark on a new adventure with 5v5, Southeast Asia will once again be a central strategic and community focus. We intend to prove to MOBA players around the world that Vainglory is the most-fun, best-performing 5v5 experience out there, and we look forward to working closely with our community to make it the best it can be."
The twelve teams competing at the event will include North America's Cloud9, Korea's Rox Armada and ACE Gaming, Indonesia's Elite8, China's Hunters and Singapore's home team, Impunity.  Those teams will be joined by six other teams: the Autumn Season winners from each region as well as two wild card teams.
The Autumn Season of the Vainglory8 kicked off last weekend.  The season is the last chance for major North American teams like Team SoloMid and Fnatic to qualify for Worlds.  Fellow North Americans Cloud9 will enter Vainglory Worlds as the favorites on the back of dominant wins at both of the Unified Spring Championships in London and Summer Championships in Los Angeles.  Cloud9 will face some serious competition from the Southeast Asia contigent, include Rox Armada, a team made up of members that won the first Vainglory World Championship in 2016.
"This year, we have taken a new approach to our training and that preparation has paid off with consecutive live championships in Spring and Summer," said Ian Huston, manager of Cloud9. "We are honored to be competing against the best international Vainglory teams and we cannot wait to show the world what we have planned."
Fans can watch the action in person in December by snagging a free ticket at the Worlds ticketing site.
Vainglory Worlds will also be streamed live on Vainglory's Twitch and YouTube channels.
Visit the Vainglory Esports site for more information.