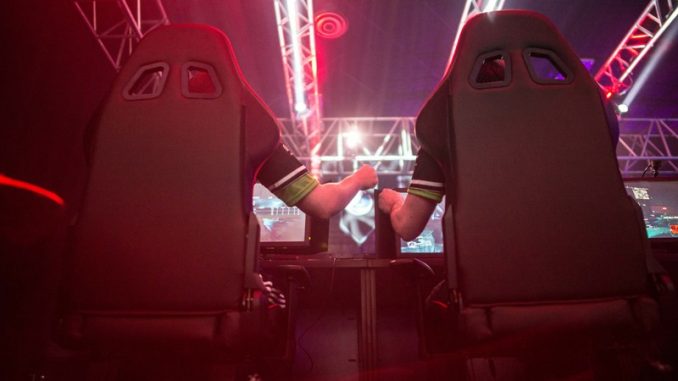 Back to back Red Reserve losses lift Elevate to a 3rd place finish.
by Kim Newsome, EIC
"I know it's important.  I do.  I honestly do.  But we're talking about practice, man. What are we talking about?  Practice?  We're talking about practice, man!"
– Allen Iverson, NBA Hall of Famer, May 7th, 2002
About 15 years ago, a scrappy, outspoken, immensely talented basketball player for the Philadelpha 76ers sat in front of the assembled media and said the word "practice" 22 times.  Allen Iverson was exasperated: his relationship with his coach was in tatters, questions about his dedication to the sport were dominating the headlines, he'd recently lost a close friend, and now the assembled press just wanted to talk about a missed practice.  In his opinion, the chat wasn't necessary; he just needed to play, and there were other things to talk about.
Perhaps that was the mindset of European team Elevate as they came to the United States this week for the CWL Global Pro League.  In the days leading up to their Group Green matches, team members were vocal about their month-long practice drought, vocal about the reasons behind it, and vocal about their determination to win despite the public questions about their dedication.
In an interview before the tournament, Jordan "Reedy" Reed explained the reason for the lack of scrims: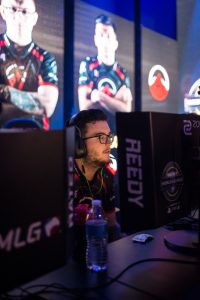 "…So we thought we're not wasting our time playing these lower tiered teams, that aren't honestly good enough, the lower tiered teams have no idea what they're doing.
Teams are going out there, coming last and there's just no point playing.  We've played a few wagers, Watson's kept on the grind, Zak's played in GFIN's and Rhys has been playing as well, but we're just not playing as a team."
– Jordan "Reedy" Reed
Voicing his frustration with the results of the EU and APAC teams in the previous three groups didn't exactly win him many friends in the community, but Reedy's concerns weren't unfounded.  His words highlight the still somewhat-shallow talent pools for competitive Call of Duty in regions beyond North America.  Though many outsiders could agree that a scrim or two likely wouldn't have hurt the team, he's arguing that those practices simply wouldn't have helped in their situation.
After this weekend's results, it will be interesting to see which teams Elevate finds to practice with in the weeks leading up to Stage 2 of the CWL Pro League.  On the strength of a single map, Elevate managed to hold on to their spot in the League, sending fellow EU team Red Reserve to relegation.
.@ElevateGG close out this series with a 3-2 victory over @RedReserve!

Watch: https://t.co/yg6J8iZEDc#CWLPS https://t.co/OHngEMx2oM

— MLG (@MLG) May 14, 2017
Of the seven non-NA teams represented in the GPL, just one is making it to the Stage One Playoffs: Splyce.  Non-NA teams Epsilon, Mindfreak, and now Elevate all finished third in their groups, while Fnatic, Millenium, and Red Reserve will all have to battle (along with Cloud9) for their League lives in the Stage One Relegations.
Aside from Elevate's surprising ability to lift themselves from an 0-4 start to League qualification on Sunday, a few other stories played out over the weekend in Group Green.
"When does OpTic play?"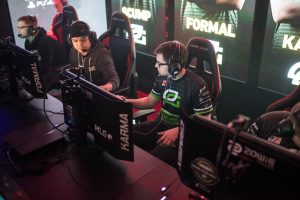 OpTic Gaming looked like they'd shifted down one gear for much of the weekend, and they genuinely struggled against Elevate on Sunday, eventually pulling off a close 3-2 win. The team finally looked like they came to play in their final match on Sunday, trampling a second place Enigma6 with a 3 – 0 win, and securing a perfect 6 – 0 for the weekend.  OpTic will go into the playoffs as the only team with a flawless record.
E6 Qualifies for the Playoffs
The team was expected to make it out of the group, but they did so well that they actually challenged OpTic for the first place finish until the last match.  The team would have needed to win with a 3 – 0 or a 3 – 1 to take first place, but any thoughts in that direction were dispelled after OpTic mounted a fine comeback to take the Hardpoint.
From there, OpTic won the Search and Uplink maps handily, and E6 finished well, though they didn't particularly over-perform.  The team has been on the verge of being an upper-middle-of-the-pack team for months now, and it will be interesting to see what moves they can make in the off-season to achieve next-tier results.
The Stage One Playoffs are set for May 26th through the 28th.  The Stage 2 Qualifiers will take place one day before CWL Anaheim, on June 15th.  Cloud9, Fnatic, Millenium, and Red Reserve will take on four Open Qualifier amateur teams to determine who will make it to the next stage of the CWL Global Pro League.
Photos courtesy of MLG.
Esports Source CWL Pro League Hub
Group Green Info | Scores | Group Green Recap
Group Yellow Info | Scores | Group Yellow Recap
Group Blue Info | Scores | Group Blue Recap