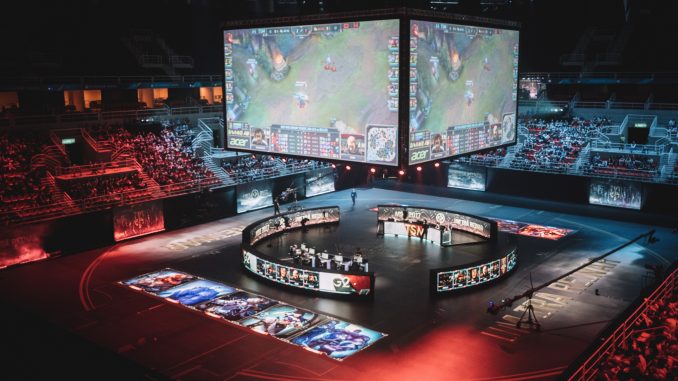 Flash Wolves and G2 Esports move on to knockout rounds.
by Andrew Salazar, League of Legends Correspondent
G2 Esports and Flash Wolves joined SK Telecom T1 and World Elite to advance to the 2017 Mid-Season Invitational knockout stage on Sunday.  In addition to keeping their tournament hopes alive, each of these four teams has earned their region a "Pool 1 seed" for the 2017 World Championship in September.
The end of group stage play left G2, Wolves, and Team SoloMid tied for third place with a 4-6 record.  Tiebreakers meant G2 was guaranteed third place through a superior head-to-head record, and Flash Wolves defeated TSM in a tiebreaker match to clinch the fourth and final seed into the knockout stage.
The GIGABYTE Marines were eliminated after Sunday's losses but still impressed at a tournament where many expected them to be outclassed by the other regions.  Their MSI success guarantees a spot for the Southeast Asia (SEA) region in the 2017 World Championship group stage as well as an entry to the 2017 World Championship play-in stage.
MSI Group Stage Final Placements
| | |
| --- | --- |
| SK Telecom T1 | 8-2 |
| World Elite | 7-3 |
| G2 Esports | 4-6 |
| Flash Wolves | 5-6 |
| Team Solomid | 4-7 |
| GIGABYTE Marines | 3-5 |
Game One – SK Telecom T1 vs. G2 Esports
Both teams had plenty to fight for as the day began: a win for SKT would secure first place in the group, while a G2 victory would allow the team to make huge strides towards qualifying for the knockout stage.  SKT struck first when Lee "Faker" Sang-hyeok lured the G2 squad into a fight, but G2 took out Heo "Huni" Seung-hoon to even the score.  Faker and Han "Peanut" Wang-ho overwhelmed G2 members in the middle lane and SKT looked confident heading into the mid-game.
SKT used their superior strategic play to stay ahead of G2 when moving to turrets and team's turret lead grew to 7-0 by the 27-minute mark.  SKT took down the G2 nexus in 29-minutes to advance to 8-1 and guarantee the first seed in the knockout stage.
First Blood for @SKT_Huni, but it's a 2-for-2 trade in the end! #MSI2017 pic.twitter.com/mC9o0u3hiU

— lolesports (@lolesports) May 14, 2017
Game Two – Team SoloMid vs. Flash Wolves
The Wolves surprised TSM with a sneaky jungle invade to start the match and caught Kevin "Hauntzer" Yarnell 1-minute into the game, but both teams reverted to a hyper-conservative style for most of the early game.  Flash Wolves captured a 32-minute Baron Nashor and also lured TSM into a fight.  Wolves then took the inside track to Elder Dragon and TSM appeared locked out of the pit, but an eye-popping steal by Soren "Bjergsen" Bjerg kept TSM in the game.
The two teams traded epic monster objectives back and forth, neither able to break into the base until an unbelievable Baron steal by Huang "Maple" Yi-Tang gave FW the confidence needed to siege turrets.  TSM rotated quickly to Elder Dragon in the hopes of setting up for a game-winning team fight against the FW baron push – and they found it.  The North American team executed a perfect engage onto the siege-happy Flash Wolves that left four enemies dead and the Wolves' base exposed.  TSM destroyed the enemy nexus after an exhausting 53-minute game.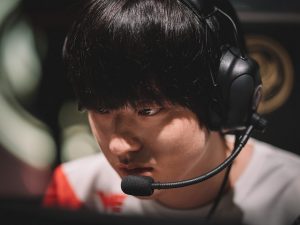 Game Three – World Elite vs. GIGABYTE Marines
The Marines continued their trend of aggressive early moves and took a quick 2-0 lead.  World Elite's Jin "Mystic" Sung-jun outclassed Marine ADC Nguyen "Slay" Ngoc Hung to take a lead over Slay after 11-minutes, and the Marines struggled to find advantages around the rest of the map.
Throughout this tournament, the Marines have consistently struggled to find late-game advantages through strategic team play, and the trend continued in this game.  WE amassed a 7k gold lead through the ruins of Marine turrets before a game-breaking ultimate from Su "Xiye" Han-Wei's Taliyah split the Marine team in half for a game-winning dive onto the Marine squad.  WE crushed the Marine nexus in 30-minutes to move to 6-3 and secure the number two seed in the knockout stage.
Game Four – Team SoloMid vs. G2 Esports
TSM could secure the knockout stage number three seed with a win here, while G2 needed this win to stay alive in the tournament.  TSM built a team composition meant to secure early leads, and it worked: TSM earned a 7-1 lead by the 35-minute mark.
The surprise Nunu pick by Kim "Trick" Kang Yoon meant G2 had priority on epic monster attempts, allowing G2 to secure both Elder Dragon and Baron Nashor 48-minutes into the game.  G2's late-game champions overwhelmed the early-game TSM composition, and TSM could not find an advantageous fight going forward.  G2 swarmed the TSM base with Baron-empowered minions to destroy the nexus after 5-0 minutes and keep their tournament hopes alive.
Game Five – Flash Wolves vs. GIGABYTE Marines
Both teams suffered a loss earlier in the day, so only a win would keep their MSI hopes alive. The Marines struggled to find the early-game lead that has been essential to their wins so far, and they became desperate.  A disastrous bottom lane dive was perfectly defended by FW who obliterated the Marine squad for an ace 10-minutes into the game.  The Marines again floundered in a deficit, and the Flash Wolves won a string of skirmishes to balloon their kill lead to 20-5.  With an insurmountable lead, FW destroyed the Marine nexus 30-minutes in to earn a tiebreaker match with TSM.
The @flashwolves2013 get First Blood and ACE the Gigabyte Marines! #MSI2017 pic.twitter.com/0p1DhutTav

— lolesports (@lolesports) May 14, 2017
Game Six – SK Telecom T1 vs. World Elite
World Elite immediately shocked viewers when Xiye drafted a Lucian for the middle-lane.  No professional team has picked Lucian in the middle lane all year, but Xiye jumped ahead to a 3-0 lead 6-minutes into the game.  SKT bounced back with three unanswered kills near the WE bottom lane to even up the game.
WE was surprisingly tenacious, looking uncharacteristically aggressive by picking fights and leaving SKT looking unsettled with the fast pace of the game.  SKT could never slow the game to a comfortable pace, and WE advanced to 7-3 on the back of a win over the tournament favorite.
Gods do bleed: xiye solo kills Faker! #MSI2017 pic.twitter.com/zqFPiA13MF

— lolesports (@lolesports) May 14, 2017
Tiebreaker – Flash Wolves vs. Team SoloMid
TSM secured first blood in just under four minutes, but the team struggled to find their footing in the match.  Flash Wolves were always a step ahead, outnumbering TSM at every objective.  Maple was absolutely majestic on Taliyah, assisting teammates for kills while also using Weaver's Wall to cut TSM off from both escapes and engages.  After Maple's wall denied TSM any chance to contest a 31-minute Baron, FW used Baron-empowered minions to break open the TSM base.  Maple once again used the Weaver's Wall to force TSM into a game-ending team fight in the bottom lane, and FW easily flattened the TSM base to advance to the knockout stage and eliminate TSM from the tournament.
The @flashwolves2013 pick up 3 more kills in mid lane! #MSI2017 pic.twitter.com/8lD1o4KBym

— lolesports (@lolesports) May 15, 2017
This tournament marks yet another international failure by Team SoloMid.  They will enter the 2017 NA LCS Summer Split with many concerns about mistakes by both the players and the coaches.  Changes will need to come for TSM if they hope to find success at the 2017 World Championship.
The MSI knockout stage begins Friday, May 19th at 3:00 pm BRT as defending world champion SK Telecom T1 takes on rival Flash Wolves.  The competition continues Saturday, May 20th at 3:00pm BRT as World Elite takes on G2 Esports.
Photos courtesy of Riot Games.