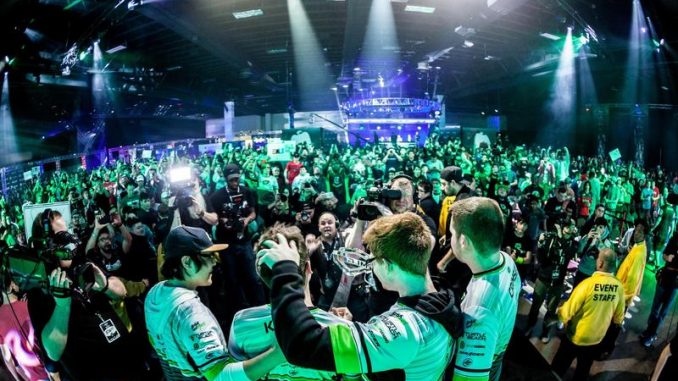 A group stage sweep is not assured for the Green Wall of OpTic.
by Kim Newsome, EIC
It was a bit of luck that put OpTic Gaming into the Green group this week, as the groups were chosen randomly and by seeding, but it will be skill that determines whether the team can emerge from this weekend unscathed.  On paper, the team looks far and away the favorites for this final week of the first stage of Call of Duty: Infinite Warfare's Global Pro LAN League, but two potentially tough matches on day one could spell trouble for the veteran team.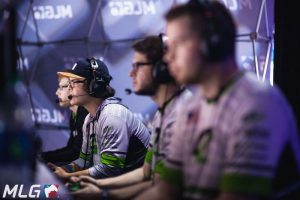 The 16 squad Global Pro League (GPL) run by Activision, MLG, and developer Infinity Ward features weekly matches culminating in a post-stage Playoffs period.  The Group Stage will ends this weekend, and two of the teams competing will move on to the Playoffs to compete for the massive $700,000 prize pool.
More CWL Global Pro League Information
This week, Group Green features OpTic Gaming, Red Reserve, Enigma6, and Elevate going head to head in a double round robin of best of five matches mini-tournament.
Team Previews
Group Green
1
 OpTic Gaming
2
 

Red Reserve

3
 Enigma6
4
 

Elevate
OpTic Gaming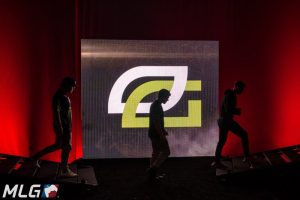 Over the past few years, there haven't been many teams who have been able to consistently hang with OpTic.  Despite the team's lack of Call of Duty Championship rings in recent years, it's still fair to say that the long-running team of Ian "Crimsix" Porter, Seth "Scump" Abner, Matt "FormaL" Piper, and Damon "Karma" Barlow are an all-star squad with incredible talent who can and should give any team a run for their money.
OpTic had a decent start to the Infinite Warfare season, coming off of the profound disappointment of another poor showing at Call of Duty World League Championships, the team bounced back with a close second place showing at CWL Atlanta, and back to back first place wins at the CWL Paris Open and CWL Dallas.  The greatest threat to the team's dominance has been themselves; they tend to underperform in the early stages of tournaments, thus giving themselves a harder road to the Finals.
This is all to say that the team made up of some of the greatest players in Call of Duty history should win this group with ease if they don't take their early opponents lightly.  If the team drops their Friday matches against E6 and Red Reserve, their top group placing will not be assured, though it's still hard to imagine this team missing the playoffs.
Red Reserve
The second seed and second ranked EU team have the ability to make a playoff run, but they'll need to perform well under the pressure of a North American LAN atmosphere.  Their past two LANs in both the EU and NA have netted them respectable but unremarkable 5th/6th place finishes, and while the team doesn't look like much of a threat to top tier teams, this group of mostly mid-level teams is where they could make some real noise.
Joe "Joee" Pinnington is the veteran of the team and a Call of Duty Champs runner-up, so look to him to guide the team along with longtime pro Dave "Urban" Marsh throughout the weekend.  Niall Sunderland, and Sean "Seany" O'Connor are the two rookie players who have the chance to make a name for themselves.  Seany only recently joined the pro scene due to being underage, but he's known as an up and coming star player among the EU Call of Duty community.
This team should be able to make it to the playoffs, but EU teams have struggled in Ohio during Stage One, with just Splyce managing to make it out of the Group stages thus far.
Enigma6
The spoilers of the group, E6 are not a team of world-beaters, but they're also not a team to take lightly.  Jordan General, Kade Jones, Mike "MRuiz" Ruiz, and Nicholas "Proto" Maldonado haven't won many tournaments together, but they have made the path to victory much tougher for top level teams over the past few months.
General is the player-owner of the team (along with his dad), and only recently returned to the Call of Duty scene due to the 18+ age restriction.  As the main slayer for the team, he will have to work hard to shut down smart tactical advances by a team like Red Reserve, or the sheer firepower of OpTic Gaming.
Kade and MRuiz are a long time duo who have been looking for some success in recent years.  With E6, the players have slowly made their way up from an intimidating Open Bracket team to consistently making Pool Play.  The results have been fair, hovering in 9th-12th place, but the team will have to perform very well this weekend to take a first or second place spot.

Elevate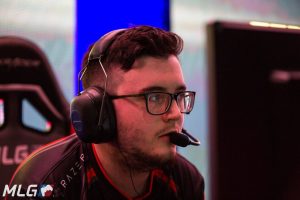 What happened to Elevate?  From placing 3rd at Gfinity to 21st-24th at CWL Dallas, the team has been all over the place, and behind the scenes chatter doesn't give much hope for their chances this weekend.
Various tweets and other discussions hint at an under practiced Elevate team coming to the MLG Arena in Columbus this weekend.  In a recent interview, Reedy confirmed the team has not scrimmed since April 11th, an astonishing decision that was confirmed by his teammates.  It is unclear why the Elevate organization is completely on board with sending four players to a LAN without practice, but Reedy breezily stated he was confident in his team, and only time will tell if nights of playing H1:Z1 are really preferable to going over strats with teammates.
Could this be a massive bluff?  Could the team actually take down all of their opponents this weekend and finish on top without working together for weeks?  Could the team have been practicing in secret and hoping to catch their opponents off guard with public chatter about not practicing?
Let's hope so.  If the team really hasn't been working together and manages to avoid relegation, it will be a victory in itself.
ES Group Green Predictions:
OpTic Gaming – 1st
Enigma6 – 2nd
Red Reserve – 3rd
Elevate – Relegated
Schedule (all times EST)
| | |
| --- | --- |
| Time | Friday |
| 4:00 | OpTic Gaming vs Red Reserve |
| 5:30 | Enigma6 vs Elevate |
| 7:00 | Red Reserve vs Elevate |
| 8:30 | OpTic Gaming vs Enigma6 |
| | |
| --- | --- |
| Time | Saturday |
| 2:00 | Red Reserve vs Enigma6 |
| 3:30 | OpTic Gaming vs Elevate |
| 5:00 | TBD |
| 6:30 | TBD |
| | |
| --- | --- |
| Time | Sunday |
| 2:00 | TBD |
| 3:30 | TBD |
| 5:00 | TBD |
| 6:30 | TBD |

Map List and Full GPL Schedule
The Competition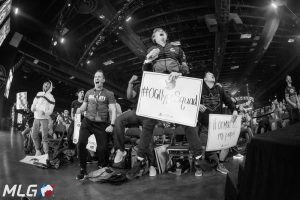 Every match is a big one in Stage 1 of the GPL, as there's a lot of money and future tournaments at stake for the players.  The top two teams in the group will move on to the $500,000 Playoffs, plus they will automatically qualify for the CWL Anaheim Open Pool Bracket, Stage 2 of the Global LAN League, and the all-important 2017 Call of Duty World League Championship worth $1.5 million.
The third place team also qualifies for all of the above, but will not play in the playoffs.  The last place team is in the Relegation Zone and will have to play amateur teams in relegation matches to earn their spot in Stage 2.  Each team receives $12,500 for their participation in the GPL.
The matches will be broadcast on MLG.tv.
Photos courtesy of MLG.
Esports Source CWL Pro League Hub
Group Green Info | Scores | Group Green Recap
Group Yellow Info | Scores | Group Yellow Recap
Group Blue Info | Scores | Group Blue Recap