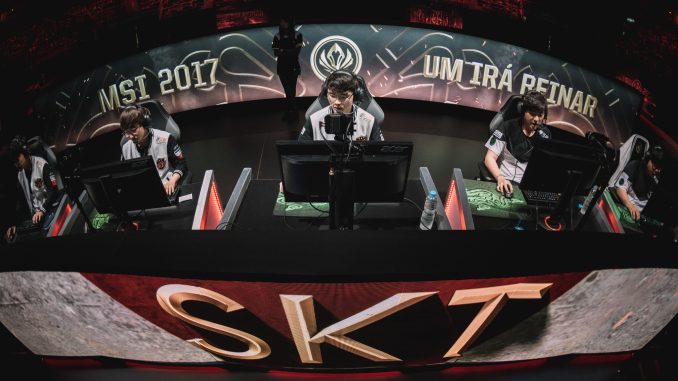 The world champions remain unbeaten after two days of play.
by Andrew Salazar, League of Legends Correspondent
SK Telecom T1 continue their quest for a perfect 2017 Mid-Season Invitational as they breeze past their opponents in the Group Stage.  While SKT performed at an elite level during their two wins on Thursday, the rest of the group struggled to keep up with the three-time world champions. A total of four teams will reach the knockout stage of the tournament, but aside from SKT, none of the other teams have taken a chance to shine.
MSI Day Two Standings
| | |
| --- | --- |
| SK Telecom T1 | 4-0 |
| G2 Esports | 2-2 |
| World Elite | 2-2 |
| Flash Wolves | 2-2 |
| GIGABYTE Marines | 1-3 |
| Team SoloMid | 1-3 |

Game One – SK Telecom T1 vs. Team SoloMid
Fresh off a victory against World Elite, Team SoloMid looked to shed their reputation as international write-offs versus the reigning world champions.  In response, SKT provided one of the most well-executed performances of the entire tournament.  TSM was proactive, looking for jungle invades as well as ganks around the map, but SKT simply had all the answers.  SKT jungler Han "Peanut" Wang-ho anticipated and punished TSM's Dennis "Svenskeren" Johnsen during risky invades, and SKT top-laner Heo "Huni" Seung-hoon repeatedly outplayed TSM members attempting to gank the top lane.  SKT was one step ahead of TSM for every fight, and TSM looked outmatched.  SKT secured an easy 28-minute victory to stay atop the MSI standings.
First Blood and double buffs for Faker after taking down @TSMSvenskeren! #MSI2017 pic.twitter.com/eTG2k4x6C6

— lolesports (@lolesports) May 11, 2017
Game Two – GIGABYTE Marines vs. Flash Wolves
The Flash Wolves started MSI 0-2, so they hoped this matchup with tournament underdog GIGABYTE Marines would cure their tournament woes, but the Marines resurrected the forgotten "lane-swap" strategy, and as a result, the Wolves looked ill-prepared for the variety that the Marines could bring to the game.
GIGABYTE Marines were comfortable in the confusion and amassed a 7k gold lead by the 24-minute mark.  However, even as Flash Wolves began to bend, they would never allow the Marines into their base, and their late-game champions became more relevant in spite of the gold disadvantage.  The Marines lead dwindled and Wolves punished an audacious Marine turret dive to take their first lead of the game.  Finally, Flash Wolves forced the Marines into a disastrous fight at the Elder Dragon and flattened the Marine roster to earn their first victory of MSI.
Game Three – G2 Esports vs. World Elite
G2 was very successful devoting time and resources to star ADC Jasper "Zven" Svenningsen on Wednesday, and they returned to that strategy for their matchup versus World Elite.  This plan backfired, as WE jungler Xiang "Condi" Ren-Jie focused on staying active around the map, ensuring that G2 would never be able to get Zven the resources required to carry the game.
WE was in control of every skirmish, spending multitudes of time in and around the G2 jungle.  After a disastrously long chase by G2 allowed WE to siege G2's defenseless base, the pressure became insurmountable for WE, and they moved on to 2-1 in the group.
Condi picks up a Quadra Kill against @G2esports! #MSI2017 pic.twitter.com/vmIUhuvPHx

— lolesports (@lolesports) May 11, 2017
Game Four – Flash Wolves vs. Team SoloMid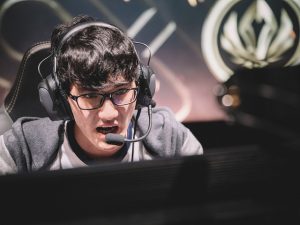 Team SoloMid found some success previously through the success of top laner Kevin "Hauntzer" Yarnell, and an early gank by Svenskeren set that plan in motion once again.
TSM looked lost strategically even with that advantage, and Flash Wolves worked to limit Hauntzer's pressure around the map.  Knowing that TSM would split Hauntzer from the rest of the team, FW repeatedly corralled the remaining TSM members into perilous fights.
FW jungler Hung "Karsa" Hau-Hsuan poured truckloads of damage onto unsuspecting TSM members, and TSM's small lead quickly disappeared.  After FW successfully defended a Baron steal by Svenskeren and used the Baron-empowered minions to swarm the TSM nexus and end the day 2-2.
Game Five – GIGABYTE Marines vs. G2 Esports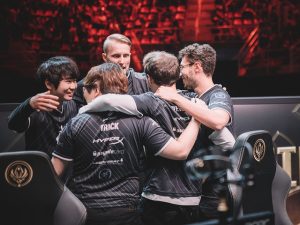 The Marines were decisive and focused to start this game.  Marines support Tran "Archie" Minh Nhut was sensational on Bard, landing amazing Tempered Fates that set the stage for Marine engages.
The Marines were on a timer; if G2 could survive the Marine onslaught until the late-game, Luka "Perkz" Perkovic and Jesper "Zven" Svenningsen could take control of the game on their own.  The Marines made a valiant effort to generate a large lead before that scenario could play out, but the late-game strength of Fizz and Kog'Maw soon became too much for the Marines to handle.  They shredded the Marine roster in a team fight near Elder Dragon, and G2 advanced to the Marine nexus.
Game Six – World Elite vs. SK Telecom T1
WE's jungler Condi made his presence felt early as WE took a 3-1 lead, and SKT was unsettled for the first time this tournament.  The teams skirmished often, but SKT struggled to find the same mid-game advantages they had found throughout the tournament.  It felt as though SKT had finally met their match, and this game could be the opportunity for a mark on their perfect tournament.  But the slightest error by WE allowed SKT's jungler Peanut to make a miraculous Baron steal, and momentum shifted entirely in SKT's favor.  WE appeared desperate as they overcommitted for kills in the top lane, and SKT took advantage of the distraction to break open the WE base.  WE would never win another fight this game, and SKT claimed yet another enemy nexus to finish the day at an undefeated 4-0.
.@lolPeanut98 steals the Baron! #MSI2017 pic.twitter.com/McMJKn0BGf

— lolesports (@lolesports) May 11, 2017
MSI action continues Friday, May 12th at 3:00 pm BRT as G2 Esports takes on Team Solomid in a battle of LCS champions.
All photos courtesy of Riot Games.