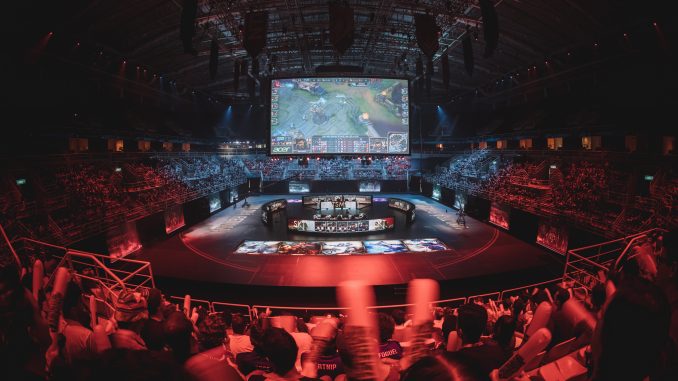 Wolves pounce on vulnerable SKT to halt winning streak.
by Andrew Salazar, League of Legends Correspondent
The eleventh day of the 2017 Mid-Season Invitational continued Saturday as the group standings began to take shape.  SK Telecom T1 had their first imperfect day with a loss to rival Flash Wolves, and after a promising start to the tournament, G2 Esports disappointed with two losses on Saturday.  Meanwhile, LPL champion World Elite are guaranteed a spot in the knockout rounds, and any one of the bottom four teams can still earn a trip to the next stage on Sunday.
MSI Day Four Standings
| | |
| --- | --- |
| SK Telecom T1 | 7-1 |
| World Elite | 5-3 |
| G2 Esports | 3-5 |
| Flash Wolves | 3-5 |
| GIGABYTE Marines | 3-5 |
| Team SoloMid | 3-5 |
Game One – World Elite vs. G2 Esports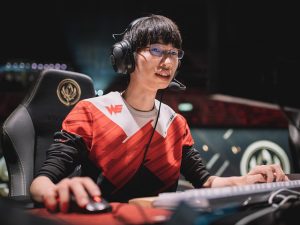 G2 jungler Kim "Trick" Kang Yoon secured a 4-minute first blood, but nothing would go right for G2 going forward.  A long remake may have unsettled the G2 squad and allowed WE to focus – the team took complete control of the game following the pause with a five-man dive onto the helpless G2 bottom lane.
Ke "957" Changyu was surgically precise with Gragas Explosive Casks, often splitting the G2 roster in half.  WE expanded their gold lead to 14k by the 28-minute mark, leaving G2 unable to defend their base.  WE crushed the G2 nexus at 30-minutes to move to 4-3 in the group.
Game Two – Team SoloMid vs. GIGABYTE Marines
It took a little over a minute for Marines to get a First Blood with a four-man jungle invade, and TSM found themselves behind early.  TSM jungler Dennis "Svenskeren" Johnsen rushed the mid-lane quickly for a return kill, and the the tables were turned on the Marines.  TSM's Kevin "Hauntzer" Yarnell was a one-man army, and somehow punished the opposition while fighting one-versus-three to set up TSM for a crucial Baron Nashor.  TSM led a gigantic wave of Baron-empowered minions down the middle lane to crush the Marine nexus and start the day with a win.
Game Three – Flash Wolves vs. SK Telecom T1
The Flash Wolves are historically known for being SKT's kryptonite and the team didn't falter this time.  Hung "Karsa" Hau-Hsuan surprised Heo "Huni" Seung-hoon for first blood in the top lane, but SKT immediately captured a kill for themselves in the bottom lane.  It seemed SKT would use a clear mismatch bottom lane to secure victory, but FW funneled resources into Lihong "MMD" Yu's Fizz in the top lane.  MMD sieged turret after turret around the map while Karsa harassed the squishy SKT backline.  After a perfectly executed Baron defense, FW plowed into the SKT base to end SKT's perfect run at MSI.
UNDEFEATED NO MORE: @flashwolves2013 take down @sktelecom_t1! #FWWIN #MSI2017 pic.twitter.com/mE5Bx02BNz

— lolesports (@lolesports) May 13, 2017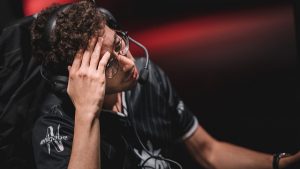 Game Four – G2 Esports vs. GIGABYTE Marines
To start the match, G2 decided to take lessons from the TSM school of strategy and played slowly and conservatively to fend off the aggression from the Marines.   However, the unpredictable Marines found G2 members out of position in the jungle and picked them off, leading to more cautious decision-making from G2.  The Marines used this uncertain play to their advantage and took a Baron Nashor and a stranglehold on the game.
G2 has been resilient all tournament, and they miraculously came alive with a 37-minute ace and Baron Nashor.  G2 then went on the offensive, taking mountains of gold from Marine turrets.  Unfortunately the surge couldn't last, and though G2 sieged several middle lane turrets, they lingered too long with low health bars, and the Marines slaughtered four G2 members to end the game and move to 3-5.
Game Five – Team Solomid vs SK Telecom T1
SKT allowed TSM to draft signature champions in Kennen and Ivern, and it looked like the team had made a mistake during champion select.  But SKT drew TSM into a trap and used the draft to counter TSM in every lane.  TSM's strategy hinged on Hauntzer finding an advantage against Huni, so once Huni secured an 11-minute first blood, TSM was hopeless.
TSM could no longer win through Hauntzer, Soren "Bjerg" Bjergsen struggled against Lee "Faker" Sang-hyeok's Fizz, and Lee "Wolf" Jae-wan's surprise Sona pick completely neutralized TSM's bottom lane duo.  SKT easily won every fight with their superior composition, and destroyed the TSM nexus at 34-minute mark to end the day with 7-1 record.
.@SKT_Huni solo kills @lolHauntzer for First Blood in top lane! #MSI2017 pic.twitter.com/mhGfukBRTI

— lolesports (@lolesports) May 13, 2017
Game Six – Flash Wolves vs. World Elite
FW entered this game confident after their upset over SKT, but World Elite could guarantee a trip to the next round with a win.  WE star jungler Xiang "Condi" Ren-Jie focused on FW top laner MMD and WE gained an early 2-0 lead.  FW jungler Karsa stayed active and found four of his own kills to bring FW back into the game.  The two teams skirmished back and forth and gold poured into the pockets of WE 957 and FW Karsa.  An amazing 957 escape versus three members left Baron exposed and WE secured it with ease.  WE took control of the middle lane with Baron-empowered minions and shoved FW onto their back foot.   WE won the final middle lane teamfight at the 29-minute mark to move to 5-3 and secure a seed into the MSI knockout stage.
The fifth and final day of the 2017 MSI group stage starts tomorrow at 3:00 pm BRT as SK Telecom T1 battles G2 Esports.