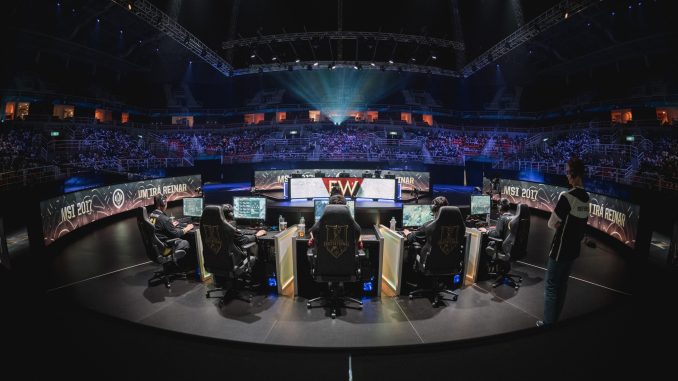 After three days of MSI, SKT continues to stand above the rest.
by Andrew Salazar, League of Legends Correspondent
The dominance continued Friday as SK Telecom T1 extended their perfect record to 6-0 on day three of the 2017 Mid-Season Invitational group stage.  The 3-time world champions easily disposed of the Flash Wolves and the GIGABYTE Marines while the remaining MSI teams struggled to separate themselves from the pack.  Each of the remaining five teams have displayed flashes of brilliance alongside mediocrity, and its anyone's guess which teams will advance to the knockout stage.
MSI Day Three Standings
| | |
| --- | --- |
| SK Telecom T1 | 6-0 |
| G2 Esports | 3-3 |
| World Elite | 3-3 |
| Flash Wolves | 2-4 |
| GIGABYTE Marines | 2-4 |
| Team SoloMid | 2-4 |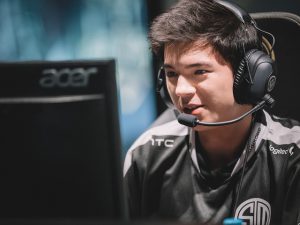 Game One – G2 Esports vs. Team SoloMid
This battle of LCS rivals proved to be one of the most exciting games of the entire tournament.  TSM opted to match G2's draft with a team built around team fighting, and at first, it paid off big time.  Kevin "Hauntzer" Yarnell has had an excellent tournament in spite of TSM's losses, and his tricky roaming set up the slumping Dennis "Svenskeren" Johnsen for an early First Blood.
Conversely, G2 jungler Kim "Trick" Kang Yoon struggled to have an impact this game and was often caught in awkward positions by the TSM squad.  TSM funneled gold into Hauntzer's top lane Rumble, and Hauntzer decimated the G2 squad during team fights around the map.
The desperate G2 squad rushed to Baron Nashor to make a desperation play – and it worked.  G2 accumulated thousands in gold from destroyed turrets around the map, and TSM's lead dwindled.  TSM positioned for a late game Elder Dragon, but with no TSM members available to defend the base, G2 sprinted down mid to siege the exposed turrets.  G2 came within a hair of destroying the TSM nexus, but TSM returned just in time to kill four G2 members, leaving the team with an open path to victory if they could defend against late-game heroics by Trick.  He sneakily hopped over walls to make a last ditch effort onto the battered nexus, but Hauntzer and Vincent "Biofrost" Wang made a nail-biting defense to keep their nexus alive.   The remaining Team SoloMid members crushed the G2 nexus to win by one of the smallest margins in League of Legends history.
WHAT A GAME! @TeamSoloMid save their own Nexus and take down @G2esports! #TSMWIN #MSI2017 pic.twitter.com/QI7Z0Q1UeL

— lolesports (@lolesports) May 12, 2017
Game Two – SK Telecom T1 vs. Flash Wolves
Both teams have built a reputation of conservative early play, and the slow starts continued here.  SKT secured a late First Blood 9-minutes into the game, but the team didn't need many kills to amass a major gold lead.  SKT used superior map rotations to dismantle Flash Wolves' turrets and accumulate a 35-minute 11k gold lead.  The Wolves never found an opening to pick a fight, and SKT strangled FW out from all resources around the map.  A disastrous team fight mid allowed Heo "Huni" Seung-hoon to tear through the FW base, destroy the FW nexus, and move SKT to 5-0.
Game Three – GIGABYTE Marines vs. World Elite
The Marines came out fighting and punished WE misplays to jump ahead early.  World Elite was clearly surprised by the Marine aggression and made uncharacteristic mistakes around the map.  The Marines destroyed a series of turrets and applied heavy pressure on WE in the middle lane.
With World Elite on the defensive, the Marines decisively rushed to Baron.  The opposition attacked in desperation, but the Marine squad flattened WE for an ace and an easy Baron Nashor kill.  Armed with Baron-empowered minions,  the Marines rushed down the WE nexus to take their second win of the tournament and move to 2-3.
27 minutes in Gigabyte Marines get Baron and ace Team WE! #MSI2017 pic.twitter.com/a8vf34TpdA

— lolesports (@lolesports) May 12, 2017
Game Four – G2 Esports vs. Flash Wolves
G2 has struggled often in the early game this tournament, but that changed during their game against Flash Wolves.  G2 was coordinated and active, taking advantage of the global pressure of Dae-han "Expect" Ki's Shen to outnumber FW at every turn.
The G2 lead ballooned to 14k by the 24-minute mark, and G2 easily secured Baron without any opposition from the FW squad.  G2 easily marched into the FW base with a ridiculous 18k gold lead to win their most dominant game of the tournament and move to 3-3.
.@G2esports take down @flashwolves2013's bot lane to go up 4-0 in kills after 7 minutes! #MSI2017 pic.twitter.com/XKrotBDVaf

— lolesports (@lolesports) May 12, 2017
Game Five – GIGABYTE Marines vs. SK Telecom T1
If you expected another recap about how the Marines forced their opponents into an amazingly bloody game – you'd be right.  The Marines secured first blood for the sixth game in a row, surprising Lee "Faker" Sang-hyeok with a 2-minute gank.  The Marines picked fights over and over, but SKT was prepared to fight, and SKT jungler Han "Peanut" Wang-ho repeatedly arrived to turn skirmishes in SKT's favor.
Peanut was an absolute monster this game and massacred the Marines 14 times to set an MSI record for kills by the 15-minute mark.  The Marines stayed predictably aggressive, but the defending world champion SKT collected more in return after every battle.  When the dust settled, SKT's lead was overwhelming, and they easily took down the Marine nexus to stay undefeated at 6-0.
.@lolPeanut98 is unstoppable and goes 5/0/0 after just 5 minutes! #MSI2017 pic.twitter.com/VFwNeyoiC6

— lolesports (@lolesports) May 12, 2017
Game Six – World Elite vs. Team SoloMid
TSM struck first, using a crucial teleport by Hauntzer to turn a fight near dragon into a 6-minute 3-1 kill lead.  World Elite remained unfazed, invading often and taking control of the TSM jungle.  TSM jungler Svenskeren anxiously attacked three WE members in a failed assassination attempt, and WE's Ke "957" Changyu earned crucial kill gold to turn the game in WE's favor.
World Elite started a risky Baron attempt to draw TSM into a poor fight, and Jason "WildTurtle" Tran advanced like a moth to a flame.  WE pounced onto the hapless WildTurtle leaving TSM without crucial ADC damage for the resulting fight, and WE secured an effortless Baron.  TSM defended well against the WE siege, but the team earned yet another Baron after finding a lone Svenskeren in the top lane.  WE used the Baron pressure to systematically destroy each of the opposition's inhibitors, and TSM would never recover.  WE advanced to 3-3 in the tournament to stay towards the top of the MSI standings.
MSI action continues Saturday, May 13th at 3:00 pm BRT as World Elite takes on G2 Esports.
Photos courtesy of Riot Games.