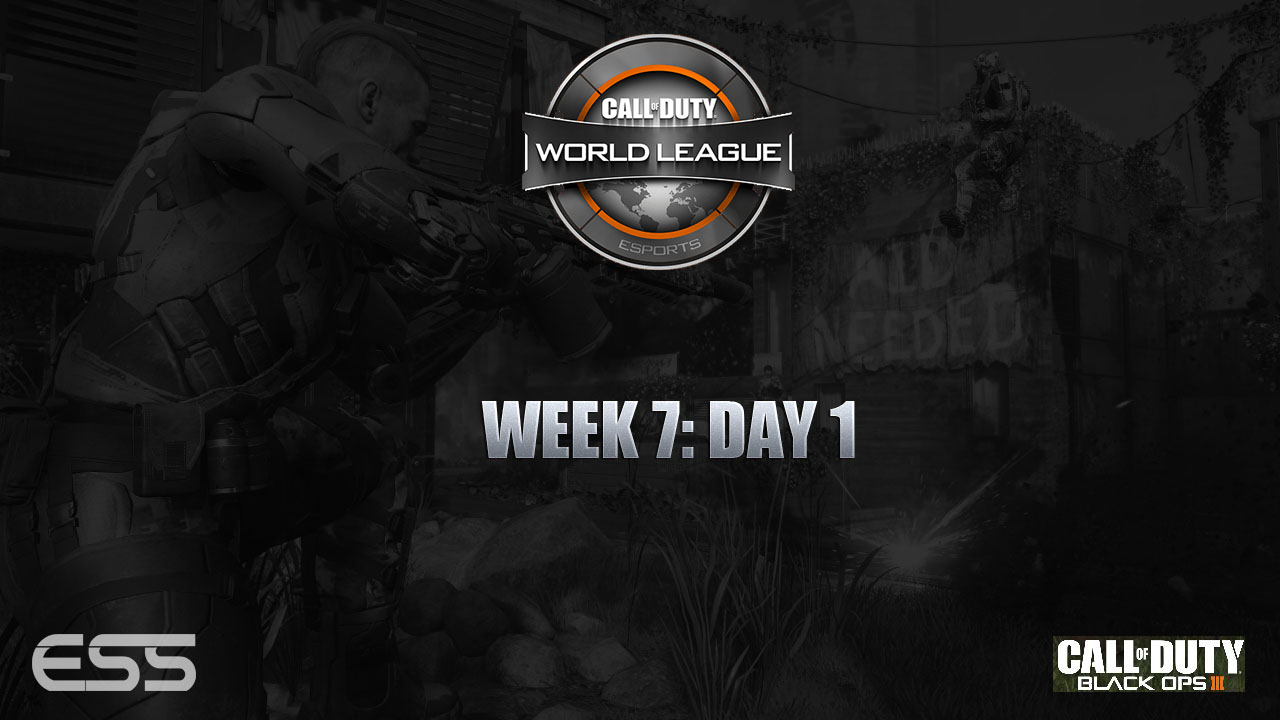 We now know the teams that will be competing for the ANZ Stage 2 trophy: OrbitGG, Mindfreak, Chiefs eSports Club, and Team Immunity.  These are the top four teams in the region.  Stage 1's Cinderella story in the form of Tainted Minds just missed out- they're currently in 5th place in the league.
In Europe, Splyce are simply destroying all challengers, and continuing to look as dangerous as they did at ESWC.  It's hard to imagine Team LDLC will manage to get their 2nd win of the season (the first was against a hapless Team Vitality) tonight against the team on a 7 game winning streak- but stranger things have happened.
two 11-1 teams both go at it today in the @CODWorldLeague with LDLC vs Splyce. https://t.co/0gprdR5Usl

— ShAnE (@LDLC_ShAnE) May 31, 2016
OpTic Gaming are back on top of the North America table thanks to a win over FaZe Clan in last week's show match.  They look unlikely to plummet back down the table any time soon- as tonight they face the ever-changing Hundred Thieves squad.  A mildly interesting storyline here- ACHES (100T) will be facing his old coL teammates in the form of Crimsix (OG) and Karma (OG).  While ACHES has Remy, Royalty, and Nelson at his back, Crimsix and Karma have slay-heavy Scump and the all-around excellence that is Formal.  It's hard to imagine OpTic losing this match, but that's the beauty of the online setting: you never know what can happen.
STANDINGS
Australia/New Zealand Region
| Place | Team | W | L | W% | MW | ML | MW% | WS |
| --- | --- | --- | --- | --- | --- | --- | --- | --- |
| 1st | Orbit GG | 10 | 2 | 83% | 32 | 12 | 73% | L2 |
| 2nd | Mindfreak | 9 | 3 | 75% | 31 | 14 | 69% | W1 |
| 3rd | The Chiefs eSports Club | 9 | 3 | 75% | 30 | 15 | 67% | W4 |
| 4th | Team Immunity | 7 | 5 | 58% | 25 | 21 | 54% | L1 |
| 5th | Plantronics Tainted Minds | 6 | 6 | 50% | 24 | 20 | 55% | W2 |
| 6th | Apotheon eSports | 4 | 8 | 33% | 17 | 29 | 37% | W1 |
| 7th | Plantronics Nv | 2 | 10 | 17% | 9 | 39 | 23% | L4 |
| 8th | eXcellence Gaming | 1 | 11 | 8% | 8 | 35 | 19% | L9 |
European Region
| Place | Team | W | L | W% | MW | ML | MW% | WS |
| --- | --- | --- | --- | --- | --- | --- | --- | --- |
| 1st | Splyce | 11 | 1 | 92% | 34 | 13 | 72% | W7 |
| 2nd | HyperGames Team | 11 | 1 | 92% | 34 | 16 | 68% | W1 |
| 3rd | Team infused | 8 | 3 | 73% | 27 | 14 | 66% | W3 |
| 4th | Epsilon eSports | 8 | 4 | 67% | 28 | 16 | 64% | W2 |
| 5th | Supremacy | 6 | 6 | 50% | 21 | 25 | 46% | L1 |
| 6th | Millenium | 5 | 6 | 46% | 22 | 23 | 49% | W1 |
| 7th | Exertus Esports | 5 | 7 | 42% | 26 | 24 | 52% | L1 |
| 8th | Giants Gaming | 4 | 8 | 33% | 18 | 29 | 38% | L1 |
| 9th | Team LDLC | 1 | 11 | 8% | 10 | 33 | 23% | L5 |
| 10th | Team Vitality | 0 | 12 | 0% | 9 | 36 | 20% | L12 |
North American Region
| | | | | | | | | |
| --- | --- | --- | --- | --- | --- | --- | --- | --- |
| 1st | OpTic Gaming | 8 | 2 | 80% | 26 | 14 | 65% | W7 |
| 2nd | Rise Nation | 7 | 3 | 70% | 27 | 12 | 69% | W1 |
| 3rd | FaZe Clan | 7 | 3 | 70% | 25 | 12 | 68% | L1 |
| 4th | H2k-Gaming | 6 | 4 | 60% | 21 | 16 | 57% | L1 |
| 5th | Team EnVyUs | 6 | 4 | 60% | 21 | 17 | 55% | L1 |
| 6th | Dream Team | 6 | 4 | 60% | 21 | 20 | 51% | L2 |
| 7th | Team eLevate | 6 | 4 | 60% | 21 | 21 | 50% | W2 |
| 8th | Cloud9 | 4 | 6 | 40% | 16 | 21 | 43% | L1 |
| 9th | Luminosity Gaming | 4 | 6 | 40% | 17 | 23 | 43% | W2 |
| 10th | compLexity | 3 | 7 | 30% | 14 | 24 | 37% | W1 |
| 12th | Hundred Thieves | 2 | 8 | 20% | 14 | 27 | 34% | L4 |
| 12th | Team SoloMid | 1 | 9 | 10% | 11 | 27 | 29% | L7 |
SCORES/SCHEDULE
ANZ Region
Orbit GG 3 – 0 Apotheon eSports
Plantronics Nv 1 – 3 Chiefs Esports Club
eXcellence 1 – 3 Team Immunity
Plantronics Tainted Minds 0 – 3 Mindfreak
EU Region
Epsilon Esports 3 – 0 Supremacy
Splyce 0 – 3 Team LDLC
Team infused 0 – 3 Exertus Esports
HyperGames Team 3 – 2 Giants Gaming
NA Region
Cloud9 3 – 2 FaZe Clan
Sorry, friends. We will be postponing the rest of today's games due to the server issues. More soon!

— Everett Coleman (@Small) June 1, 2016
Team eLevate 1 – 1 Team EnVyUs
Team SoloMid v Dream Team (postponed)
Hundred Thieves v OpTic Gaming (postponed)
compLexity v Luminosity GG (postponed)