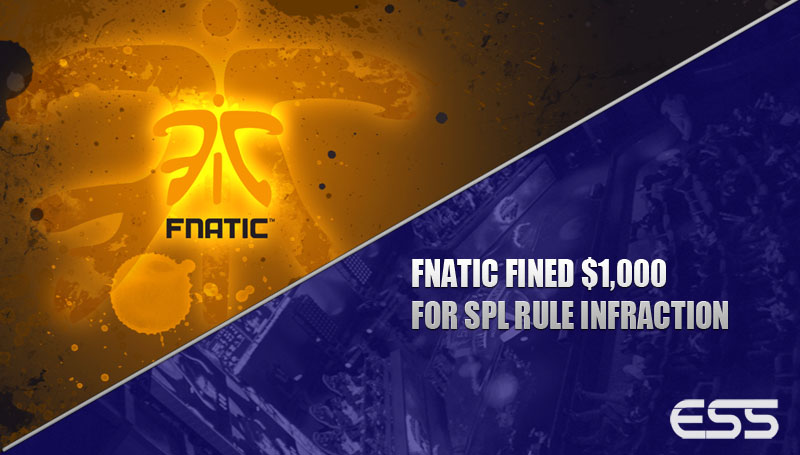 It's been a wild week for SMITE esports, as yet another group of players faces a fine from the Pro League. Bottom of the table EU team Fnatic could not put together a complete roster for Saturday's second game against Paradigm, and had to forfeit.  The team will have to pay $1,000 USD from their overall winnings, and they also forfeit all earnings from that game.
How did this happen?
Fnatic's Captain and ADC, Marcus "Realzx" Vining, is currently on a two week vacation during the Spring Split.  He began his vacation on May 13th, and his team have been playing with subs since that time.  Today, one of their subs was roster locked because he'd already played two other games, and they could not find a player for their second game of the Paradigm set- thus the forfeit.
Fnatic player Joakim "Zyrhoes" Verngren released a Twitlonger about the situation after the match:
"First of all incase[sic] any of you didn't already know the rules, you're only allowed to play 3 games in the SPL before you get SPL locked. With this in mind we could only use Hexicidal for our first game today because he played 2 games earlier this week.

The other subs we had checked in for this week was Jermain, Dardez and Tynz. All these 3 players were currently playing the Challenger Cup finals as we were about to play our SPL game so it was impossible for us to fill a roster for the second game.

I would also like to mention that it's been a pretty sucky situation while Realzx has been gone. It's been pretty much impossible to get any scrims going because all our subs need to practise with their own teams as they had Challenger Cup coming up."
Fans are divided about the ruling, with some pointing out that Fnatic didn't intend to forfeit, and the fine is seemingly harsh:

While others note that there may have been other, non-rule breaking options:

Either way, it looks like Realzx's tropical birthday trip just got a bit more expensive.
Thanks for all the birthday wishes people. Went buggyin through the dominican jungle, enjoy your weekend! Cheers! pic.twitter.com/vR2chKmjDV

— Marcus (@FnaticRealzx) May 20, 2016
To read about the other instance of fines in the SMITE Pro League this week, click here.