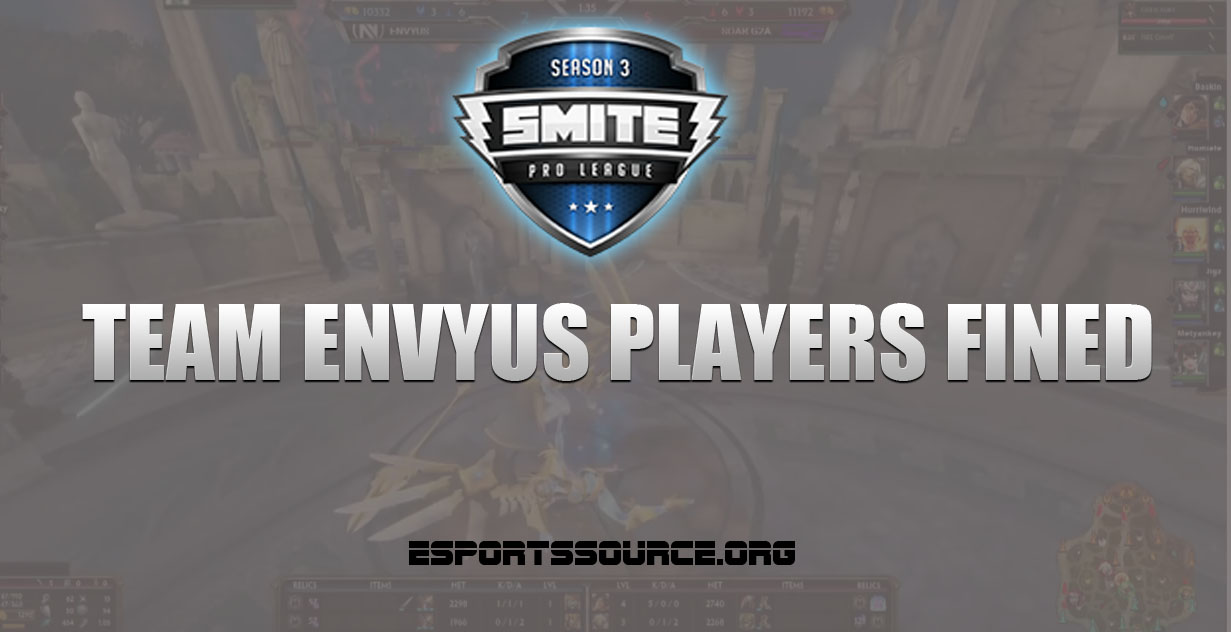 In Thursday's SMITE Pro League match against table topping SoaR Gaming, Team EnVyUs surrendered both of their games in under 10 minutes.  In response, HiRez has fined each of the Team EnVyUs players (KikiSoCheeky, Cyclonespin, Eonic, Snoopy, and Dust) $500 (USD).
How it happened: Omega disconnected during the first game, and he tweeted that he could not reconnect. A HiRez employee confirmed that the connection issues are on Omega's end, and have nothing to do with the SMITE servers.  Team EnVyUs decided to surrender at the 8 minute mark.
My screen/ping when I froze & died: https://t.co/h2sI8BLOKG || My Speedtest results: https://t.co/Ch1N9Jg4pi || Now im unable to log back in

— Omega (@EnVy_Omega) May 26, 2016
Looked into it. The issues @EnVy_Omega experienced were not server side but client/isp side. We can see his machine closing his connection.

— HiRezPonPon (@PonPonSmite) May 26, 2016
Omega was still unable to connect for the second game, so sub player Dust joined the match.  The second game was essentially a brief Arena-type match played on the Conquest map, as all five players just ran straight into their opponents to be slaughtered.  EnVyUs surrendered after one minute and 35 seconds of play.
Footage of the entire second game:
Said all I needed to on air. Only thing to add is I agree with airing those games so the community could see first hand what happened.

— HiRezHinduman (@HiRezHinduman) May 26, 2016
The reaction was swift.  The organization behind the players immediately began their own investigation:
Our management will be looking into disconnect issues and early forfeit by our @SmitePro team in today's Pro League matches.

— Team EnVyUs (@TeamEnVyUs) May 26, 2016
The organization's owner (a former pro player himself) even responded:
Even in the most frustrating times as a professional and a competitor, it is never acceptable to give less than full effort.

— Mike Rufail (@hastr0) May 26, 2016
Following the ruling by HiRez, Omega posted a Twitlonger explaining the team's side of the situation.  He says the connection problems went on for quite some time:
"The 9-10 minutes of embarrassing action you guys witness today took over 3 hours to execute. The servers were constantly crashing, every team had to constantly remake their games in a desperate attempt to finally enter one with all 10 players."
The other teammates, veterans of the esport, remained quiet on social media- with the exception of the substitute playing in his very first SPL match- Dust:
Debut Match of the SPL
Less than 3 Minutes
$500 fine

Is this what it means to go out like a buster

— Michael Duarte (@EnVy_Dust) May 26, 2016
He seemed keen to make light of the situation, given his debut didn't go exactly as planned:
I thought firstblood was 300 gold not $500

BabyRage

— Michael Duarte (@EnVy_Dust) May 26, 2016
One person not laughing?  World Champion and benched midlaner MLCSt3alth, who was bumped down to the bench last week because the team wanted to try a new lineup in the wake of underwhelming results.  Stealth tweeted he felt sorry for the organization, and he was glad not to have been a part of the two trainwreck games:
Glad I wasn't a part of that. Dang.

— Brett Felley (@EnVy_MLCst3alth) May 26, 2016
I feel bad for @hastr0. He's a kind man who had faith in this team and he's suffering for it now. Envy is a great org and don't deserve this

— Brett Felley (@EnVy_MLCst3alth) May 26, 2016
As of press time, the team has not taken public action against the players.