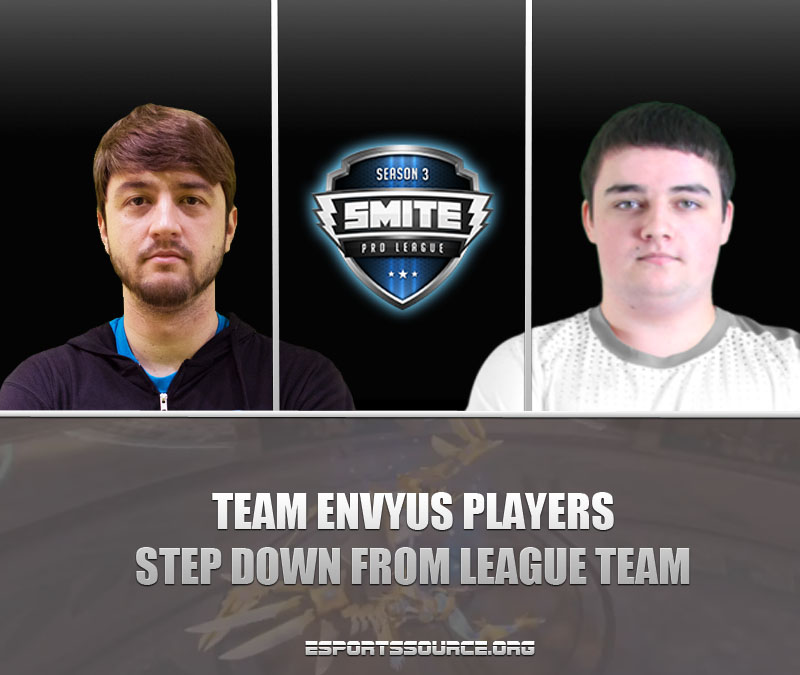 A season of subpar results concludes in a tumultuous 12 hours for Team EnVyUs, as 5 team members are fined by the league, and Ryan "0mega" Johnson and Evan "Snoopy" Jones announce their departure from the organization.
Click to watch the match that resulted in a fine
Moments ago, 0mega posted his second Twitlonger in the span of 10 hours – explaining that he and Snoopy are leaving the team.  The solo laner says he decided to leave due to the team underperforming throughout a slew of roster changes, and in his opinion, ultimately accepting mediocrity.  Currently EnVyUs are ranked 7th out of 8 teams in the league with a 7 and 17 record.
"…our recent performance was in no way acceptable and I'm sure everyone on EnVy is deeply sorry to the fans, SoaR, and HiRez in general. EnVy treated us so well, through the highs and lows and deserve the #1 Smite team in the world, regardless if I'm on it or not, I will feel this way." -0mega
0mega went on to say he plans to continue to stream and try to get on another pro or challenger team in the future.  0mega also spoke for his (now former) teammate Snoopy, saying the ADC player had lost some of his drive to compete, and wanted to take a break for the rest of the Spring Split.
"You don't want Smite to feel like your JOB, you want it to be something you're excited and motivated to play. That's just my thought on it." – 0mega on Snoopy's departure
So where does this leave Team EnVyUs?  Rosters are locked, and the team would need to look to free agents for new blood on the team.  Benched player MLC St3alth has only been away from the team for a week- so he could feasibly slot back into the midlane for the remainder of the season, and sub player Dust could try to settle into another role, whether it's jungle or support.
We will update this article when or if the organization comments on the personnel changes.
How do you rate nV's chances for the remainder of the season?  Leave your response in the comments below.