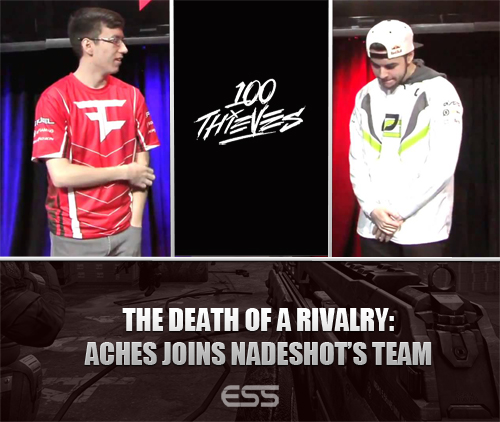 Ali vs Frazier.  Arsenal vs Spurs.  Alabama vs Auburn.  Coke vs Pepsi.  Edison vs Tesla.
ACHES vs NaDeSHoT (sorry Nade, but since we're speaking of your competitive days, we're using your old styling).
During the days of Call of Duty: Ghosts, there was no love lost between the two players, as Captain Patrick Price's legendary compLexity team (featuring current OpTic members Crimsix and Karma) regularly dashed the hopes and dreams of Matthew "Nadeshot" Haag and the plucky underdogs known as OpTic Gaming.  The two even had a bit of a physical altercation during a UMG LAN tournament many years ago, but things change, people change, and now…
Please give a warm welcome to the new member of 100 Thieves, @ACHES. He'll be joining us for the remainder of Stage 2 and MLG Anaheim.

— Hundred Thieves (@100Thieves) May 20, 2016
We never thought we'd see the day.
ACHES is coming from CLG (details of the acquisition have not been released, but it is presumed that Price was under contract despite only being with the squad for 7 days).  Prior to playing with CLG, ACHES filled in for an OpTic Gaming Call of Duty World League match win against eLevate.  His last stint in the pro league as part of a team was during a disastrous run in Stage 1 with Team EnVyUs, where he was effectively benched, and then brought back to the first team with predictably poor results.
The opening on 100 Thieves came about last night when Nelson posted a furious Twitlonger, calling out his teammates (aside from Royalty) for poor performances, and proceeding to remove himself from the team seemingly without having any World League team prospects.  It looks like Nadeshot works quite fast, and managed to get a 19 time Call of Duty champion to replace Nelson within 24 hours.  It's a good look for Nadeshot as a new organization owner, and promising news for 100 Thieves fans who may have worried about the future of the team.
Despite the (deserved) hype, ACHES is not a sure bet to turn the team's 2-6 record around.  The team has had miserable scrims as of late, and even before league play began they weren't slated to do much better than bottom of the table due to the amount of inexperienced players on the team.  It's speculated among CoD community insiders that another team change may be in the works for 100 Thieves, and either Examples or Johnny may be the next player to be replaced.
Nadeshot personally worked with the players on their dismal Uplink game weeks ago, and being a former high level competitive player himself, he may see that there needs to be a clear leader and veteran player on this team for them to improve.  ACHES appears to be the most compatible option available at the moment.  Note: this assessment includes Parasite, who is an great player but has a well documented history of not meshing well with teams.   100 Thieves can only make two team changes, and it would have been a massive risk to put Parasite on the team without another veteran given his track record of leaving teams abruptly, being dropped, and generally alienating his teammates (though they all admit he's a fantastic player).
Nadeshot has been retired from competitive play for a while now, and even appeared to chat with ACHES about doing a YouTube series together in April, so it's clear that their competitive rivalry is dead and buried. It was the source of some blistering Twitter roasts, including this incredible exchange in Call of Duty: Advanced Warfare after the OpTic organization acquired 3/4 of ACHES' old Evil Geniuses team:
@FaZe_ACHES Yo, @OpTic_TeeP and @MattMrX said if I was on coL in place of you, we would have never lost an event ? pic.twitter.com/eqVzY0qChv

— Nadeshot (@Nadeshot) March 6, 2015
@FaZe_ACHES@OpTic_TeeP@MattMrX You're talking like I'm gonna notice that 15K left my account pic.twitter.com/Az9A1Ubuae

— Nadeshot (@Nadeshot) March 6, 2015
So the rivalry is gone, but never forgotten.
Only 90's kids would know. pic.twitter.com/67OtwmLiCa

— Ryan Wyatt (@Fwiz) May 20, 2016
100 Thieves next match is against H2K on Tuesday, May 24th.