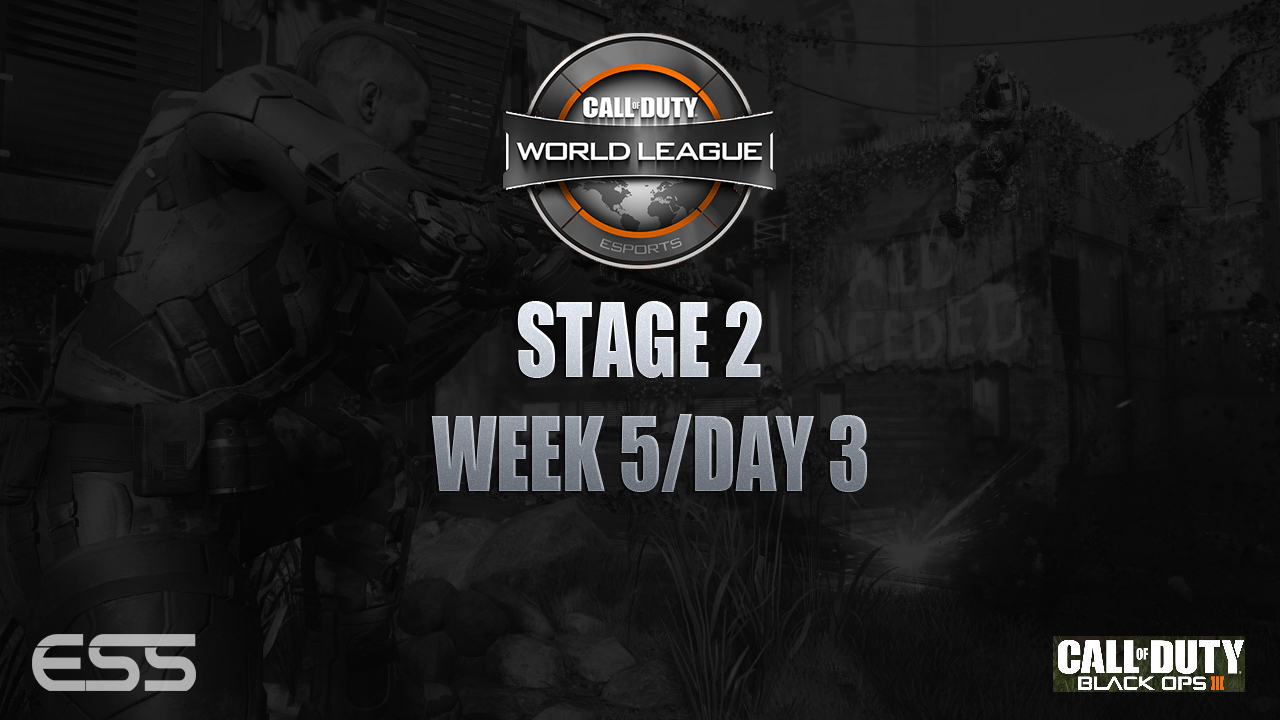 What a week in the Call of Duty World League!  In the Australia/New Zealand region, Orbit finally lost a match- leaving HyperGames in the EU as the last unbeaten team in all regions.
Major shakeups at the top of the NA table, as league leaders H2K and dT failed to retain the top two spots.  Several teams seem to be on the verge of breaking up, as a mid-season Rostermania is going on as well:
There's some team changes that are gonna blow peoples minds. pic.twitter.com/ALZ1sC2uu6

— infused MarkyB (@MarkyBCoD) May 19, 2016
Last night, Nelson announced his departure from the struggling 100 Thieves team.   You'll remember, this is the team that was promoted to the NA CWL after winning against a TK roster that had to play with a fill-in at the Relegation LAN tournament.  The Nadeshot-owned team is sitting at just 2-6 in the league, and no replacement players have been announced as of press time.
Today, the EU's version of a dream team announced they are releasing one of their top players – Madcat.  Millenium's decision is especially shocking due to the team being scheduled to play against a very tough Splyce team later today.  The team will be playing with a sub for tonight's league match.
I won't be playing for Millenium in tonight's league match vs Spylce, best of luck to them!

— Dylan D (@MadCat) May 19, 2016
We'll be using our sub @BarrageBob in our match against Splyce tonight. Then we'll turn to the issue of sorting a 4th.

— TOMMEY (@TommeyJT) May 19, 2016
Statistically, Madcat was easily one of the best players on that team, so Millenium will have very big boots to fill.  The roster change could have serious implications for the rest of the EU, as many teams would jump at the chance to have a player of Madcat's caliber on their squad.
In org news, Team Liquid have decided to leave the Call of Duty scene completely.  You may remember, the organization picked up a team in January with the hopes of qualifying for Stage 2 of the Call of Duty World League, and though the team made it to relegation finals, they eventually were knocked out.  Today TL stated they would not be looking for a team for Call of Duty Champs and beyond as most of their original players have either found new teams or have moved in a different direction.
In the midst of the player-related drama, there are still matches left to play today.  Make up matches in the EU and NA's match of the week will all be broadcast on Twitch.
STANDINGS
EU Region
| Place | Team | W | L | W% | MW | ML | MW% | WS |
| --- | --- | --- | --- | --- | --- | --- | --- | --- |
| 1st | HyperGames Team | 8 | 0 | 100% | 24 | 10 | 71% | W8 |
| 2nd | Splyce | 8 | 1 | 88% | 25 | 11 | 69% | W4 |
| 3rd | Epsilon eSports | 6 | 3 | 61% | 20 | 11 | 65% | W2 |
| 4th | Team infused | 6 | 3 | 63% | 21 | 13 | 62% | W1 |
| 5th | Millenium | 4 | 4 | 50% | 16 | 15 | 52% | L1 |
| 6th | Supremacy | 5 | 5 | 50% | 18 | 20 | 47% | L1 |
| 7th | Exertus | 3 | 6 | 25% | 18 | 20 | 47% | W1 |
| 8th | Giants Gaming | 3 | 6 | 38% | 12 | 22 | 35% | L3 |
| 9th | Team LDLC | 1 | 6 | 14% | 7 | 18 | 28% | W1 |
| 10th | Team Vitality | 0 | 10 | 0% | 9 | 30 | 23% | L10 |
NA Region
| Place | Team | W | L | W% | MW | ML | MW% | WS |
| --- | --- | --- | --- | --- | --- | --- | --- | --- |
| 1st | Rise Nation | 6 | 2 | 75% | 22 | 8 | 73% | W1 |
| 2nd | FaZe Clan | 6 | 2 | 75% | 20 | 9 | 69% | W2 |
| 3rd | OpTic Gaming | 6 | 2 | 75% | 20 | 11 | 65% | W4 |
| 4th | H2k-Gaming | 5 | 2 | 71% | 17 | 9 | 65% | L1 |
| 5th | Dream Team | 5 | 2 | 71% | 15 | 14 | 52% | L1 |
| 6th | Team EnVyUs | 5 | 3 | 63% | 17 | 12 | 59% | W2 |
| 7th | Team eLevate | 4 | 4 | 50% | 15 | 17 | 47% | W4 |
| 8th | Cloud9 | 3 | 5 | 38% | 12 | 17 | 41% | L5 |
| 9th | Hundred Thieves | 2 | 6 | 25% | 11 | 21 | 34% | L1 |
| 10th | Luminosity Gaming | 2 | 6 | 25% | 11 | 22 | 33% | L3 |
| 11th | Team SoloMid | 1 | 6 | 14% | 10 | 18 | 36% | L3 |
| 12th | compLexity | 1 | 6 | 14% | 7 | 29 | 27% | L5 |
SCORES/SCHEDULE
EU Region
Epsilon Esports 2 – 3 HyperGames Team
Team LDLC 0 – 3 Exertus Esports
HyperGames Team 3 – 1 Team LDLC
Millenium 1 – 3 Splyce
NA Region
compLexity 3 – 1 Team SoloMid
H2K 0 – 3 Dream Team