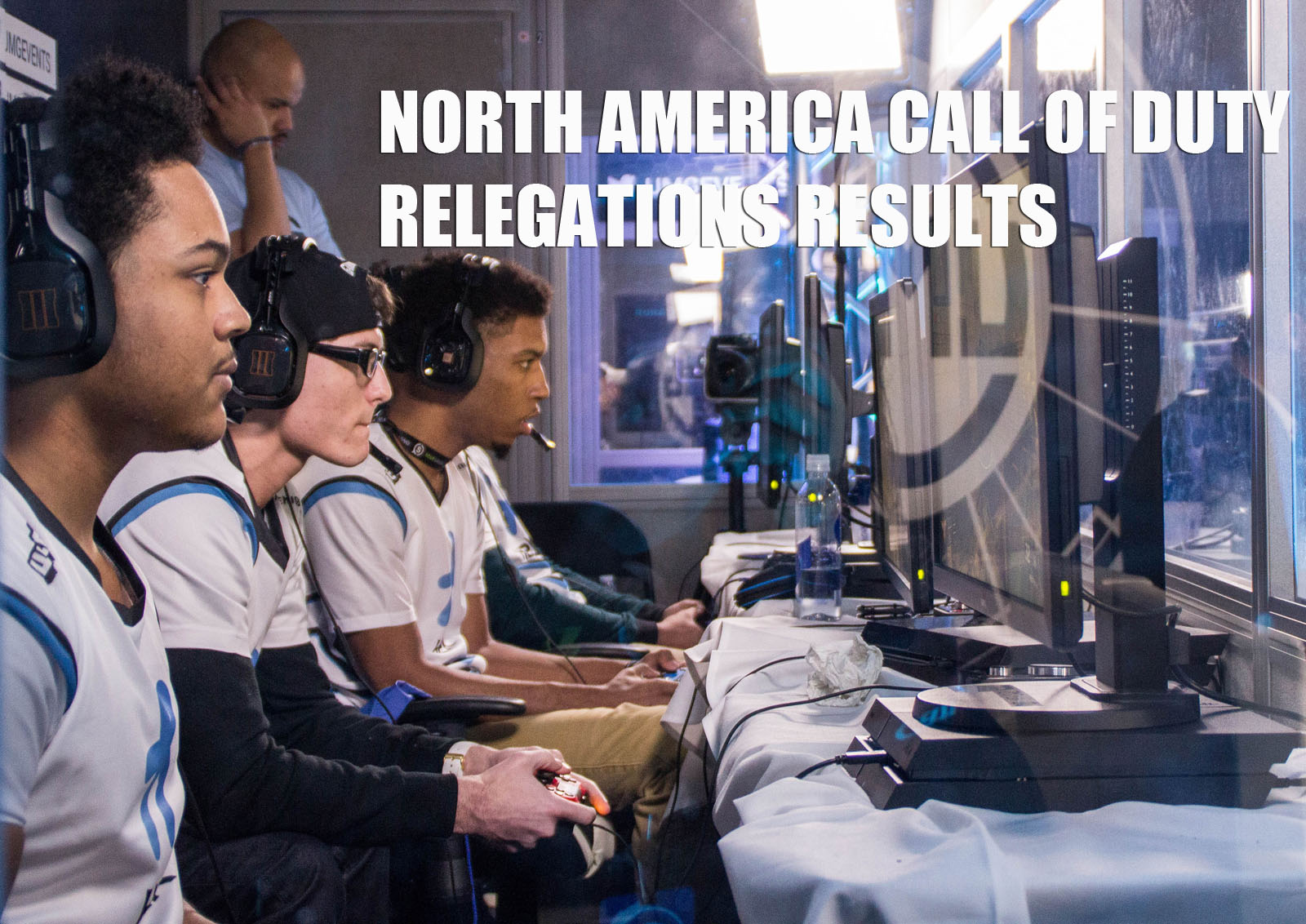 Eight teams are competing for a spot in Season Two of the Call of Duty World League.  Four of the teams are Challenge Division teams who have earned points through online and LAN tournaments.  The other four teams are the squads residing at the bottom of the Call of Duty World League in Season One.  This is a single elimination tournament, so each team only has one chance to make it into the league.
Incredible drama before play began, as Team Kaliber had to scramble to find a sub due to one of their players being denied entry to the USA.  Former OpTic Gaming and OpTic Nation player Mboze was in town to spectate this weekend's matches, and he volunteered to help tK qualify.
Match 1: Dream Team v Cloud9 Eclipse – In map number one, Dream Team and C9 Eclipse were neck and neck, and it was largely thanks to absolutely incredible slaying from Killa.  The bald eagle dropped 52 kills on the Hardpoint map- for the loss.  Cloud9 Eclipse just looked more cohesive than dT, and pulled off the close win.  The Search and Destroy started off fine for dT, but incredible plays from Silly resulted in a 6-4 win for C9 Eclipse.  Dream Team managed to get on the board with the Evac Uplink win, and they clutched up to win the following CTF map in overtime.
The Hardpoint had to be replayed due to a technical error, and Cloud9 managed to keep themselves in the series by winning the replay.  The match goes to a Game 7 S&D, and dT start off hot, taking a 4-0 lead, but Cloud9 Eclipse refused to go away quietly, winning three straight rounds to make it 3-4, but dT was just too good.  They retain their spot in the Call of Duty World League.  Killa played beautifully throughout the match, and is absolutely the MVP of this series.
Celebration and relief for @DreamTeamGG, that could not have been any closer! #CODWorldLeague pic.twitter.com/EuDewEIivd

— Call of Duty eSports (@CODWorldLeague) April 1, 2016
Match 2: H2K v Team Liquid – Team Liquid have long been known as possibly THE best team that is not in the Call of Duty World League.   For their part, H2K has looked fantastic at times during Season 1, but after UMG South Carolina and a fine finish there, the team fell off considerably.  H2K is still probably the best of the relegation teams, so it's heartbreaking that these two teams matched each other, because they both could hold their own in the league.
Today though, TL won the first three maps comfortably, and never looked particularly pressed against the H2K side until the CTF, when H2K won 4-2.  The search and destroy map was a quick one, with both teams making mistakes, but H2K coming out on top 6-4.  H2K really came alive in the second Hardpoint, 100 point clubbing Team Liquid (250-93), and forcing the second Game 7 in as many matches today.
Some sad news to end the match- Merk tweeted that he will likely retire if he can't get on a league team for Stage 2 (which is the qualifier for CoD champs):
@JoeDeLuca Yea guys, I will probably wait a few weeks to see if I can get on league team, if not, I will retire. Time to move on.

— Liquid MerK (@JoeDeLuca) April 1, 2016
Match 3: CLG v Cloud9 – It's remarkable to see these two huge NA organizations facing off in a relegation tournament for ANY eSport, but here we are.  CLG had problems closing out those best of five series all season.  If a match went beyond 2-1, the team seemingly collapsed.  Meanwhile, Cloud9 is composed of players who all have good individual skill and achievements, but playing well together consistently has not been something they've done for long.  On map one, Cloud9 looked to win this one comfortably, leading by as much as 50 points, but patient plays and good rotations from CLG helped them take the lead on the last hill and close out the map 250-222.  C9 answered right back by taking the S&D 6-3, and winning the Uplink by just one point (9-8).  Cloud 9 began to pull away with a 3-0 Capture the Flag win, and after closing out the next Search map 6-3, they won the series!
Welcome to the Call of Duty World League, Cloud9!
Hugs all around for @Cloud9gg. #CODWorldLeague pic.twitter.com/DvyViIT5i9

— Call of Duty eSports (@CODWorldLeague) April 2, 2016
Match 4: Team Kaliber v King Papey – The most controversial of the day's matches, as last minute fill in MBoze is taking Goonjar's place, and KP made it this far after forfeiting their final Challenge Division match, and thus being matched with a lower seeded team.  Normally tK would be the clear favorites to win this match, as the team are incredibly good on LAN, but with a sub who hasn't played Black Ops II very often, it looked like KP would have a real chance to enter the league and get picked up by an organization.
KP took the first HP pretty convincingly, and former Epsilon player Royalty really looked like a different class of player – his movement is superb (as it has been since he first came on the scene).  Stage 2's Rostermania will surely see him on one of the top 8 teams.  On to the next map, Search and Destroy.  It's KP's bread and butter, and it seemed unlikely that TK would be able to take those maps.  Perhaps it was tough to concentrate while KP's Nelson was screaming while wearing a fur collared coat (really), but TK was dispatched very quickly in S&D, losing 6-1.  Neslo performed best on the team through two maps, and Boze was second in kills.
Next map was Uplink, and though TK looked mentally defeated (with the exception of an excited MBoze) in the previous two maps, they perked up and took the game 6-0 to put themselves back in the match.  TK continued to roll with a fine showing on CTF, but again- S&D tripped them up.  Even an ace from MBoze couldn't save them:
The ace from @OpTic_Mboze! #CODWorldLeaguehttps://t.co/iLe38eW25O

— ESL Call of Duty (@ESLCoD) April 2, 2016
KP regain the lead with a 6-3 win.
In the end, TK simply couldn't hold on.  They lost the HP, and KP enter the league.
Teams Qualified the CWL:
Dream Team
H2K
Cloud9
King Papey
SCORES:
Dream Team 4 – 3 Cloud9 Eclipse
H2K 4 – 3 Team Liquid
Counter Logic Gaming 1 – 4 Cloud9
Team Kaliber 2 – 4 KingPapey