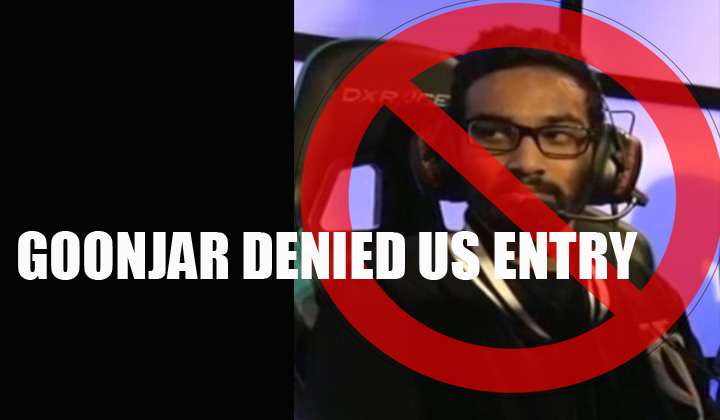 UPDATE 5: It's been a very strange day.  TK have been told they can use a player who hasn't played in the league or challenge division, and lo and behold- both Nadeshot and MBoze are in California at the same time.  Nadeshot appears to have been asked first, but he is working as an analyst this weekend for the CoD Playoffs.  The captain of the now-defunct OpTic Nation, MBoze, was in town with many other OpTic members to cheer on the pro team, and he agreed to play with TK.
Told tK to play w/ MBoze. It wouldn't be fair to them for me to play. I have no experience in respawns on Black Ops. This is best for them.

— Nadeshot (@Nadeshot) April 1, 2016
I'm back baby

— Marcus (@OpTic_MBoZe) April 1, 2016
UPDATE 4: TK has a glimmer of hope.  They have been told they can use a non-league sub.
Ruling was just made we need a sub who wasn't in the relegation qualifier or in season 1 to sub in! Who's in Cali!

— Dylan (@Theory_tK) April 1, 2016
UPDATE 3:  Goonjar tweets that he has been denied entry again.  He was told he needed a P1 visa to compete in the tournament, despite having traveled to the US for the past three years to compete.  It looks like TK are forfeiting their match, and KingPapey gets into the CWL without having played their last two matches.
I've never been this disappointed in my life. Working on getting my visa now so that this never happens again

— Goonjar tK (@Goonjar) April 1, 2016
Staying off Twitter for awhile, Goon can't come, feel like my livelihood just got stolen from me. You guys have no clue how important s2 is.

— Neslo tK (@Neslo) April 1, 2016
GL to all the teams competing this weekend not much else to say but sorry to everyone who supported us this season for it to end like this

— Dylan (@Theory_tK) April 1, 2016
UPDATE 2: League Operations manager Small just tweeted that the schedule has been changed to help tK.  They will now play last.
To provide as much support as possible for @TeamKaliber's @Goonjar, we have adjusted the schedule for tomorrow. pic.twitter.com/2eRViqGEH5

— Everett Coleman (@Small) April 1, 2016
UPDATE: Goonjar tweeted to a follower that he has a flight scheduled for tomorrow (Friday).   If he is unsuccessful getting through customs again, TK would be forced to forfeit or play 3v4.
This is a really dumb situation and hopefully tomorrow everything goes well and I can make it to Cali safely.

— Goonjar tK (@Goonjar) April 1, 2016
---
KingPapey already forfeited one qualifier match and ended up facing Team Kaliber, and now they could be in a situation that could result in a forfeit, and send them straight to the Call of Duty World League.
According to a video from Sharp, and tweets from other Team Kaliber teammates, Canadian citizen Goonjar has been blocked from entering the United States.  The details surrounding his stop at customs are somewhat unclear.  Typically if a person declares at customs that they are going into another country to earn money there, they may be asked for a work visa, so that could have been the hold up.
Currently the league is stating Team Kaliber cannot use a sub.
TK supporters have been using the hashtag #LetTKPlay to voice their displeasure on Twitter.
Not allowed to use a sub if goon can't make it ?

— Brandon Rodgers (@Sharp_tK) March 31, 2016
If I worked my ass off for the last 4 months to get our league spot forfeited over something that's out of everyone's control I'm quitting.

— Neslo tK (@Neslo) March 31, 2016
Watch the video from Sharp: