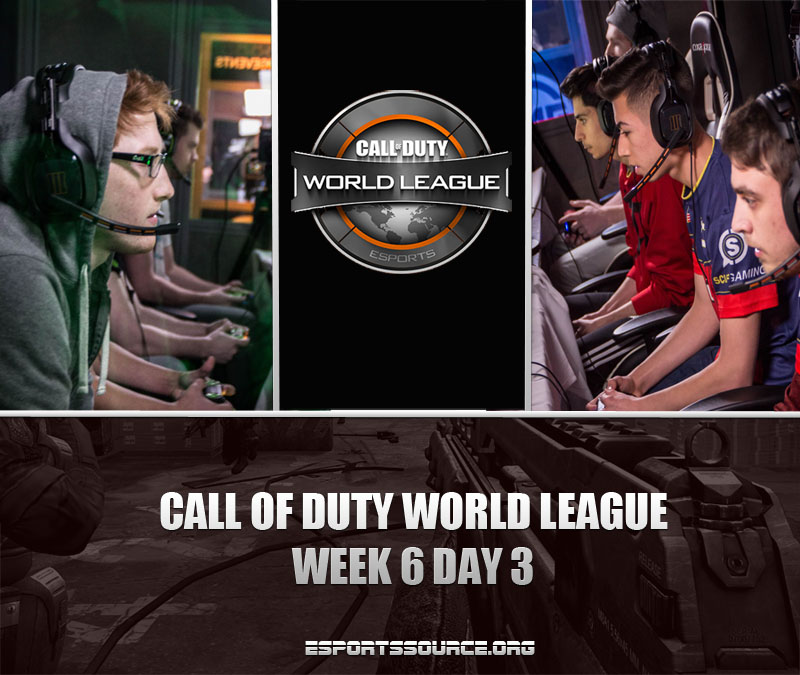 After tonight, we'll be completely halfway through Stage 2 of the Call of Duty World League.  Tonight's battles take place in just Europe and North America, with the much anticipated showmatch/grudge match that is OpTic v FaZe taking center stage.
Tomorrow. pic.twitter.com/9WA6JU921b

— Call of Duty eSports (@CODWorldLeague) May 26, 2016
The winner of this North American showdown will take sole possession of first place.  It's a chance for OpTic to complete their climb back to the top after a slow first half in the league, and it's a chance for FaZe to find some redemption after failing to live up to some fan expectations throughout the Call of Duty: Black Ops III season.
STANDINGS
Europe
| Place | Team | W | L | W% | MW | ML | MW% | WS |
| --- | --- | --- | --- | --- | --- | --- | --- | --- |
| 1st | HyperGames Team | 11 | 1 | 92% | 34 | 16 | 68% | W1 |
| 2nd | Splyce | 10 | 1 | 91% | 31 | 12 | 72% | W6 |
| 3rd | Team infused | 7 | 3 | 70% | 24 | 13 | 65% | W2 |
| 4th | Epsilon eSports | 8 | 4 | 67% | 28 | 16 | 64% | W2 |
| 5th | Supremacy | 6 | 6 | 50% | 21 | 25 | 46% | L1 |
| 6th | Millenium | 5 | 6 | 46% | 22 | 23 | 49% | W1 |
| 7th | Exertus Esports | 5 | 7 | 42% | 26 | 24 | 52% | L1 |
| 8th | Giants Gaming | 3 | 7 | 30% | 14 | 25 | 36% | L4 |
| 9th | Team LDLC | 1 | 9 | 10% | 8 | 27 | 23% | L3 |
| 10th | Team Vitality | 0 | 12 | 0% | 9 | 36 | 20% | L12 |
North America
| Place | Team | W | L | W% | MW | ML | MW% | WS |
| --- | --- | --- | --- | --- | --- | --- | --- | --- |
| 1st | FaZe Clan | 7 | 2 | 78% | 23 | 9 | 72% | W4 |
| 2nd | OpTic Gaming | 7 | 2 | 78% | 23 | 12 | 66% | W6 |
| 3rd | Rise Nation | 7 | 3 | 70% | 27 | 12 | 69% | W1 |
| 4th | H2k-Gaming | 6 | 4 | 60% | 21 | 16 | 57% | L1 |
| 5th | Team EnVyUs | 6 | 4 | 60% | 21 | 17 | 55% | L1 |
| 6th | Dream Team | 6 | 4 | 60% | 21 | 20 | 51% | L2 |
| 7th | Team eLevate | 5 | 4 | 56% | 18 | 19 | 49% | W1 |
| 8th | Cloud9 | 4 | 6 | 40% | 16 | 21 | 43% | L1 |
| 9th | Luminosity Gaming | 4 | 6 | 40% | 17 | 23 | 43% | W2 |
| 10th | compLexity | 3 | 7 | 30% | 14 | 24 | 37% | W1 |
| 12th | Hundred Thieves | 2 | 7 | 22% | 12 | 24 | 33% | L3 |
| 12th | Team SoloMid | 1 | 9 | 10% | 11 | 27 | 29% | L7 |
SCORES
EU Region
Team LDLC 1 – 3 Giants Gaming
Splyce 3 – 1 Giants Gaming
Team Infused 3 – 1 Team LDLC
NA Region
Team eLevate 3 – 2 Hundred Thieves
OpTic Gaming 3 – 2 FaZe Clan