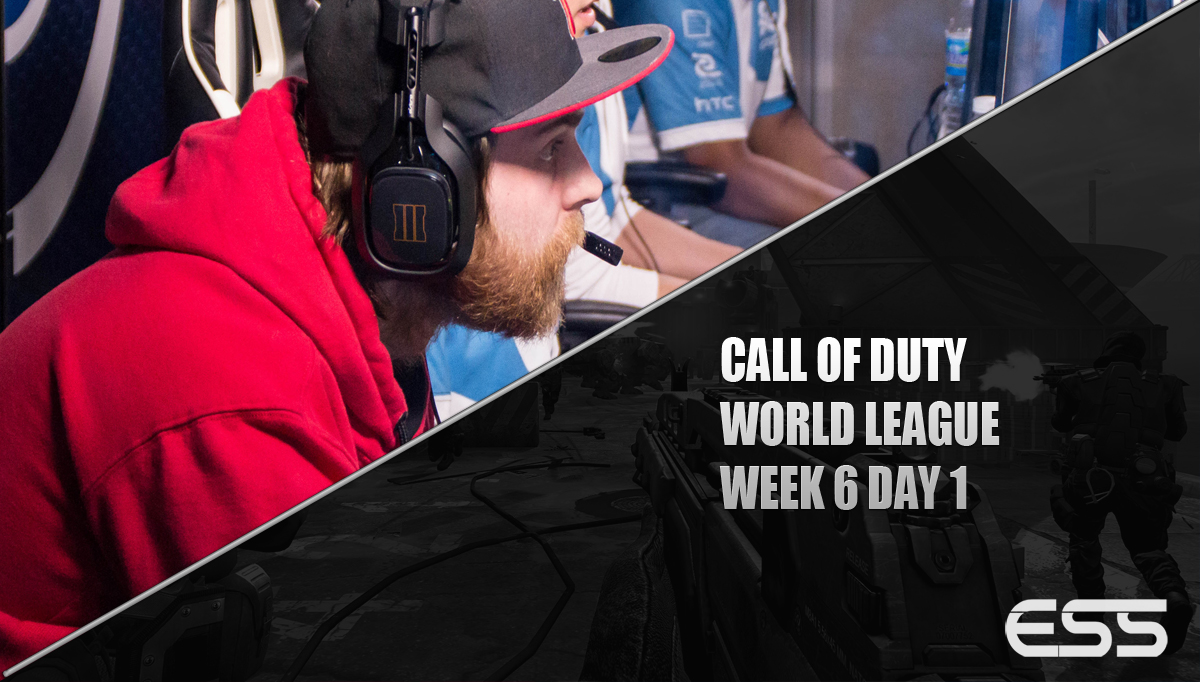 A lot of changes are happening as we reach half way point in the Call of Duty World League.  Last week there was a flurry of roster changes in the EU and NA regions, resulting in a few new teams, and one so-called "god squad" opting to stay together.
Europe:
Bran leaves Team LDLC due to personal problems-
Stepping down from LDLC

Read: https://t.co/rhJn5MdjKD

— Guy Branley (@LDLC_Bran) May 22, 2016
Millenium released Madcat, only to welcome him back hours later when they couldn't complete trades before the EU roster lock deadline.
We'll be finishing this game out with the four we started with. Yes, it may all be confusing right now and (cont) https://t.co/QiRFKwH4et

— TOMMEY (@TommeyJT) May 20, 2016
North America:
Nelson announces his sudden departure from Nadeshot-owned 100 Thieves.  ACHES is announced as Nelson's replacement on the team.  A short time later, Johnny announced he was being dropped from the team and alleged he was not paid by Nadeshot and mislead by the face of competitive Call of Duty.  Nadeshot responded at length and clarified that the situation is not ideal for anyone, but says he did not make any false promises.
In any case- the new 100 Thieves team is now ACHES, Remy, Nelson, and Royalty.
The changes to 100T had a ripple effect- as Remy and ACHES came from CLG, seemingly causing the organization to step away from the Call of Duty scene.
A team that has been in trouble for a while is the bottom dwelling compLexity squad.  After dismissing Parasite to start Stage 2, the team recalled him and dropped NAMELESS.
Luminosity Gaming then went on to drop Call of Duty veteran TeeP in favor of picking up NAMELESS.
Changes to the Call of Duty roster, @Luminosity welcomes @nameless to the team as @TylerTeeP moves to substitute. pic.twitter.com/PHcaLLcuZf

— Luminosity Gaming (@Luminosity) May 24, 2016
Are you caught up?  Rostermania can strike at any time (before roster lock, of course) so stay vigilant!
On to the standings and matches:
STANDINGS
ANZ Region
| Place | Team | W | L | W% | MW | ML | MW% | WS |
| --- | --- | --- | --- | --- | --- | --- | --- | --- |
| 1st | Orbit GG | 9 | 1 | 90% | 28 | 8 | 78% | L1 |
| 2nd | Mindfreak | 8 | 2 | 80% | 26 | 11 | 70% | W3 |
| 3rd | The Chiefs eSports Club | 7 | 3 | 70% | 24 | 12 | 67% | W2 |
| 4th | Team Immunity | 6 | 4 | 60% | 22 | 18 | 55% | W1 |
| 5th | Plantronics Tainted Minds | 4 | 6 | 40% | 18 | 20 | 47% | L1 |
| 6th | Apotheon eSports | 3 | 7 | 30% | 14 | 24 | 37% | W1 |
| 7th | Plantronics Nv | 2 | 8 | 20% | 7 | 24 | 23% | L2 |
| 8th | eXcellence Gaming | 1 | 9 | 10% | 7 | 29 | 19% | L7 |
EU Region
| Place | Team | W | L | W% | MW | ML | MW% | WS |
| --- | --- | --- | --- | --- | --- | --- | --- | --- |
| 1st | HyperGames Team | 10 | 0 | 100% | 30 | 13 | 70% | W10 |
| 2nd | Splyce | 9 | 1 | 90% | 28 | 12 | 70% | W5 |
| 3rd | Team infused | 6 | 3 | 63% | 21 | 13 | 62% | W1 |
| 4th | Epsilon eSports | 6 | 4 | 60% | 22 | 14 | 61% | L1 |
| 5th | Supremacy | 5 | 5 | 50% | 18 | 20 | 47% | L1 |
| 6th | Millenium | 4 | 5 | 44% | 17 | 18 | 49% | L2 |
| 7th | Exertus | 4 | 6 | 40% | 21 | 20 | 51% | W2 |
| 8th | Giants Gaming | 3 | 6 | 33% | 12 | 22 | 35% | L3 |
| 9th | Team LDLC | 1 | 8 | 11% | 8 | 24 | 25% | L2 |
| 10th | Team Vitality | 0 | 10 | 0% | 9 | 30 | 23% | L10 |
NA Region
| Place | Team | W | L | W% | MW | ML | MW% | WS |
| --- | --- | --- | --- | --- | --- | --- | --- | --- |
| 1st | Rise Nation | 6 | 2 | 75% | 22 | 8 | 73% | W1 |
| 2nd | FaZe Clan | 6 | 2 | 75% | 20 | 9 | 69% | W2 |
| 3rd | OpTic Gaming | 6 | 2 | 75% | 20 | 11 | 65% | W4 |
| 4th | Dream Team | 6 | 2 | 75% | 18 | 14 | 56% | W1 |
| 5th | H2k-Gaming | 5 | 3 | 63% | 17 | 12 | 59% | L2 |
| 6th | Team EnVyUs | 5 | 3 | 63% | 17 | 12 | 59% | W2 |
| 7th | Team eLevate | 4 | 4 | 50% | 15 | 17 | 47% | W4 |
| 8th | Cloud9 | 3 | 5 | 38% | 12 | 17 | 41% | L5 |
| 9th | Hundred Thieves | 2 | 6 | 25% | 11 | 21 | 34% | L1 |
| 10th | Luminosity Gaming | 2 | 6 | 25% | 11 | 22 | 33% | L3 |
| 11th | compLexity | 2 | 6 | 25% | 10 | 20 | 33% | W1 |
| 12th | Team SoloMid | 1 | 7 | 13% | 11 | 21 | 34% | L4 |
SCORES/SCHEDULE
ANZ Region
The Chiefs Esports Club 3 – 2 Mindfreak 
Apotheon Esports 0 – 3 Team Immunity 
Orbit GG 3 – 1 eXcellence 
Plantronics Nv 0 – 3 Tainted Minds 
EU Region
Millenium 2 – 3 Supremacy 
Epsilon Esports 3 – 0 Team LDLC 
Splyce 3 – 0 Team Vitality 
HyperGames Team 1 – 3 Exertus Esports 
NA Region
Hundred Thieves 1 – 3 H2k Gaming  
Dream Team 2 – 3 Team eLevate  
Rise Nation 2 – 3 Team EnVyUs  
compLexity 1 – 3 Cloud9 
Team SoloMid 0 – 3 Luminosity