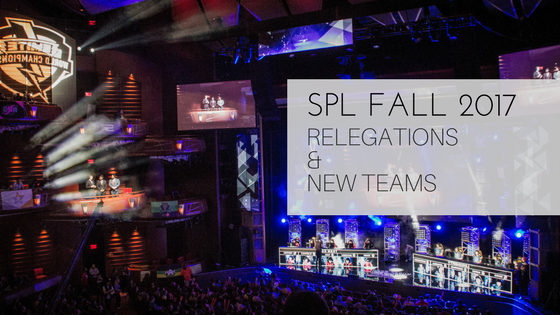 After a wild weekend of SMITE Pro League relegation matches, there are new faces joining the pro scene just in time for World Championship qualification.
EUROPE
On Saturday, teams from the European region were playing to make it into the league. Of the four teams participating, it was the two veteran teams who made it back to the top: Burrito Esports and The Papis. Papis were triumphant in their mad dash for qualification for the Summer Split, but struggled mightily during the season, quickly falling into the relegation zone. Their redemption arc starts now, as they enter the Fall Split with a new midlaner, MrNazer.
Burrito Esports' lone win during the Summer Split was against the hapless Papis, but the team came into the relegation tournament without any changes to their roster.  The squad didn't look great in the tournament, and advanced by way of a tiebreaker between the top three teams (Papis, Burrito, and the cleverly named Victorious Secret).  Burrito won their tie-breaking match against The Papis, then the Spanish team went on to beat Victorious Secret, and thus both former SPL EU teams bounced right back into the league.
NORTH AMERICA
In the NA region on Sunday, Flash Point, SPL Gatekeepers, Team AI, and A Mighty Storm all vied for SPL contention. A Mighty Storm has a few mighty well known players on the team like Uzzy and ViviaNx3 from previous SPL seasons, but the rest of squad will be hungry for their chance to play against the best as they made their way through relegations with relative ease.  The team's one loss was to fellow promoted team SPL Gatekeepers.
For their part, the Gatekeepers held their own in relegations as captain PainDeViande charged back into SMITE Pro League after taking the Summer Split off following his departure from eUnited. Pain looks to be back in his element, heading up a team of talented up and coming players like Grave and MandoWarrior alongside hunter extraordinaire ADaytoRemember and Moswal the midlaner. You may remember, after coming second at the 2016 SMITE World Championships, PainDeViande and his Enemy team failed to qualify for the tournament in 2017 and struggled during the Spring Split.
Will the fiery French Canadian player be able to motivate his squad into the top spot by the end of the Fall Split? We'll see.
The start date for the Fall Split and the Super Regionals has not been announced on the SMITE Esports website as of press time, but HiRez employees have written a community post about tentative plans for Season 5.