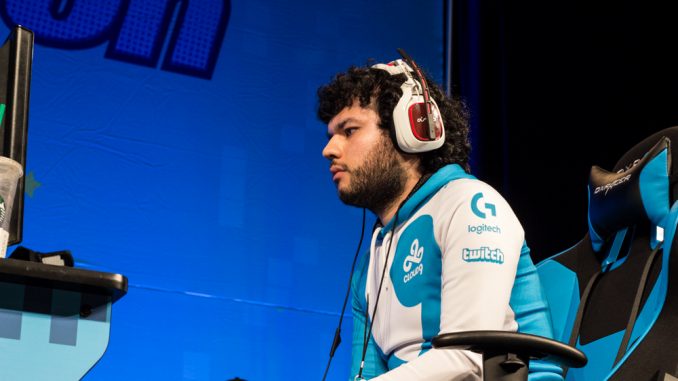 An Interview with the EVO 2016 Champion.
by Kim Newsome, EIC
EVO is where many fighting game legends have been made over the years, and this weekend, the reigning Super Smash Bros 4 champion is looking to continue his legendary story in Las Vegas.  Elliot Bastien Carroza-Oyarce is known as "Ally" around the Smash scene, and the 26 year old from Montreal, Quebec won EVO 2016 in the Grand Finals against Takuto "Kameme" Ono.  This year Ally is working not only to defend his title, but also bounce back from a run of lackluster results in recent tournaments.
Esports Source spoke to Ally during the Smash tournaments at MomoCon 2017, where he emphasized the importance of EVO in determining his success for the year.  Shortly after winning  the 2016 tournament, Ally was signed to North American powerhouse Cloud9, the second Smash player on their extensive roster of esports talent.
Winning a lot of tournaments is nice, and getting signed is great, but Ally says with a win at EVO over the weekend, he can take a well deserved break:
Ally has been in a part of the fighting game scene for nearly a decade, competing in Super Smash Brawl tournaments as early as 2008.  While gaming is his career and it's important to him, the veteran player says he doesn't get too worried about his performances from tournament to tournament, but instead takes it all just one match at a time.
"I just tell myself it's okay if I win, it's okay if I lose," Ally said. "There's plenty of other tournaments coming up. Just do your best. If you start doing bad, just try [to get] better next time. You can't win them all.
He continued: "I'm expecting myself to lose. So when it does happen, I'm not going to be affected really badly. Especially in winners – if you lose in winners, you're still in losers but you're still thinking about the set that just happened and it affects you on your next set and you lose. I try to avoid that. I try to keep a calm mentality and just relax. Whatever happens, happens. If I win, I'm going to celebrate. If I lose – [on to] next week."
His attitude toward competition is clearly working, as he's won 10 of his last 22 singles tournaments in 2017 despite a little drop in form for the last four tournaments, placing 5th and 17th at his last two events before EVO.  Ally is currently ranked 5th in the Panda Global Rankings and unsurprisingly, all of his fellow top 10 competitors are all playing this weekend at the Mandalay Bay in Las Vegas.
In an era where there are more esports than ever and big money prize pools are bursting at the seams, many publishers and developers are jumping onboard the bandwagon and dumping a lot of funding and resources into competitive gaming.  Unfortunately for Ally and the Smash scene, Nintendo is not that kind of publisher.  In the past, the publisher has hit its entertainment and competitive communities hard with IP restrictions for YouTube creators and the company even tried to shut down tournaments, citing issues with the way their games were being played.
When speaking with Mashable's Tina Amini at E3 2017, Nintendo president Reggie Fils-Aimé had this to say about the company's stance on esports:
"We don't see where people need to do big dollar buy-ins to get the team. We're not believers in sponsoring players and things of that nature. For us, it's about enabling the community to want to pick up a controller and play the very best they can."
The lack of publisher funding for tournaments keeps the prize pools relatively small when compared with an esport like Counter-Strike: Global Offensive and its "million dollar majors" throughout the year.  As a professional player, sticking with a game from 2014 that has little developer support for the esports scene requires a lot of passion, and Ally says the players and the fans will always stick around – with or without Nintendo's help:
"Smash itself? I know it's going to be alive in 5 years unless Nintendo does something dumb I don't see it going anywhere", he said.  "Melee's been going on for 10 years now. Smash 4 – compared to the previous game – is pretty healthy. I don't see why people would stop playing. I don't see it just stopping. If it does, it's going to be something not in our control."
EVO 2017 will run all weekend long, with eight other games aside from Super Smash Bros Wii U.  Keep up with the action on stream with our EVO 2017 Guide.
Interview transcription by David Key.