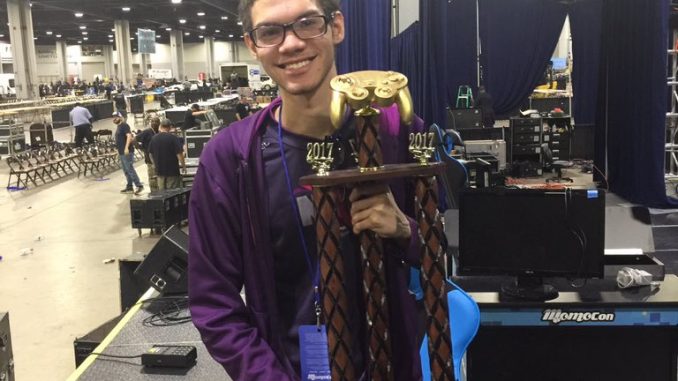 Fatality upsets top players in front of his home crowd.
by Kim Newsome, EIC
"Georgia, Georgia, Georgia!"
The chants of the crowd in the main hall at MomoCon 2017 were deafening and directed at just one man: Griffin "Fatality" Miller.  Fatality took the hard road to the Smash Wii U Singles Grand Finals, hurdling through the Loser's Bracket and dismissing top players Larry Lurr and TSM ZeRo along the way.  By the time Fatality walked onto the stage in Atlanta, less than 30 minutes from his hometown, the crowd was firmly and very vigorously in the underdog's corner.
Known as one of the best Captain Falcon players in the world, Fatality won MomoCon back in 2015, defeating Neos in the final and taking home $1,235 USD.  The following year, the 22 year old failed to place in the money in front of his home crowd, taking 9th place while a triumphant Nairoby "Nairo" Quezada took the trophy and a share of the increased prize pot.  This year 18th-ranked Fatality was primed for victory as he cut down the number one player in the world, Gonzalo "ZeRo" Barrios, in the Loser's Final with a dominant 3 – 1 win.  Fatality pounded his chest after the victory, pointing at the crowd, and then sat with his head in his hands – taking a moment to savor in triumph.
The moment would be brief.  While the crowd chanted for Fatality on stage, another player was quietly waiting in the wings after breezing through the Winner's Bracket: the defending MomoCon champion, Nairo.  The third-ranked player from New Jersey had a slow start, as Fatality rode his momentum from his win over ZeRo into the next game and won handily.  Nairo eased back into the match by establishing his own pace, forcing Fatality to miss at key moments.  The rabid fans in the crowd grew subdued as they watched Nairo land combo after combo, and there were smatterings of applause and a few delayed thumps from thundersticks as Nairo landed the final blow to win the match 3 – 2.
Nairo's victory was thorough; he hushed the crowd, took the trophy, and won the largest share of the $5000 prize pool.  He's also the player who sent the formidable ZeRo to the Loser's Bracket in the first place, denying the number one player with a 3 – 1 win.  Nairo was a man on a mission to claim his trophy at MomoCon, and on the way home, he's still not letting it go:
I can barely move but I'm making sure nothing happens to it

They try to take it away from there and it's war pic.twitter.com/WPvxZg768r

— NRG Nairo (@NairoMK) May 29, 2017
Next up for Nairo is a tournament held in his honor, the 2GGC: Nairo Saga on June 10th and 11th at Esports Arena in Santa Ana, California.
2017 MomoCon Smash Wii U Singles Final Placements (through 7th place)
1st – NRG Nairo
2nd – YP Fatality
3rd – TSM Zero
4th – Misfits Larry Lurr
5th – CLG Void
5th – DNG Kameme
7th – C9 Ally

7th – MVG

Salem