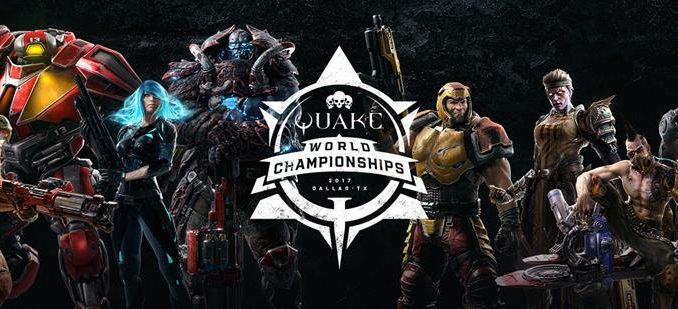 Quake World Championship Action
We are at the halfway point in the qualifying stages for the Quake World Championships and its one million dollar prize pool. Top qualifiers in Quake Champions' new 1v1 Duel and 4v4 Sacrifice modes have begun to separate themselves from the rest.  32 European and North American Duel players and eight European teams have already qualified for the Regional Finals.
Throughout the weekend the Duel action continues, as well as the start of the North American Sacrifice Team Qualifiers.
The battle to make it to the main event heats up at the Regional Finals on August 5th and 6th, with the Finals to be held at QuakeCon in Dallas on August 24th-26th.
Visit the Quake World Championships ESL page for more information and stream schedules.
---
Universal Open Rocket League US Registrations Are Open
Have what it takes to be a Rocket League champion? Players of all skill levels are invited to register for the Universal Open Rocket League, an all-new 2v2 Rocket League tournament hosted by NBC and FACEIT.
US-based players on the Xbox One and PC games will get to compete for a piece of the $100,000 prize pool.
US registration is now open on FACEIT.com.
This is at least Dooi's third telefrag with a Ranger's dire orb so far during the NA #Quake duels. Absolutely insane! pic.twitter.com/YIEBs2tlcA

— ESL Quake (@ESLQuake) July 11, 2017
More information is soon to come concerning the European Open Qualifiers. The four best European teams will also go to The Grand Finals in Santa Ana, California.
Format and Qualifying Information
---
Rocket League at X Games
As we reported earlier this year, Rocket League is the chosen esport to represent the community and genre this year at ESPN's X Games event in Minneapolis, Minnesota this weekend.  X Games has incorporated competitive gaming in its lineup of events at the tournament for extreme sporting events since 2014.
The $75,000 Invitational features 8 teams: Team EnVyUs, FlipSid3 Tactics, Gale Force Esports, The Leftovers, G2 Esports, NRG Esports, Rogue, and Selfless Gaming.
For more information about the X Games, visit the official site.