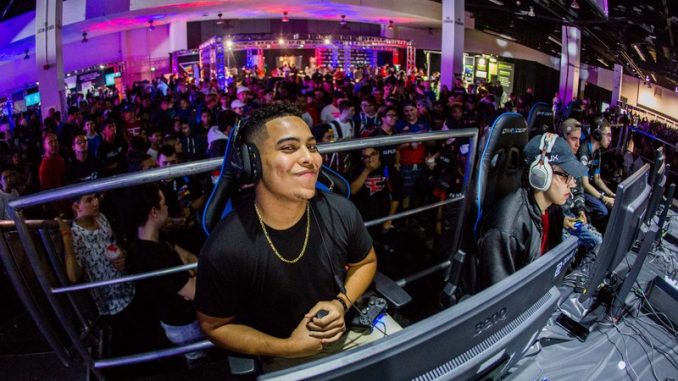 Big teams look to bounce back in Championship bracket.
by Kim Newsome, EIC
The first half of the CWL MLG Anaheim Open is complete, and some of the top teams in Call of Duty have been brought low by some unexpected and under-rated competition.
Most of the storylines in the tournament are revolving around BitterSweet, the team that came right from qualifying for Stage 2 of the CWL and tore through the ranks in Pool C.  BitterSweet's players are not new to competing at the highest level, but the firepower from Maux and the cool decision-making and execution from teammates SpaceLy, Lacefield, and Llamagod have consistently caught their opponents off-guard.
The team swept aside Evil Geniuses in their first match, dispatched FaZe Clan with ease in their second, and thoroughly beat Elevate in their final match on Friday.  Saturday's final pool play match against eRa cemented BitterSweet's perfect finish in their group, and they will attempt to keep up the momentum in the Winners Bracket.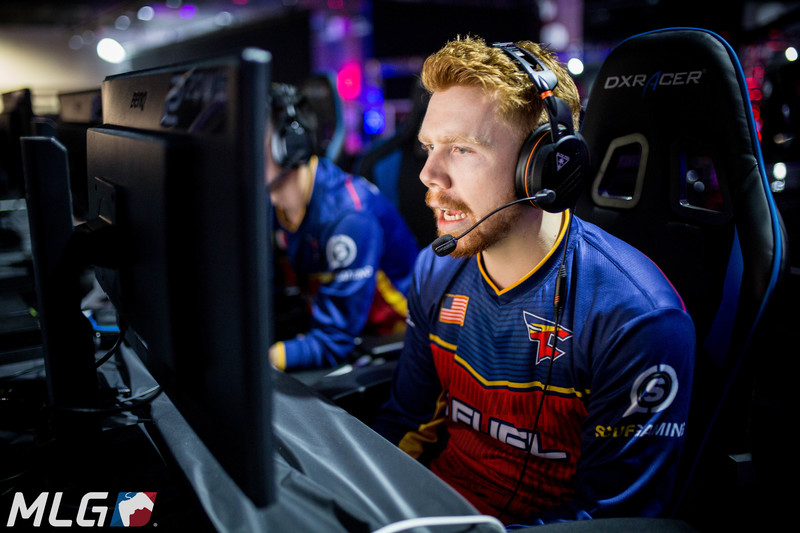 Another Pool C team is generating a lot of questions, the biggest being what moves will FaZe Clan make after this tournament?  The team was formed in 2015 as an answer to OpTic Gaming's dominance during that period, and saw some measure of success in Call of Duty: Advanced Warfare but have struggled to string significant tournament wins together ever since.
Prior to this tournament, team members were openly courting new teammates and exploring other team options, but no deals could be completed before Anaheim.  Long-time caster Chris Puckett shared some insight about the team changes during Friday's broadcast:
Here at the Anaheim Open, FaZe continues to struggle in various game types and the team chemistry that buoyed their strength looks unable to keep them afloat for much longer.  FaZe finished third in their group, and will start the knockout stage in the Loser's bracket.
Meanwhile in Group A it was a tight race for the top spot on Friday, as Enigma6, Rise Nation, and Splyce all went into Saturday with a 2 – 1 record.  Splyce's superior map count was a deciding factor early in the day as they confirmed a spot in the Winners bracket.  Enigma6's perfect 3 – 0 win against Open Bracket team Lethal Gaming gave them first place in the group.  At the other end of the spectrum, Cloud9 had a miserable start to the tournament, going 1- 3  in Group A.  They'll have to make up for the poor plays by bringing heat to the Loser's Bracket.
In Group D, eUnited are without Gunless but not hopeless.  The team has braved some serious off-screen team drama in the weeks before the event, and they are currently playing with Swarley in place of Gunless, who benched himself after his transfer request was denied.  The team played well on Friday, only losing in a sweep to OpTic Gaming, and it will be interesting to see how the team progresses in the knockout stage.
Speaking of OpTic, the Greenwall is currently on fire, as the team makes an attempt at "The Dream" of winning a tournament without dropping a map.  Currently the team has a 12 – 0 record from their Pool play performances, but it may be tough to remain perfect when their first match in the Winner's Bracket is against a formidable Luminosity team.
OpTic's OG Hype Squad is in full force at Anaheim and they have plenty to cheer about:
.@OpTicGaming have come to PLAY! They take Game 1 250-133 over @EunitedGG on https://t.co/yg6J8iZEDc#CWLAnaheim https://t.co/2UNbyjWsro

— MLG @ #CWLAnaheim (@MLG) June 17, 2017
If OpTic are trying to complete The Dream, Mindfreak are currently living a nightmare.   The Australian side has yet to muster a single map win during this tournament, and if they continue their struggle in the Championship Loser's bracket, it's possible the team may leave North America without winning a map.
In Group B, it was always going to be a scrappy struggle for the top, but world champions Team EnVyUs weren't even part of the fight as they dropped early games to both Epsilon and Luminosity and only barely came away with a 3 – 2 win over Red Reserve.  The nail in the coffin was a 3 – 0 sweep by Open Bracket team Rogue.  Few would envy the team's last place finish in their group, and the Boys in Blue will have a lot of work to do in the knockout stage to place in the money at this tournament.
CWL MLG Anaheim Open continues today with the Championship brackets.  The top teams from the Open Loser's bracket will join the pros in the Champs Loser's bracket for a chance to make it to Championship Sunday.
CWL MLG Anaheim Open – Open Bracket
Photos courtesy of MLG.