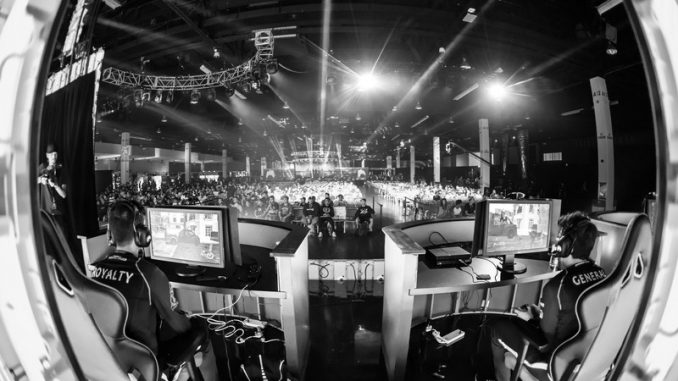 We're going to try something new for this tournament and keep up with the narratives at CWL Anaheim Open as they unfold in our "bytes" section of the site.  Rather than posting a traditional recap article we'll post our personal observations, a couple of twitch clips, some Twitter conversations, and the odd Reddit thread to tell the tale of the events unfolding during the Championship Bracket stage of the tournament.
Check out our ES Anaheim Open Hub for articles, calm stream chat and interviews from the event.
bytes:
Saturday
BitterSweetGG's ride at Anaheim stutters to a stop as Splyce sweeps them 3 – 0 in Champs R1.
More EU dominance as Epsilon sends eUnited to the Loser's Bracket with a 3 – 1 win and a really impressive final Hardpoint.


.@Epsilon_eSports send @eUnitedgg to the 100 point club with a 250-64 Game 4 series win!https://t.co/YiJWJAwXLr https://t.co/XvIWrX0RFh

— MLG @ #CWLAnaheim (@MLG) June 18, 2017

World Champions Team EnVyUs place top 24 after finishing last in their group and losing to Allegiance 2-3 in Losers R1.


Not like this. @TeamEnVyUs are sent home in Game 5, Round 11 by @TeamAllegiance!https://t.co/yg6J8iZEDc // #CWLPS4 https://t.co/ZpPHk0voVF

— MLG @ #CWLAnaheim (@MLG) June 18, 2017

The Dream ends, as OpTic Gaming finally lose a map.  LG fend off a late comeback from OG to win 250 – 237.  OpTic Reddit does not take it well.

Pour out a cold one (iced tea) for EU watchers.  OpTic fans in London would have been up at 5am watching the stream.  West Coast events can't be much fun for EU fans.
Oh no… oh Octane.  His camo runs out, and he gets exposed.  OG wins the S&D, but check out the Hype Squad's VERY vigorous body slams in the front row:


Game 2 S&D goes to @OpTicGaming! Now a 1-1 series on https://t.co/yg6J8iZEDc#CWLAnaheim // #CWLPS4 https://t.co/dip3SZo6Xd

— MLG @ #CWLAnaheim (@MLG) June 18, 2017

Keep an eye on the Loser's Bracket action on MLG's site.  There are a lot of matches still left to play in this tournament tonight (most will off-stream).  Team Kaliber is an org that is quite old (in CoD years – they were established in 2013) but they have taken some emphasis off of competitive in recent years.  The team's last Top 8 placing at a Major non-invitational event was at UMG Washington DC in 2015. It's been a while.
Still a bit surprised by EnVy's really woeful performance at this tournament.  Their Top 24 finish is the lowest in the org's history according to the records on CoD Esportspedia.  The next lowest is 13th-16th at UMG Atlanta in 2013.
It's all gone pear shaped for OpTic!  Luminosity win 3 – 2 and send OpTic to Round 4 of the Loser's Bracket where they'll face the winner of Rise v Elevate!


That is GG! @Luminosity hand @OpTicGaming their first loss of #CWLAnaheim on https://t.co/yg6J8iZEDc! https://t.co/GJFFYrK4i1

— MLG @ #CWLAnaheim (@MLG) June 18, 2017

Currently watching shaky periscope streams to follow along with the action.  Linking them won't do you any good here, people of the future, so see how the LB runs panned out here.  Twitter folks reading live – check our latest retweets for Periscope streams.
FaZe are out of the tournament!  Aches is a giant killer again, as C9 takes the series 3 – 1.
FaZe could blame this on Zooma's recent surgery or Clay's root canal, but the team just didn't play well together this time.  It looks like Attach agrees (credit to Redditor /u/dnkeiser for the photo):

All of the players will undoubtedly be disappointed, but Clay had a hard time getting up after that match:

Loser's Bracket resumes in the morning.  The only Open Bracket team left is Team Kaliber, who dispatched fellow ams Lethal Gaming, Rogue, and Fury on their way to the 4th round.  Enigma6 will be their first pro foes, so this should be an interesting matchup.
This could be the start of the first true "Rostermania" in the Call of Duty scene in about 2 years.  Team switching among all of the orgs, even those at the top used to be a common occurrence, but with squads like OpTic and FaZe (and to a lesser extent Team EnVyUs/Rise/Luminosity) sticking together for more than one or two events, the player shuffle has been limited to AMs and middle to lower tier pro teams. If FaZe decide to make some changes, this could spark some scrambling from other teams to pick up one or two of those top notch players.
Sunday
OpTic sweep Rise, which means the front row's Hype Squad is still alive, but Epsilon has their own cheering section too.  Well, at least Dave does:


MY GUYS MAN ?? pic.twitter.com/H5XvnKuRVl

— Dave (@Dqvee) June 18, 2017

Luminosity v EG – It's hard to pick against a strong and motivated LG team, but Evil Geniuses have been looking really solid.  If Nameless starts "wheelin'" as is his wont, he may be big here for EG.  The addition of Parasite to the team has also made all of the other teammates have to do a bit less because he's an extremely efficient player.  EG look really good.
Reddit does what Reddit does: provide wild speculation about team transfers and Rostermania.  This time it seems warranted, as it's hard to imagine nV and FaZe not making some significant roster changes after this event.
BitterSweet is dropping their logo and their team after this event.  Well, the team is going to pursue other options with another org, and the logo is being reworked so that there aren't guns on the angry cupcake.  The owner says he wants his org to stay in the Call of Duty scene.
With that news, we'll try to stuff as many BitterSweet puns as we can in our ledes for the rest of the tournament.
Cloud9 has yet to have a match on stream (they're in the LB against Red Reserve), and it's gotten to the point where even their owner is subtweeting about it:


Off Stream again feelsbadman. Lets go Cloud9! https://t.co/vmj9MBtuUA

— Jack Etienne (@C9Jack) June 18, 2017

E6 win against OpTic 3 – 2, sending the Greenwall home, and securing at least a top 6 finish for the team.
Cloud9 are flying high on Championship Sunday (and they finally made it on stream)!  Aches talked his normal tough chat before the tournament, but it looks like he's backing it up with this team.  They swept EG in the LB, and are taking on Stage 1 winners Splyce next.  Even if C9 can't get past Splyce here, it's a remarkable turnaround for a team that was fighting to stave off Relegation from the league just a few days ago.
Luminosity banish hopes of an all-EU final as they drop Epsilon down to the Loser's Bracket (3 – 0) where they'll play Splyce, who won their match against Cloud9 (3 – 0).  LG are guaranteed top two now, and if Splyce can hold out against Epsilon, we'll have a rematch of the Stage 1 Finals here at Anaheim.
Meanwhile, Formal has shaken off his team's 7th place finish already:


I'm playing a 4v4 HP tournament at a GB booth, thanks E6

— Matthew Piper (@OpTic_FormaL) June 18, 2017

Epsilon just didn't have much more to give after their heartbreaking loss to Luminosity, and they fall 0 – 3 to Splyce.  The Grand Finals are set: Luminosity v Splyce!  Look out for Zero in this match – he's a great player and really fun to watch.  It's nice seeing EU teams flourish on the international stage and getting to enjoy their personalities, their accents, plus the different strategies and playstyles.


.@TreiZer0 with the 1v1 help @Splyce close out Game 2! Now a 2-0 series on https://t.co/yg6J8iZEDc!#CWLAnaheim https://t.co/XRqRO7EVHn

— MLG @ #CWLAnaheim (@MLG) June 18, 2017

Luminosity lost the first hardpoint, and then… well, they punished Splyce for the rest of the series.  3 – 1 was the final score.


LG are the CWL Anaheim Open champions!
Octane named the MVP!

Now… let the Rostermania begin.
In honor of Luminosity's victory, we're going to share the greatest piece of content one of their members has produced: Slacked's reaction to being turned on (player has time to turn and kill opponent) by Scump in a 2k match-
Feature photo courtesy of MLG.