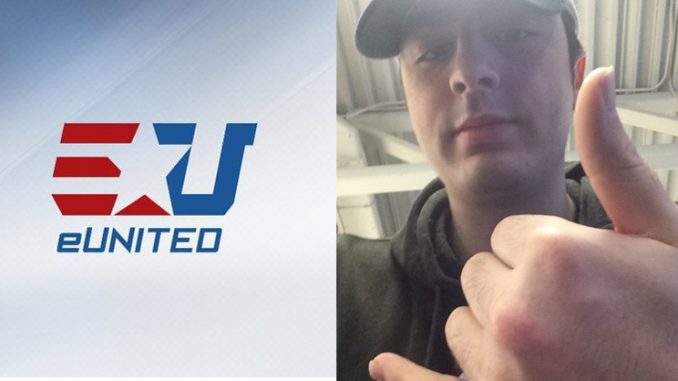 eUnited says Gunless is refusing to play due to a contract dispute.
by Kim Newsome, EIC
UPDATE (3:26am ET): Added Twitter remarks from eUnited GM Matthew "Burns" Potthoff
eUnited have been one of the top two or three teams in Call of Duty esports in 2017, and that success has been attributed to the players' individual skill, clutch performances, and team chemistry.  Now it appears the team has lost a major part of their formula, as Pierce "Gunless" Hillman released a statement on Twitter declaring he has been benched by eUnited management.
The CWL Atlanta Open MVP went public with the team rift just after midnight on Saturday, offering a Twitlonger explaining his side of the situation:
"…I had offers on the table and I wanted to explore them and I tried to come to a decision with [eUnited] peacefully but they wouldn't budge and wouldn't allow me to leave for a better team that could benefit my career a lot, because eUnited wouldn't benefit from it.  Even tho [sic] they would get the largest buyout in cod history that I ever heard of.  So now here we are going public with all of this just to let you guys know why I'm not playing with my team or going to events. I'm just going to be sitting back drinking some Arnold Palmers collecting a check. I was naive to believe the org would honor their word and let me go to bigger and better opportunities.  Now I'm in contract jail with a $100,000 buyout."
There are many surprising parts of the statement, not the least of which is the alleged $100,000 buyout clause for a player with a single major championship.
So far, we haven't confirmed which teams have been gunning for Gunless, but eUnited quickly responded to their player's allegations with a Twitlonger of their own:
"We would like to make it clear that Gunless is NOT benched. He is demanding to be moved and refusing to practice with the team. At eUnited, we are committed to the careers of our players and in the case of Gunless we have tried to explore accommodating his request to be traded. However, we are not prepared to trade him unless we receive like value in kind.

It is important that our fans know we are committed to fielding the most competitive team possible and that winning is paramount to our organization. Gunless is extremely talented and we take his concerns seriously but we are not comfortable moving him or any player just because they want us to.

We are very sorry that Gunless decided to make a public announcement. Our expectation is that he will continue to play for eUnited and fulfill his contractual obligations.

In the meantime, we will explore all options to resolve this matter so it benefits Gunless, the other members of our team, our fans and the CoD community. We are still hopeful that he Gunless will play and perform to the highest level at MLG Anaheim and through COD XP and be the Gunless we all know and love."
Looking at the two statements in full, it appears the team problems began following the Stage 1 playoffs where eUnited finished in 5th-6th place after an 0 – 3 collapse against eventual runners up Luminosity Gaming in the second round of the tournament.  
Gunless' current/former(?) teammate Preston "Prestinni" Sanderson has been active on Twitter since Gunless' announcement, and the r/codcompetitive subreddit has been keeping track of his tweets (some deleted):

Team owner Daniel "Clerkie" Clerke has also taken to Twitter to give the org's side of the situation: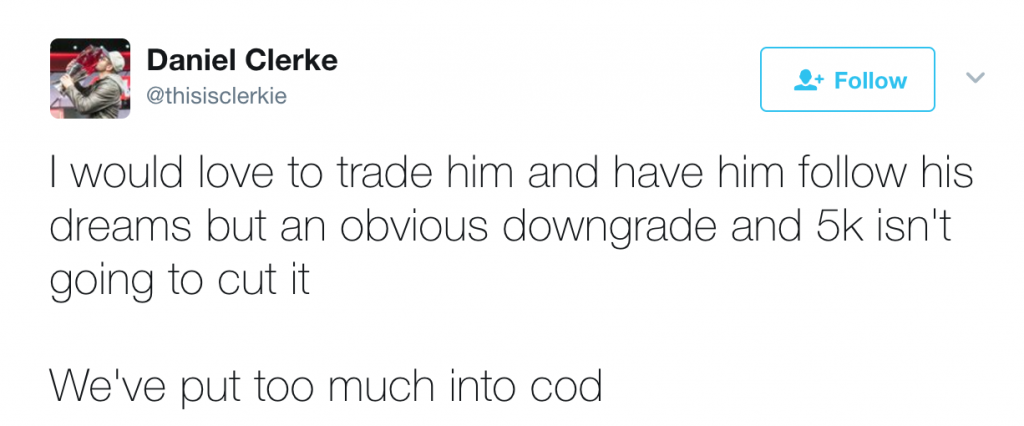 Clerkie's tweets point to some sort of breakdown in the negotiation process with an unnamed team that offered just $5,000 (a far cry from the alleged $100,000 asking price for Gunless) and another unnamed player.  The final tweet shows the extent of the breakdown in negotiation between the player, the team, and the org.
eUnited's Co-GM Matthew "Burns" Potthoff is a former pro Call of Duty player who recently made the change to team management.  He bemoaned the situation on Twitter and placed the blame squarely on Gunless' shoulders: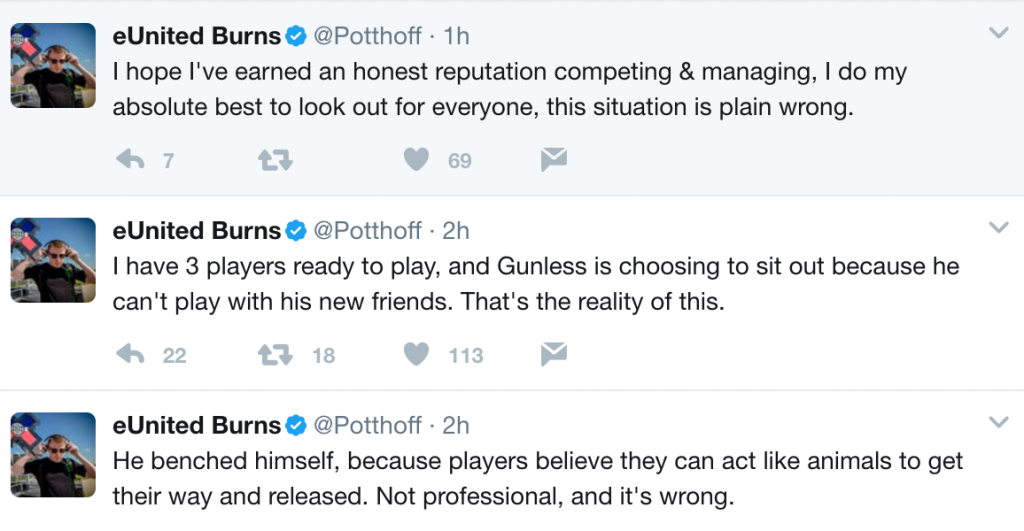 The money and the stakes have never been higher in Call of Duty esports.  With the increasing prize pools and big-money sponsorships on the line, organizations and players in competitive Call of Duty have had to adapt from the days of players bouncing from team to team after each competition to drafting and enforcing contracts.  The switch hasn't been smooth sailing during these early boom-town days of mainstream esports and working out contract negotiations can sometimes go very wrong in a very public way.
So where will Gunless end up for Stage Two of the CWL Global Pro League?  The roster lock is just days away and while eUnited have had their problems, Gunless is still a very talented player that any team would want to keep off of their bench.