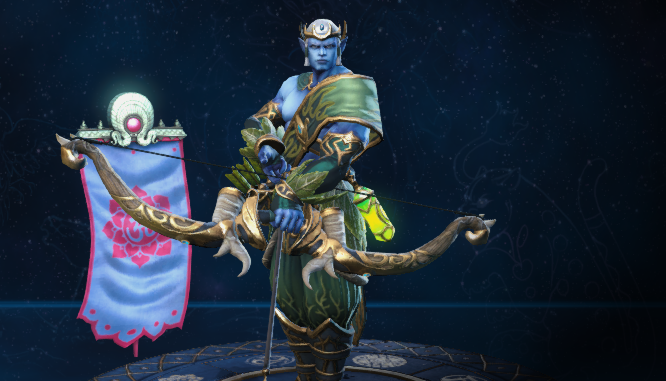 Every now and then our friends at Hi-Rez Studios give us a slew of skins to pass along to our community.  This time it's a beautiful rendering of the Hindu deity and a great addition to your skin collection.
Rama's backstory from the SMITE gamepedia:
Ravana's immortal reign subjugates the people. Shiva's boon grants the demon-king invulnerability against gods and beasts. Only mortal men stand a chance of defeating him, but Ravana's might is too potent for a mere man to overcome. All seems lost.

To save us, Vishnu took human form. Rama, prince of Ayodhya.

At age 16 he was already the perfect embodiment of man. Strong, humble, handsome, patient, devout; he is what mankind strives to be, yet, for all our flaws, can never reach.

When a neighboring kingdom, cursed by Ravana's magic, asked for aid, Rama answered, despite the misgivings of his father. With his brother Laksharma, Rama set out and slew a horde of demons. At the palace, Rama cleansed the curse by freeing the queen from stone. The city celebrated and Rama was invited to string Shiva's bow – with the prize princess Sita's hand in marriage. Shiva's bow could not be lifted by any man, let alone strung, but Rama broke the bow in half. He and Sita wed immediately.

Returning home, Rama was to be crown prince, but the jealousy of queen Kaikeyi forced Rama into exile, where he's remained these past fourteen years.

Yet Rama was recently seen on the field of battle. Word is, Ravana stole Rama's wife, and Rama left exile to embrace his destiny. He must defeat Ravana, free his wife, and set mankind on a path for peace, else darkness and evil will conquer all.
Poor old Rama.  Exiled, wife gone, and tasked with the salvation of all of humankind.  It's heavy stuff on a good day, but this man-god seems to take it all in stride when rampaging in the duo lane or taking the solo lane by storm.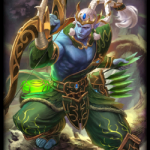 Why not make Rama look great while he's working toward the impossible?  Enter our giveaway for his "Nature's Guardian" skin!  We have a lot of codes to give away, so we'll be doing these giveaways on a weekly basis.
Esports Source Natures Guardian Rama Giveaay

Be sure to also tune in for the SMITE Pro League (both PC and consoles) running all week long on the Hi-Rez Twitch channel!