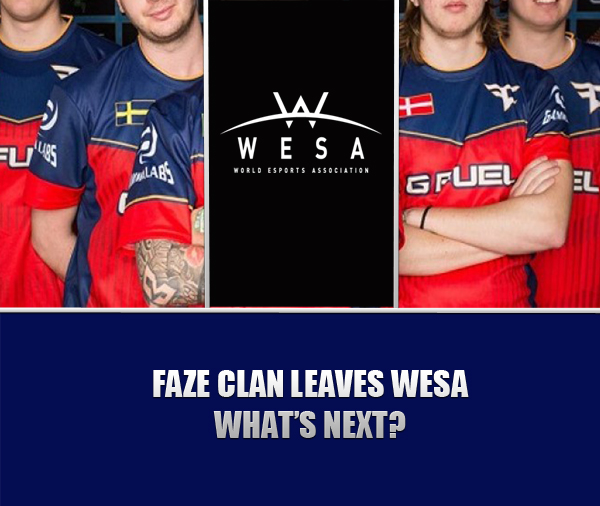 It's official: FaZe Clan is leaving WESA.
In the organization's second ever press release, WESA announced FaZe decided to step away from the now-infamous group.
From WESA:
Creating an association such as WESA from the ground up is an immense undertaking for all involved parties and something that requires immense commitment of time and effort. While we regret the fact that FaZe has decided to take this step and are disappointed to see them go, we understand and accept their decision to put their current focus elsewhere.
Among the many criticisms lobbed at WESA thus far, a lack of PR finesse is probably the most valid.  This news about FaZe leaving the group was known several days ago and widely disseminated on Reddit and social media.  News of the organization's creation itself was well known before it was announced.  There are various rumors of teams being paid fine sums to join the WESA.  Who is controlling the WESA image?  More to the point, is anyone at WESA in control?
The press release goes on to say WESA's next steps will involve creating rules, an election of the Players Council, and interestingly enough- the appointment of players in the Executive Board.  One of the criticisms of WESA involved the makeup of its board, which currently contains ESL executive members in half of the positions.  It is unknown whether players will simply be added to the board, or if they will replace other board members.
WESA claims to begin work on forming an Arbitration Court (presumably to discuss bans and suspensions involving WESA-controlled teams).  WESA also says they plan to expand organization to include other members.  Will those other members be direct competitors to ESL (ie MLG, CEVO, Gfinity)?  Perhaps those other members will be from the international community.  Only time will tell.
We've reached out to WESA for further comment regarding their future.  We will update when statements come in to us.
FaZe released a statement on their own, saying:
"We feel that WESA still has lots of challenges to overcome and we feel that right now it's not the best place for us to be.

Building a league system with a governing body is interesting and maybe even what e-sports needs to take the next step forward. We believe in time and patience, aligning and unifying the entire scene is the key to bring the true vision to life – which from a conceptual point of view is impressive."