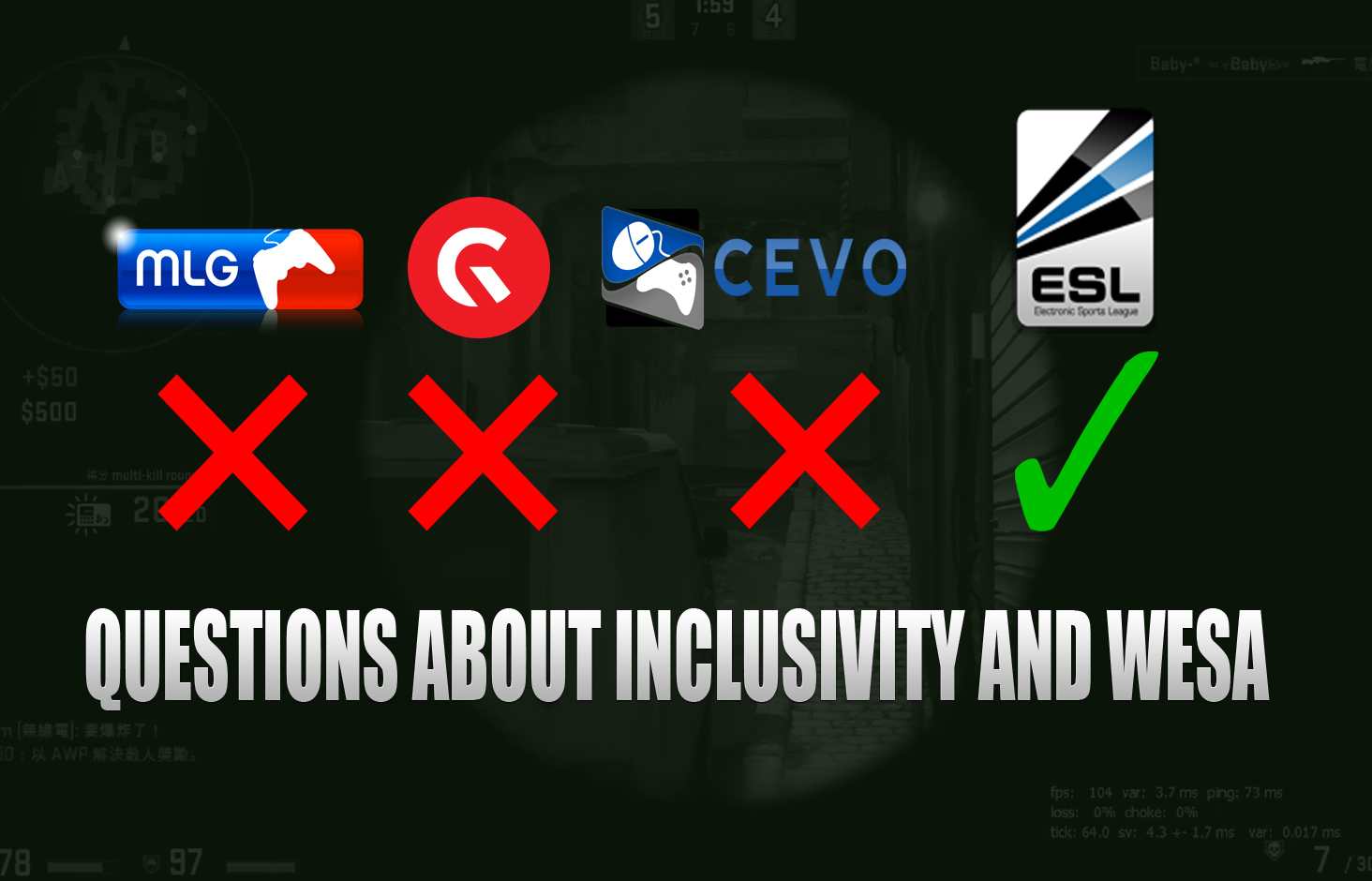 Today, ESL announced it and eight of the most well known organizations in the CS:GO scene formed a governing body called the "World Esports Association" or WESA.  The announcement was met with a healthy mix of congratulatory applause, cautious optimism, cautious skepticism, and outright dismissal by the denizens of the internet, fans and esports industry insiders alike.
One of the major points WESA stresses on its website and in a Reddit AMA is "inclusion" within the esports industry, and allowing teams and players to have equal voices.  One group left out of the inclusion equation appears to be leagues other than ESL, which is a problem many in the community are struggling to accept.
The make up of the five-man WESA executive board includes two ESL executives: Ralf Reichert, who is the CEO of ESL and Sebastian Weishaar, Senior Vice President at ESL.  Two more are from representative teams: Hicham Chahine, CEO of NiP, and Tüylü Cengiz, CEO of mouseports.  The final member is the "interim commissioner" Dr. Pietro Graf Fringuelli, a former UEFA attorney who has also worked with Italian football club Juventus.
In an interview with the Daily Dot, ESL's VP of Pro Gaming Product and Content James Lampkin had this to say about working with leagues other than ESL:
"ESL has close working relationships with other leagues to balance and manage schedules and we're confident that many of rules and standards set by WESA will be adopted by other organizers. WESA itself is absolutely open to governing other leagues if the opportunity arose in the same way it will govern ESL Pro League.
Through the long negotiation process there were a few attempts by both ESL and other organizers to include each other, to start new brands etc, but most organizers realized that the dynamic between the teams and the dynamic between the leagues are quite different."
At least two major tournament organizers say they were never invited to that negotiation table:
Major League Gaming (runs and promotes a number of CS:GO major tournaments that are direct competitors with ESL's tournament market)
MLG wasn't approached or included in any conversations around the formation of WESA.

— Adam Apicella (@MrAdamAp) May 13, 2016
…and Gfinity (Tournament runner and promoters working primarily out of Europe where ESL is headquartered.  Gfinity are also direct ESL competitors.)
Just to clarify that at no point were we at @Gfinity approached or included in any conversations around the formation of WESA.

— Martin Wyatt (@TheMartinWyatt) May 13, 2016
…and CEVO (Major CS:GO tournament and league runners.  Again, direct competition to ESL.)
@MrAdamAp I can confirm that CEVO wasn't approached by WESA either.

— Chris Pipher (@chris_pipher) May 13, 2016
…and StarLadder (a CS:GO league and direct competitor)
Officially: SLTV wasn't approached or included in any conversations around the formation of WESA@lurppis_ @MrAdamAp @chris_pipher

— CS:GO SLTV (@cssltv) May 13, 2016
Amid the other comments about WESA, were some notes of caution from some of the "old guard" of esports.  COO of GoodGame and former Evil Geniuses co-owner Colin DeShong voiced an ominous prediction on Twitter: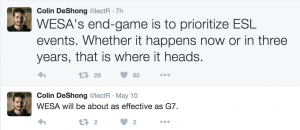 DeShong references G7, which was a collaborative group of organizations or clans in esports that was founded in 2006 with the intention of setting rules and tournament guidelines across a variety of esports- much like WESA.  The group had some organizational problems and struggled to keep teams under the organization.  G7 has not been active since 2010.
One of the problems G7 appears to have had was pushback from teams about event attendance exclusivity, and in the same interview with the Daily Dot, ESL's James Lampkin had this to say:
"WESA teams will continue to play in large events and leagues like ECS and ELEAGUE, and as more teams and players join the association there will be constant discussion about where we should go. What you will start to see more of though is standardization of what those teams or players expect when attending events, and a better handle on the overall scheduling of our space."
The two leagues mentioned in the above quote have not issued public statements about whether they will or will not be working with WESA yet.
At this time we do not know many leagues were included in WESA's plan of inclusivity.