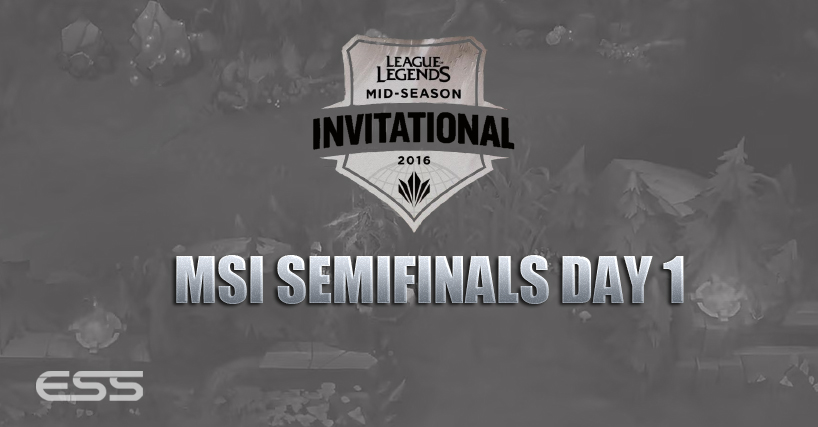 The Mid-Season Invitational Semifinals are going on in Shanghai, China and we will soon know the two teams that will face off in the Final.  Friday, the reigning World Champions SKT T1 brushed aside the Chinese champions and home team, RNG, to secure their place in this year's final set.
RNG, who came into this game as the #1 seed, took the first game of the series. RNG's top laner, 'Looper', was the standout performer in this game – his Trundle dominated and in the end was indestructible.
Having lost the first game, eyes were on SKT to respond.  SKT, who lost to Chinese opponents EDG in last years MSI final, had a shaky group stage and upon dropping a game went on to lose their next 3 games.
Today's plays were different: a performance of the highest quality by 'Faker', possibly the best player in the world, was enough to turn the tides in SKT's favour.  They wiped the floor with RNG and took the next 3 games, including a perfect final game, to advance to the finals, facing off against either NA's CLG or Taiwan's Flash Wolves.
Game One – RNG (Win) v SKT (Loss)
A superb pick and ban phase saw RNG come out on top, forcing SKT to take Poppy and countering this with a Trundle, which 'Looper' and RNG executed brilliantly.
Early ganks snowballed the top lane and by the 10-minute mark, 'Looper' was able to solo-kill SKT's 'Duke'. This created plenty of map pressure for RNG and eased pressure on the other lanes. RNG went on to take the middle turret and top turret, securing a 4K gold lead by the 15-minute mark.
First Blood for Looper! #OwnTheRift #MSI2016 https://t.co/WaNCNpPpmV

— lolesports (@lolesports) May 13, 2016
Ten minutes later and 'Looper"s dominance in the top lane had to be dealt with by both 'Duke' and 'Faker'. They chased him down for about half-a-minute but still couldn't secure the kill, and as 'Looper' retreated to his turret, the rest of RNG was able to rotate up and help 'Looper', gifting him a double kill.
By this point 'Looper' was indestructible. RNG was able to take Baron and sweep SKT aside in a team fight moments later.
With the ensuing Baron Buff, RNG secured their 5th dragon and pushed down the mid-lane. They secured all inhibitors and a nexus turret before SKT responded. This stalled the game out for a couple of minutes before RNG returned and took down the base, despite losing 4 members.
Royal Never Give Up takes down SK Telecom T1 in game 1 of the series! #MSI2016 https://t.co/OUqar7bMll

— lolesports (@lolesports) May 13, 2016
Game Two – RNG (Loss) v SKT (Win)
Reigning World Champions SKT bounced back from their loss in Game 1 in a dominant display.
'Faker' had a standout game with an 'Azir' pick, despite 'xiaohu' being placed on his more favoured assassin pick, Le Blanc.
'Faker' managed to pick up a solo kill during the laning phase and dominated from there on out, providing consistent damage in team fights.
SKT managed to counteract an engage from RNG near the dragon pit and the damage from 'Faker' and 'Bang', on Sivir, was enough to win the team fight 4-1.
4 kills for SK Telecom T1! #MSI2016 #OwnTheRift https://t.co/XczoDZHugL

— lolesports (@lolesports) May 13, 2016
By this point, the Koreans had a 5k gold lead. They continued to suffocate RNG of any gold, seizing objectives and controlling the map and 'mlxg's jungle.
SKT pushed on for the win within 23-minutes.
Game 3 – RNG (Loss) v SKT (Win)
RNG's fast-paced and all-in style of play saw them take an all engage team that needed to snowball from the start. But, as SKT has shown this tournament (even in defeat), their early game management is second to none. They managed to stall out the early game and avoid being caught out by the Elise and Leona combination.
By 10-minutes, they had secured a catch of their own when 'Faker' teleported to counter a gank by 'mlxg'. 'Faker' managed to pick up 2 kills in the process and the SKT lead snowballed from there.
2 kills for Faker's Fizz! #MSI2016 https://t.co/CK1JMEYPxM

— lolesports (@lolesports) May 13, 2016
A temporary fightback from RNG saw them pick up 2 kills, but the glimmer of hope that their composition might be coming together was all but lost in the 28th minute when SKT aced RNG 5-2 near the Baron pit.
It was all downhill for RNG from then, with the Chinese losing the next 2 team fights without contest. SKT managed to secure the win following an ace at the 35th minute.
Game 4 – RNG (Loss) v SKT (Win) 
SKT, on the brink of reaching back-to-back MSI finals, secured a huge win during pick and ban phase which led to a dominant Game 4 display.
On the brink of elimination, RNG decided to ban out the champions that had performed well against them during the last 2 SKT wins. It turned out to be disastrous.
During pick and ban phase SKT were able to grab Ryze, Kindred and Maokai, 3 hugely successful picks for this SKT roster throughout the group stage. They were able to grab these due to the pick and ban strategy RNG had deployed for this game.
Would have preferred Maokai FP, trade Azir-Ryze and then Kindred on second rotation for RNG #MSI2016

— Martin Lynge (@RiotDeficio) May 13, 2016
Like the last 2 games, SKT had a superb early game lead. With map control, objective control and all lanes ahead, SKT's gold lead had ballooned to 8k just before the 20-minute mark.
At the 22nd-minute, SKT were able to secure the Baron uncontested. They pushed in for the win 5-minutes later without dropping a single kill, turret, or Dragon. The perfect performance by SKT who now go on to face the winners of CLG and Flash Wolves.