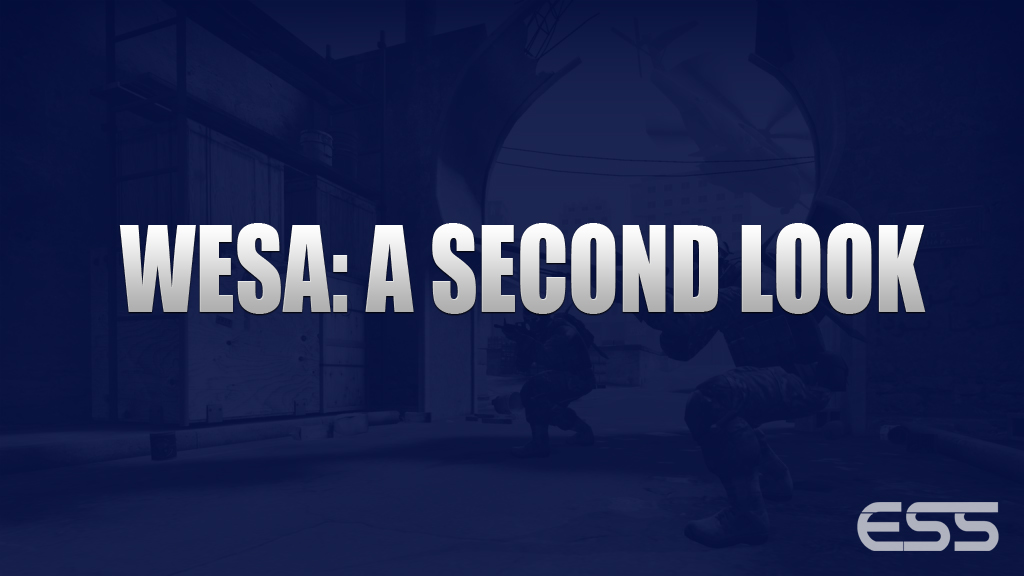 By: Carleigh Morgan
Last Friday, the World Esports Association (WESA) publically announced its formation as a global esports federation, citing its long-term objective to operate as the FIFA of esports in order to standardize competition in the esports industry.
WESA's decision to draw parallels to FIFA comes on the heels of the announcement that Domenico Scala, FIFA's head of auditing and compliance, has resigned in protest at reforms at the governing body of world football. Thus, the comparison to FIFA seems bumble-headed and obtuse on WESA's part, and demonstrates a real tone-deafness to the rampant corruption and bribery affiliated with FIFA in the public's conscience.
WESA press strategy and public relations has been plagued by faux pas like the FIFA comparison. Their press release on Friday followed the accidental press leak of a poster exposing the formation of WESA to the internet public, notifying the esports community of the organization's creation days before WESA officials issued a formal press release. Whether WESA planned to go public this week—or whether their announcement was hastily expedited by the leak—is unclear. Ever since, however, WESA has been struggling to stay ahead of the volumes of criticism its announcement has generated, and has faced difficulties in combating the vitriol, allaying the fears, and countering the suspicions of players, teams, and fans in the esports community.
There has been a deafening roar of speculation surrounding WESA, and a reactionary tendency in the esports community to join the chorus of criticism against WESA without polishing their pointed barbs with a gloss of level-headedness or calculated reflection. Although there is a sense of hysteria in the rising swell of voices and teeming tides of pointed fingers, the nature of criticism— despite its often reactionary and groupthink tendencies—points to some deep-seated issues with WESA and identifies a deep community mistrust of their actual motivations and longitudinal objectives.
Setting aside all of the unknowns about WESA, the public is left with very little hard evidence to rely on in formulating an opinions about WESA's mission, the structure of its affiliation with current teams, its financial sharing plan, and the terms of its exclusivity agreements. According to ESL–the primary stakeholder and founder of WESA—the operative agenda of the association is to act as:
"…an open and inclusive organization that will further professionalize esports by introducing elements of player representation, standardized regulations, and revenue sharing for teams".
"WESA will seek to create predictable schedule for fans, players, organizers, and broadcasters, and for the first time bring all stakeholders to the discussion table."
I want to allow WESA the benefit of the doubt, and avoid tenuous speculation on facts that are specious at best. Still, the criticisms of WESA and the public's reticence to accept them as an regulatory body in esports seem justified in one way: namely, in identifying the problematic discrepancies between WESA's mission statement and its agenda. In their mission statement, ESL proclaims that WESA touts openness and inclusivity as core values—values that are not reflected in WESA's organizational structure and the composition of their executive board.
For a global federation that hinges on "open and inclusive" approaches to regulating esports, their executive board is noticeably lacking in diversity and fair representation: Where are the women? Where are the professional players? Where are the international teams?
As it stands now, ESL has a stranglehold on policymaking in WESA at the executive level, with two of the four all male board members currently employed by ESL. Though WESA seems solely to be concentrating on the CS:GO scene, there are no affiliations or partnerships with Valve, the game company that designs CS:GO and is responsible for sanctioning tournaments. The lack of representation from major, respected teams like Astralis, or from tournament organizers like DreamHack and ESEA, further add fuel to the rampant fear that WESA is a puppet organization allowing ESL to seize a firm monopoly on regulating this corner of the esports market, with plans to utilize their leverage to capitalize on the lucrative profits that running WESA could produce.
On the other hand, it's important to remember that WESA's strategy may be the slow and steady approach, and sharpening pitchforks might cripple an organization that really does want to positively impact and support esports growth in a sustainable, ethical, and measured way. Perhaps WESA's approach is to lay the solid groundwork in regulating CS:GO and establishing constructive team associations within the European sphere, before expanding their model to include international recognized esports leagues in Asia and North America.
Ultimately, despite the media fallout and some clear shortcomings, I hope the esports community does recognize that WESA's mission to "standardize regulations" and provide collective player representation are crucial to the positive growth of the esports industry. And though WESA is anything but open and inclusive at this stage, it's only through well-crafted critical feedback and community input—with a careful ear to the ground from WESA—that we all, as an esports community, can hope to shape the type of transparent, open, inclusive, and effective regulatory federation that the industry so desperately needs.
Carleigh Morgan is a PhD Research Candidate at King's College, London, and self-described subject/product of the internet.  She also claims to be feminist/cyborg with a specific interest in video game theory and digital culture.
If you would like to contribute an opinion piece to ESS, send your pitch to [email protected]