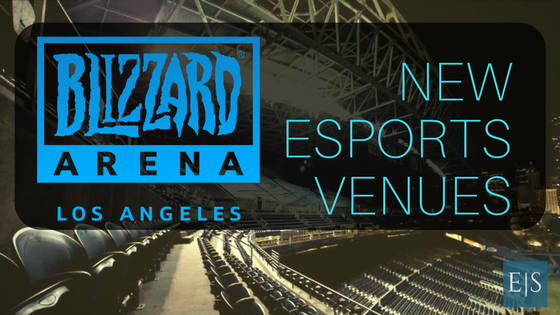 Game publishers are showing more commitments to esports these days, as industry behemoth Blizzard Entertainment unveiled the new Blizzard Arena Los Angeles this week.  The company joins the ranks of other top level studios and tournament organizers that have built their own arenas to accommodate the specific needs of esports players and audiences.
A look inside SMITE publisher Hi-Rez Studios' Esports Arena in Alpharetta, Georgia.
Hi-Rez Arena, MLG Arena, ESL Studios, and ELEAGUE's GFUEL Arena are all smaller arenas designed specially for the games they showcase. These venues are a cost effective and easily customizable alternative to theaters, convention centers, hotel ballrooms, or stadiums. Importantly for fans, the arenas are typically designed with online broadcasting in mind, so people at home can have an immersive experience without the travel.
Blizzard Arena Los Angeles is located in Burbank, the home of many classic tv shows, and vacant studio lots in need of renovation. According to a press release, the Arena will have the kind of sound stages, control rooms and practice areas to support various games and attendees who want to see the action in person.
The arena will open in time for the Overwatch Contenders Season One Playoffs on October 7th and 8th. The arena crew will return for the Hearthstone Championship Tour's Summer Championship on October 13th.
Other esports-specific arenas located in southern California include the Esports Arena in Santa Ana, ESL Studios in Burbank, and another Esports Arena is reportedly under construction in Oakland, California.