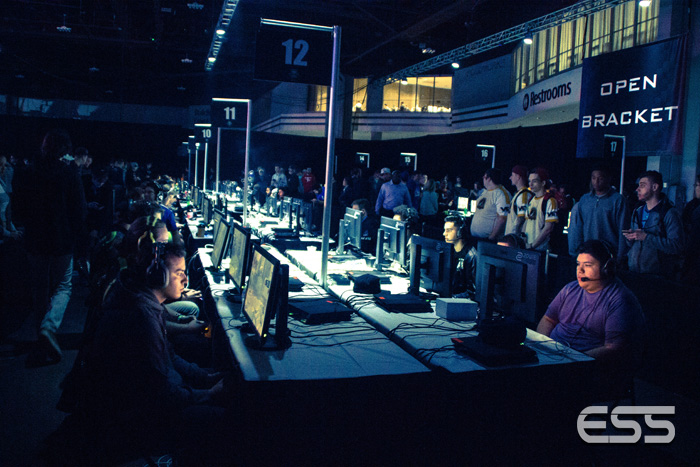 It's do or die time for teams around the world competing to join the Call of Duty Global Pro LAN League, and a final competition in Dallas-Fort Worth, Texas will determine league placement.  Activision's Call of Duty World League and tournament runners MLG are putting on the Dallas Open on March 17th through the 19th.
Teams will compete in the event from all three regions in the CWL: North America, Europe, and APAC.  All of the players are battling it out for a share of the $200,000 prize pool, and precious pro points that will allow them to qualify for the Global Pro LAN League that begins in April.
Teams to Watch
The 16 pool play teams were seeded according to the results of Pro Points they earned playing in various CWL tournaments online and on LAN during the Infinite Warfare season.  On Day One viewers will be treated to the spectacle of an esports El Clasico, OpTic v EnVyUS.  Once brother teams owned by the same company, OpTic and EnVy have one of the best rivalries in FPS esports, and the fans on both sides are sure to make this primetime match up a memorable one.
Keep an eye out for the international teams in pool play, like Tainted Minds (APAC), Mindfreak (APAC), Elevate (EU), Team Infused (EU), Splyce (EU), Red Reserve (EU) and Fnatic (EU).  A North American Call of Duty tournament rarely has so many non-NA teams starting from the group stages, and the top NA teams may be tripped up early by teams and some plays they are not used to seeing.
Group D looks particularly evenly matched, with Rise Nation somewhat underperforming in tournaments as of late, and PNDA and E6 both fielding younger teams of semi-pro players that have been doing well in the online 2k tournaments each weekend and at North American LAN tournaments.  Splyce is a team of EU stars (Bance, Jurd, Madcat, Zero) that could also make a lot of noise in Group D, provided they don't solely rely on individual efforts.
In the Open Bracket (click here for bracket), #1 seed Epsilon will be hoping to make quick work of their foes so they can make it into Pool Play on Saturday.  Meanwhile, iGame (formerly Team 3G) have already been through a lot before coming to the States to compete, as they rushed to replace two players following ESWC, and found themselves in 7th place in the EU, just one spot off of qualification for the LAN League.  The team also scrambled to find an organization to fund their trip to the event, and at the last minute they were picked up by iGame, a new organization that had their first showing with two teams at CWL Atlanta in February of this year.  A good result at CWL Dallas will net the new team and the new organization some much needed pro points, and they could end the weekend in serious contention to qualify for the LAN League.
Pool Play Groups
Format: Round Robin Best-of-Five Pool Play feeding into a double-elimination bracket
| Group A | | Group B | | Group C | | Group D | |
| --- | --- | --- | --- | --- | --- | --- | --- |
| OpTic Gaming | | eUnited | | FaZe Clan | | Rise Nation | |
| Team EnVyUs | | Team Infused  Millenium | | Luminosity Gaming | | Splyce | |
| Red Reserve | | Cloud9 | | Elevate | | Enigma6 | |
| Tainted Minds | | Mindfreak | | Fnatic | | Pnda Gaming | |
| OB | | OB | | OB | | OB | |
Key Information and Schedule
Dates: March 17-19, 2017
Stream: MLG.tv
Broadcast Schedule (times subject to change, all times CET)
Friday:
2:00 PM
Rise Nation vs Splyce

Team EnVyUs vs Red Reserve

Enigma6 vs PNDA Gaming

OpTIc Gaming vs Tainted Minds
3:30 PM
eUnited vs Infused

FaZe Clan vs Elevate

Luminosity vs Fnatic

Cloud9 vs MindFreak
5:00 PM
OpTic Gaming vs Red Reserve

Rise Nation vs Enigma6

Splyce vs PNDA Gaming

Team EnVyUs vs Tainted Minds
6:30 PM
eUnited vs Cloud9

FaZe Clan vs Fnatic

Luminosity vs Elevate

Infused vs MindFreak
8:00 PM (Primetime)
OpTic Gaming vs Team EnVyUs

Splyce vs Enigma6

Rise Nation vs PNDA Gaming

Red Reserve vs Tainted Minds
9:30 PM (Primetime)
FaZe Clan vs Luminosity

eUnited vs MindFreak

Elevate vs Fnatic

Infused vs Cloud9
Saturday:
11:00 AM – Open Winners 5 (Bravo Only)
1:00 PM – Pool Play Match 1 (Pro Team vs Open Team)
2:30 PM – Pool Play Match 2 (Pro Team vs Open Team)
4:00 PM – Pool Play Match 3 (Pro Team vs Open Team)
5:30 PM – Pool Play Match 4 (Pro Team vs Open Team)
8:00 PM – Winners Round 1 (Primetime)
9:30 PM – Winners Round 2 (Primetime)
Sunday:
10:00 AM – Winners Semifinal #1
11:30 AM – Winners Semifinal #2
1:00 PM – Losers Round 6
2:30 PM – Winners Final (Primetime)
4:00 PM – Losers Final (Primetime)
5:30 PM – Finals (Primetime)
7:00 PM – Finals Set #2 (If Needed)
2017 CWL Dallas Open Prizes
1

st

– $80,000

2

nd

– $48,000

3

rd

– $32,000

4

th

– $16,000

5

th

– $8,000

5

th

– $8,000

7

th

– $4,000

7

th

– $4,000
2017 CWL Dallas Open Pro Points
1

st

– 25,000

2

nd

– 15,000

3

rd

– 11,000

4

th

– 9,000

5

th

– 8,000

7

th

– 7,000

9

th

– 5,500

13

th

– 4,500

17

th

– 3,000

21

st

– 2,750

25

th

– 2,250

29

th

– 1,800

33

rd

– 1,600

41

th

– 1,400

49

th

– 1,000
Esports Source CWL Dallas Open Coverage
Tournament Preview and Info | Pool/Championship Scores | Final Placements