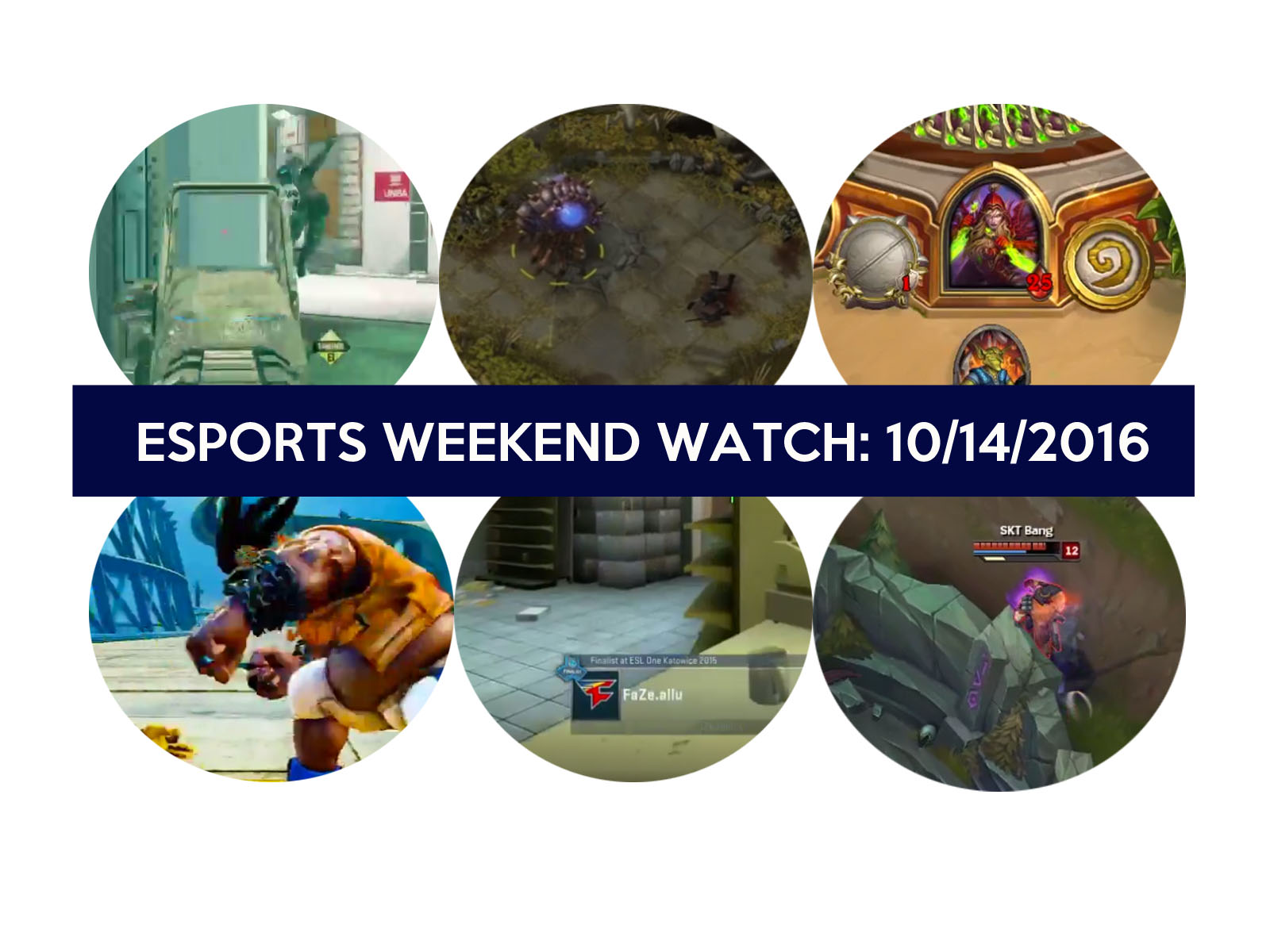 [CoD] Call of Duty: Infinite Warfare Beta streams: As we have noted, early opinions are coming in hard and fast regarding the newest Call of Duty title.  Don't have a beta key? Not playing on PS4? Watch other people play all weekend long on Twitch and YouTube.
Select CoD Pro Streams-
Gotaga (French language stream)
Select Entertainer Streams-
[SFV] Capcom Pro Tour: EU Regional Finals: The CAPCOM PRO TOUR (CPT) is the premier league destination for competitive fighting games.  This weekend's competition features Street Fighter V. Tune in for the CPT Premier Event to see who will walk away with a piece of the $15,000 prize pool and also qualify for the Capcom Cup Finals in December!
[CS:GO] ASUS ROG Masters CS:GO China Qualifier: (Twitch) Five regions are in line for the Champion title. Come watch the action in preparation of the finals, held in Kuala Lumpur City Center, Malaysia on November 12-13th.
[Hearthstone] #HCT Americas Last Call Invitational: The last spot for the big competition at BlizzCon is up for grabs at the aptly named Last Call Invitational.  Check out some interesting strategy and deck choices!
[LoL] League of Legends World Championships: The knock out stages of the event are underway!  Who will make it all the way to the final? Let us know in the comments!  If you miss a match, the channel is broadcasting the previous day's matches on loop.
[SCII] ShoutCraft Kings October: (Twitch) ShoutCraft Kings is a monthly Blizzard-sponsored Starcraft 2 tournament in a unique King of the Hill format. The world's top players compete in an all-or-nothing series in which the winner of each map gets paid and stays on to fight their next mystery opponent while the loser is eliminated. Watch a tournament full of surprises where every map counts.
[SMITE] Pro League Group Stage Week 2: See four of the best teams fight for the top two spots in their group.  Those teams will continue their journey toward the SMITE World Championships in January! Full Story and Giveaway