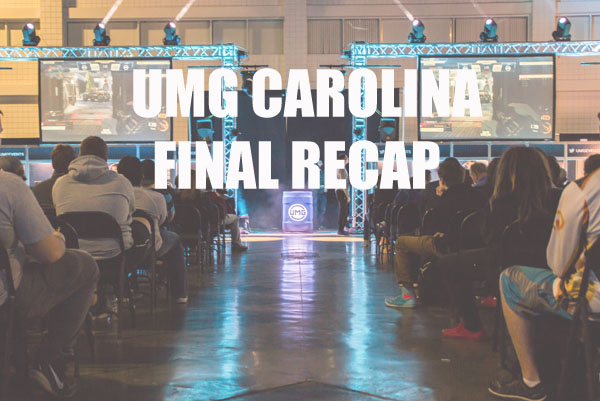 FIRST- Click here to view our photo gallery from every day of the event!
Congratulations to Rise Nation!  It was a hard fought tournament, and though very few pundits (including this author) thought your team or Luminosity Gaming had much of a chance of even making it to the Final, you did so, and in fine fashion.
In hindsight, it was easier to write off Luminosity- they're in the middle to bottom of the NA CoD World League with a 4-6 record.  The team is made up of Call of Duty stalwarts- Replays, John, SpaceLy, and Saints- fine players, but not all of them are "big names" who are known to show up in the biggest games on the biggest stages (with the notable exception of Replays).  The same can be said for the Rise Nation team, though they were harder to ignore while sitting 3rd in the World League and they probably should have commanded more respect as the only team to have won a LAN in Black Ops 3 (the Totino's Invitational in November 2015).  In the end, both teams quietly, and without overwhelming fan support at the venue, made their way past every team in front of them for a chance at the cash prize and a trophy, and in the end Rise came out the victors.
The Final itself was a back and forth punch out, with Rise drawing first blood with a 250-164 win on Stronghold hardpoint, thanks in part to big kills out of Octane.  Luminosity immediately answered back on Fringe Search and Destroy winning 6-3.  Evac Uplink was the 3rd map, and Rise bounced back with 14-2 map win to regain the lead.  Breach CTF was where Rise finally began to pull away, putting their strong respawn game to work and winning the map 6-3.  In this best of 7 match, it was do or die for Luminosity, a strong S&D team, and they were put to the test- and it was Rise who prevailed, giving LG their first S&D loss on the championship map.  This morning when I arrived at the venue and watched the first champs bracket matches- Rise had the smallest audience.  Just a few people drifted to their side station to watch them fight E6 Gold in their very first match of the tournament where they faced a tough test, squeaking out the 4-3 win in the end.  Tonight, they had thousands of people watching them online, and hundreds in the venue.  Rise proved they can win, no matter how many people are looking their way.
So what happened to all of the other CWL teams?
Dream Team may not have been the most favored squad, sitting second to last in the Call of Duty World League, but they put in a solid performance on Saturday to send eLevate packing.  In the next round they gave Rise a run for their money, eventually falling 4-2.
The number one seeded Team EnVyUs struggled early against OB team Pnda Gaming, but eventually won.  They lost their next match in a swift 4-0 to Luminosity.
compLexity had the unfortunate charge of facing a fired up Team Liquid, who after winning the Open Bracket title, were hungry to play amongst their professional brethren again.  coL were tossed from the competition after just one match on the final day of play with their 1-4 defeat.
FaZe Clan are currently fifth in the Call of Duty World League, and made up of 3/4 of the 2015 Call of Duty Champs winning team in Clayster, Attach, and Zooma, with Enable as the 4th.  They've been in something of a slump online lately, but they dispatched CLG with confidence on Saturday, and it looked as though their match against Team Liquid would go the same route.  It turns out TL were ready to give a lot of teams a lot of trouble this weekend, as they bounced FaZe from the tournament with a 4-3 comeback win.
OpTic Gaming's tournament was an odd one.  They came out hot on Sunday, after waiting to play for days, they looked fired up in the booth.  When I arrived at the venue at 9:30am, the full team was already in the booth and had been there for some time, warming up and looking loose yet focused.  They played with authority against their OB opponents, Jester eSports, winning a quick 4-0 match.  Their next match was played on a side station, and it was against a fellow pro team, H2K.  Hard to Kill have been languishing at the bottom of the Call of Duty World League for some time now, struggling to put together a consistent series of wins.  Did OpTic underestimate them?  It's hard to tell.  H2K played for their lives this tournament, and put together a creative, cohesive game strategy, and OpTic could not seem to read them correctly.  OpTic fought hard, taking H2K all the way to a seventh map, but it's never wise to bet against Phizzurp's team on an S&D map, and the final game type was Redwood Search and Destroy.  H2K dispatched OpTic quickly here, winning 6-1, and the Greenwall were left stunned.
Aside from the gameplay, there are a lot of discussions that could be had about this UMG event that seemed to be plagued with problems- some completely unpreventable, and some could have possibly been resolved with some foresight and flexibility.  In the end, it appears the people AT the venue had a good time, despite the delays.  Juggling 127 teams and loads of spectators can't be an easy job, and logistical problems happen at most events.  It will be interesting to see how UMG bounce back from this tournament, and how other organizers will handle the PS4 controller interference issue in the future.
As for the thousands watching at home- they were confused as to why most of the top teams were playing their matches off-stream while ads played on the event's Twitch stream.  Some communication from the event organizers to the legions of fans could have possibly softened the blow, but as of this publication, Twitter and Reddit are essentially a dumpster fire of angry fans who settled in to watch their favorite teams all weekend, and could not.  In past years, there were many other LAN events for North American teams and fans to look forward to, but with MLG moving closer to CS:Go and Halo coverage, another major North American LAN event doesn't look likely any time soon.
The final numbers have not been released, but right now it looks as if Twitch viewership for the Final peaked at around 25,000 viewers.  FaZe v OpTic mid-week in the CWL averaged about 75,000 viewers.  The Halo Last Chance Qualifers featuring OpTic Halo had more viewers on Flamesword's stream alone.  It shows the power big organizations have to drive viewers to watch their favorite players.  The very long, and occasionally unexplained delays on the stream throughout the weekend may have contributed to the viewer attrition as well.
The next announced professional LAN will be the EGL Open, a LAN in the EU region.  It runs March 5th and 6th, and will feature a $25k prize pool.  Given that this is another Open event (meaning both pro and amateur teams will compete), we may see a repeat of the PS4 controller interference problems if solutions aren't found quickly.  The next LAN featuring top North American teams will be ESWC in Paris, France.  OpTic Gaming will be attempting to defend their title at that event.
Follow @esports_source for more updates!