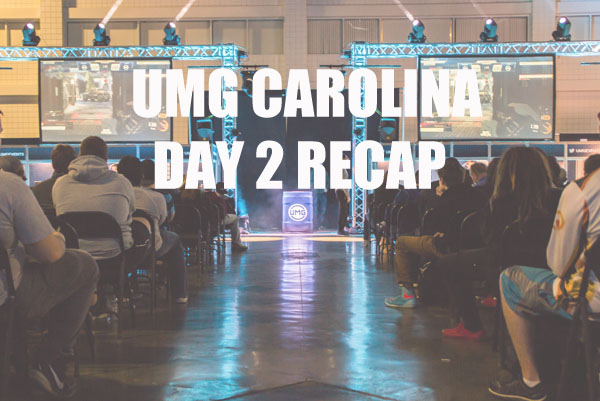 Check out our UMG Carolina photo gallery HERE!
Star Wars fans had to wait a decade for a new movie.  A Song of Ice and Fire readers have been waiting five years for another book, and may wait another decade to find out who ultimately wins that game of thrones.  Expecting parents have to wait about nine months for an addition to their family, students have to wait weeks for their exams results, and I have to wait 23 minutes for this frozen pizza to cook.
Anticipation can tough, and perhaps that's at the root of the vitriol aimed at event organizer UMG this weekend after a series of delays pushed the top team's matches ahead one full day.
On r/CodCompetitive, the sarcasm flowed fast and freely with quips about crowning a champion on Tuesday, or just leaving the tournament unfinished altogether.  On Twitter, the @UMGevents account received more than the usual amount of flames from irate fans, all hoping to see their favorite team play.
The top seeded team, EnVyUs found out their match would be delayed until Sunday fairly early today, and team owner Hastro expressed dismay and pointed in his criticism:
Love UMG, but spending thousands to send our team to this one is a disappointment. #1 seed playing off stream on the last day in single elim

— Hastr0 (@hastr0) February 13, 2016
@hastr0 Improving your product is very important in business. There's a lot more I would like to say about this, but I'm just not going to.

— Hastr0 (@hastr0) February 13, 2016
The perennial crowd favorite, OpTic Gaming, also would be delayed.  An OpTic fan named Melissa traveled to her first LAN event, and told us, "It kind of sucks because this was my birthday present to myself".  She noted that she was still having a fun time at the venue and even got to meet the players on the team.  Undoubtedly the wait wasn't quite as fun for those who were watching the ad breaks at home.
So what caused the delays?
It appears to be a combination of two things: technical problems stemming from the PS4 wireless controllers, and the event schedule itself.  The PS4 issue is caused by other bluetooth devices connecting with the console instead of the player's controllers.  The FaZe v CLG match saw a lengthy delay in the middle of the very first map, as players on both sides lost control of their own controllers.  With Open Bracket matches being played all around the room, and people using smartphones left and right, the interference was a massive problem.  Just before the map reset in the FaZe match, a UMG official asked spectators to turn their phones to airplane mode just to be safe.  It's a tough workaround.
As for the scheduling- the Open Bracket began late Friday afternoon, and teams were still playing until 1am on Saturday.  Play began again this morning, but with double elimination and a massive amount of teams, there was no possible way for the Champs bracket to start on time.  Perhaps UMG did not expect to have as many OB teams?  As of 9:30pm EST, there were still 4 Loser's Bracket rounds to play, so there were a lot of teams to get through.  Running a tournament isn't easy, but UMG have been doing it for a long time, so they may be able to get back on track Sunday.
Regarding the matches, there was a lot of good Call of Duty on-stream and off.  Cloud9 made their Loser's Bracket run, but fell short in Round 6, losing 2-0 to a trash-talking Vanquish side.  It's a somewhat surprising finish for a team that made some major player changes in the weeks leading up to the tournament, and looked poised to make it out of the Open Bracket alongside the other team of well-known pros, Team Liquid.  TL made it to the Champs Bracket by cruising through the rest of the Winner's bracket, and as of this publication, they are still awaiting the outcome of the LB final, and their own OB final match to determine their seeding in the Champs bracket.
Still with us?
One of the more exciting match ups on the side stations was Vexx Gaming versus the aforementioned Vanquish.  Many pro players were gathered around that particular table to watch the match, even while TSM v H2K was happening on main stage. The two teams looked evenly matched, but as with many games- S&D was the deciding factor.  CoD veteran TuQuick put down vQ with a three piece to seal the victory, and Vexx moved on to the next round.
Team SoloMid made their CoD LAN debut at UMG South Carolina, and while their look did not disappoint (they all wore the classic TSM letterman jackets and had an impressive camera crew following them around)- their S&D game suffered.  It didn't help that they were playing H2k, a team known for their exceptional S&D plays with one of the most knowledgeable Search players in Phizzurp.  The two teams punched back and forth to bring the match to 3-3 and give the viewers their first Game 7 of tournament.  It was a Search and Destroy, and while Pacman made some heroic plays to try to keep his team's hopes alive- he couldn't do it all on his own.  H2K took the 4-3 win, and move on in the tournament.
Tomorrow: The top 4 Champs Bracket teams play the top 4 Open Bracket teams, and the conclusion of the entire tournament in Best of 7 series.
Teams to watch:  A this point, every team will be a team to watch.  We'll all just be hoping for a smooth, delay-free Sunday so that all of the matches can be completed.
Times:  UMG have not released an updated schedule to the public yet, but players from the top 4 champs teams all have tweeted they will be playing at 10am.  So it appears 10am is the simultaneous start time.  We will update this if and official statement is given that conflicts with this information.
Stream: http://twitch.tv/umgevents
Follow @esports_source for live info and pictures from the event!