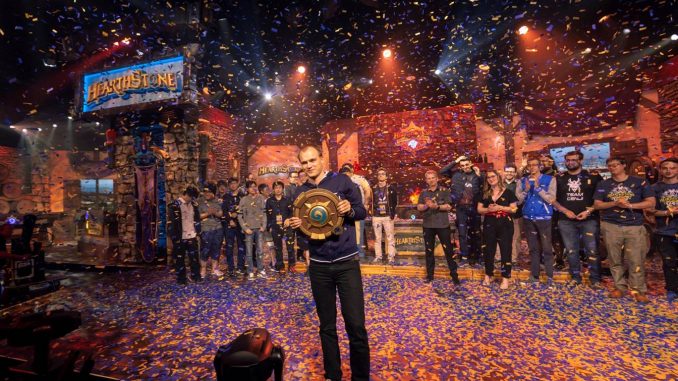 Over the weekend, countries from around the world sent their 16 best Hearthstone competitors to clash at the Blizzard Arena Los Angeles for the 2018 HCT Summer Championship.
Players proved their worth in their respective regional playoffs — earning a top four spot in the Americas, Europe, Asia-Pacific, and China — thus qualifying for the Summer Championship. Amid the warm orange glow of the tavern and in front of the watchful eyes of thousands spectators live and at home, Viper, killinallday, A83650, and BunnyHoppor calculated their way to secure spots in the World Championship, which will take place in early 2019.
Raphael "BunnyHoppor" Peltzer emerged from the brawl with an intense 3-1 series as the 2018 HCT Summer Champion. "Iron man" BunnyHoppor's mental fortitude and relentless attention to detail was on full display as he pulled an incredible reverse sweep in his 5-game semi-final series straight into an immensely close 3-1 final series, which earned him the title of the 2018 HCT Summer Champion.
BunnyHoppor will take home the $60,000 first prize, the title of 2018 HCT Summer Champion, and a spot in the HCT World Championship. The top four from the 2018 HCT Summer Championship will join him there, and receive prizes according to the prize pool allocation, as follows:
| | | | |
| --- | --- | --- | --- |
| Rank | Player | Prize | Points |
| 1 | BunnyHoppor (Germany) | $60,000 | 20 |
| 2 | A83650 (Poland) | $40,000 | 15 |
| 3 & 4 | killinallday (USA), Viper (Germany) | $20,000 | 10 |
| 5 – 8 | Turna (Italy), XiaoT (China), Nalguidan (Argentina), Jinsoo (Korea) | $12,500 | 8 |
| 9 – 16 | Glory (Japan), Tansoku (Japan), Rugal (China), BloodTrail (Taiwan), Rase (Brazil), YuYi (China), Dog (USA), Leaoh (China) | $7,500 | 6 |