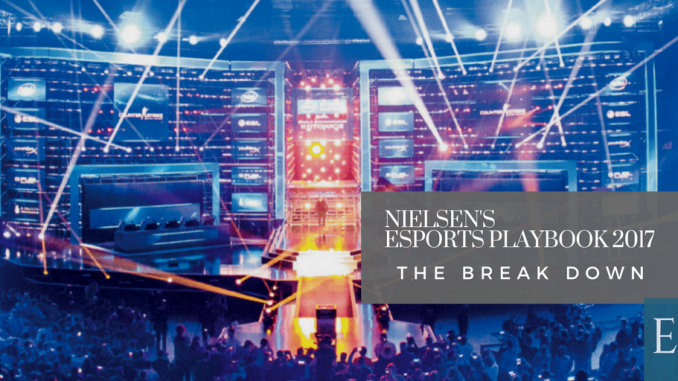 First report from the media monitoring and statistics group's newly formed Nielsen Esports division unveiled Tuesday
by Kim Key, EIC
Hard facts and figures are the backbone of a solid industry, and having reliable numbers from a reputable, independent source are especially important for industry leaders who rely on those statistics when comparing teams, players, and fanbases. Nielsen is a media group that monitors entertainment consumption worldwide, and their numbers can help determine the advertising and sponsorship revenue for various events. Recently the company dipped into the esports market, announcing Nielsen Esports over the summer.
Today, Nielsen released results from their first esports audience survey. This particular study was limited to Western esports fans, focusing on people from the United States, United Kingdom, France and Germany. The company says it will provide a similar analysis for China, Japan, and South Korea later this year.  One thousand fans aged 13 to 40 from each country participated in the survey.
Though the study does have its limits, the data provides a look at how fans engage with the players and games they love, which teams they support, and how the fans got into esports.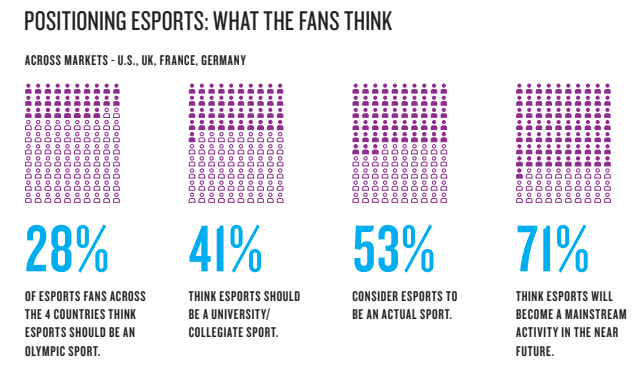 Who are esports fans?
According to the report, the average western esports fan is a 26 year old male (71%) who likes soccer (59%) and prefers to use Facebook (57%). So – a millennial. The bad news for sponsors: esports fans were also found to be a bit tight with their money and time, only spending 17% on gaming.
What do esports fans do?
Analyzing fan behavior is key for investors in the esports industry as they try to push new products, personalities, and games into the market. The audience report brings good news for computer peripheral manufacturers: people who closely follow esports in France (54%), Germany (51%) and the USA (50%) tend to play games on PC, while fans in the United Kingdom favored consoles like the XBox One (32%) and PS4 (35%).
The vast majority of fans surveyed are relatively new to the scene, with most having followed within the past three years: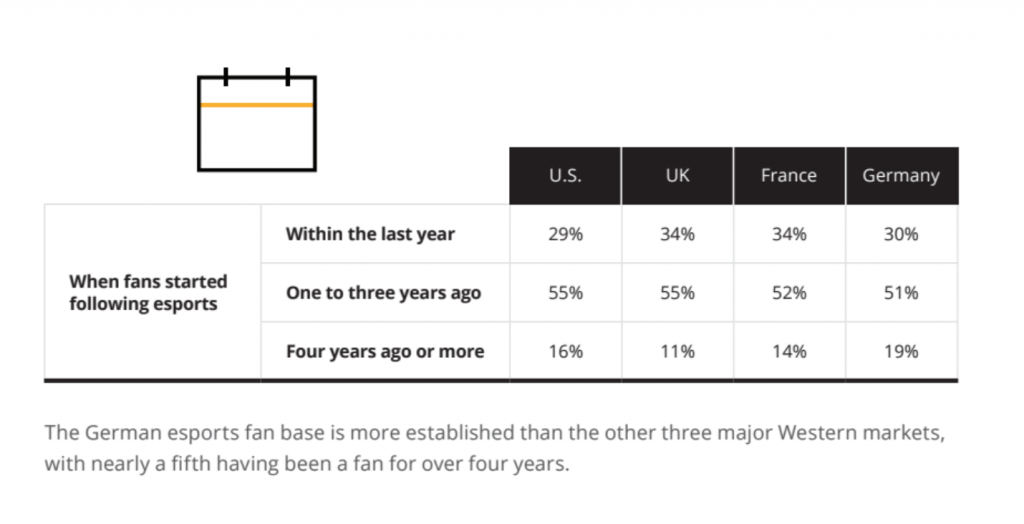 Youtubers and other "influencers" seem to key to getting casual fans involved in esports, as a large number of respondents claim they were introduced to the scene via online personalities.  That said, real life interactions and grassroots efforts from tournament organizers still seem to reign supreme as most respondents from each country said friends and family were their initial introduction to esports.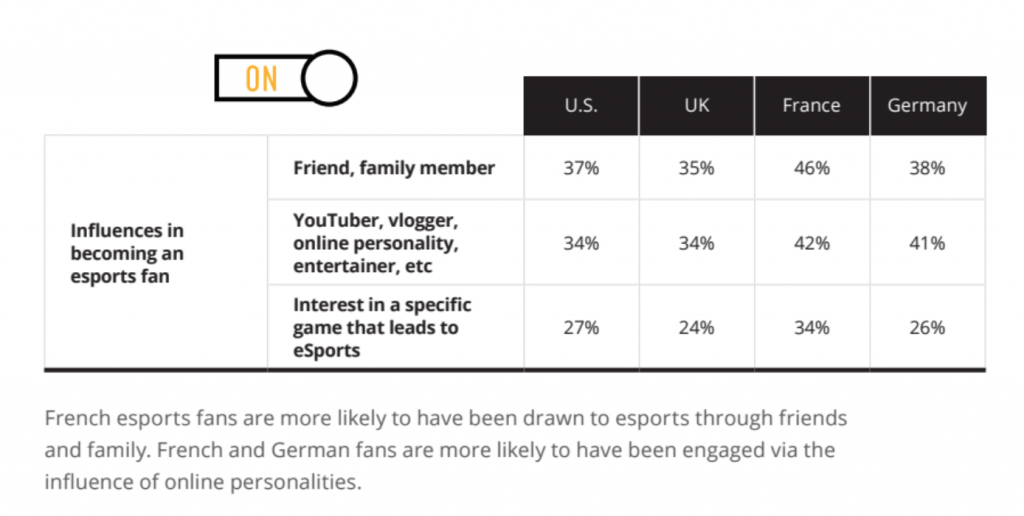 When it comes to sponsors and advertising, the study shows US fans are most interested in following brands and sponsors on social media (25%), while fans in the UK (15%) were much less inclined to follow.
What do esports fans watch?
When it comes to PC gaming, Counter-Strike: Global Offensive is the big winner in the West, reigning supreme in each country aside from France, who opted for League of Legends as their top PC game. Battleground arena survival game H1Z1 has also found itself a big audience for being a relative newcomer to the esports scene with a limited number of LAN events.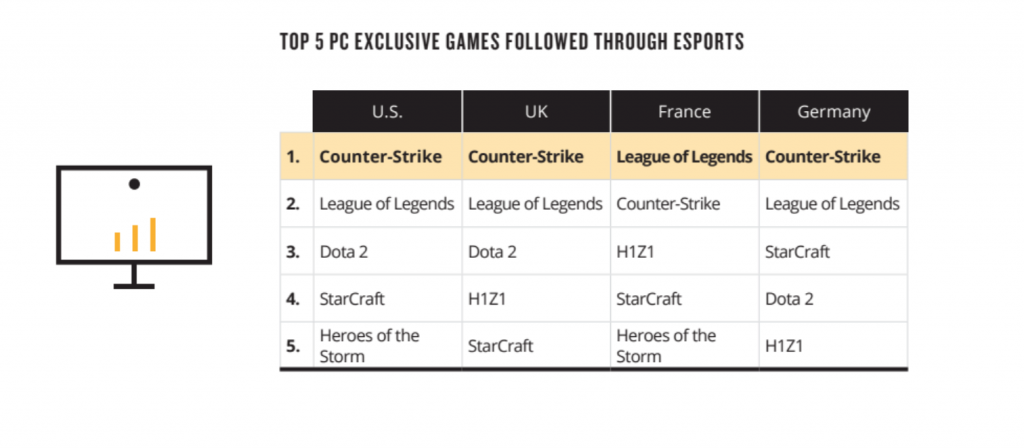 Meanwhile, Call of Duty fans can stop making "Is CoD dead" threads on the r/codcompetitive subreddit now, because the series ranks first among western fans in three of the four surveyed countries for cross-platform play. Newer titles like Overwatch and Rocket League have also been embraced by esports fans who are looking for console options.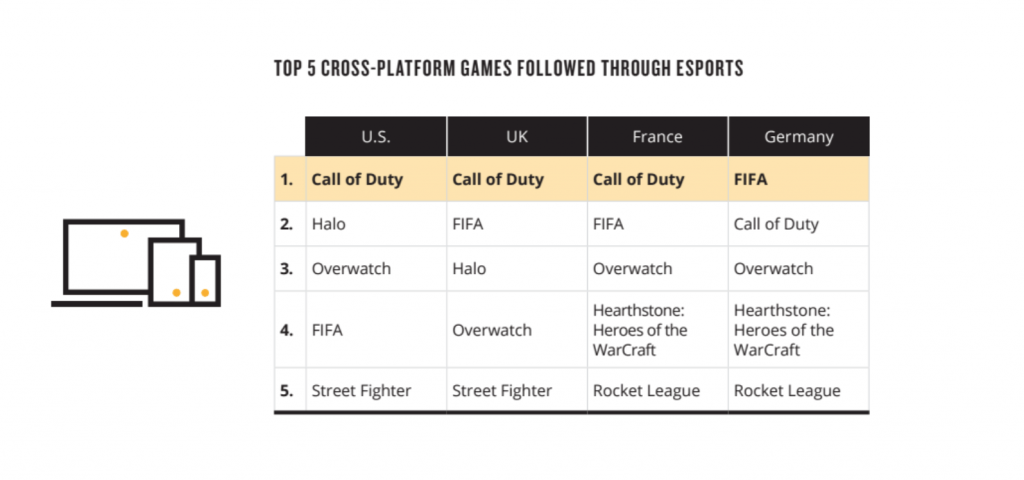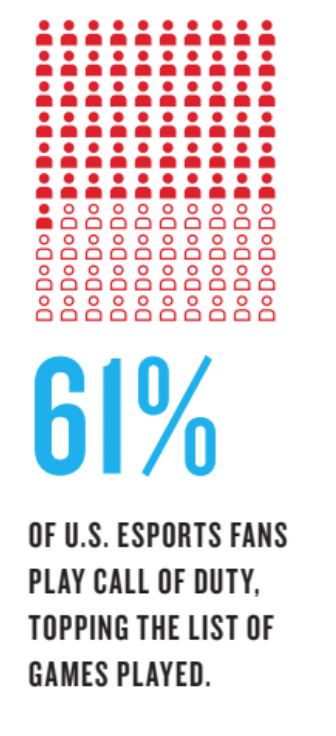 Even more good news for the Call of Duty community: a majority of all esports fans in the US market (61%) play one of the many Call of Duty titles. Casual titles like Grand Theft Auto, Pokémon, and Mario Kart round out the top four on that list. Esports powerhouse titles like League of Legends and CS:GO didn't make it into the top 10 most played in that country.
France is also home to a lot of Call of Duty players (48%), and in other countries CoD consistently ranks high on the "most played by fans" lists. The number of fighting games, once a go-to genre for casuals and pros alike, was limited to just one: Super Smash Bros, which is the 8th most played game by esports fans in the United States.
Unsurprisingly, different esports titles tend to attract different audiences.  The gender split among the top titles is staggering though, as 90% of CS:GO fans and 84% of Dota2 watchers are male in this study. Sports title FIFA found some purchase among female watchers surveyed, but the numbers are still fairly low.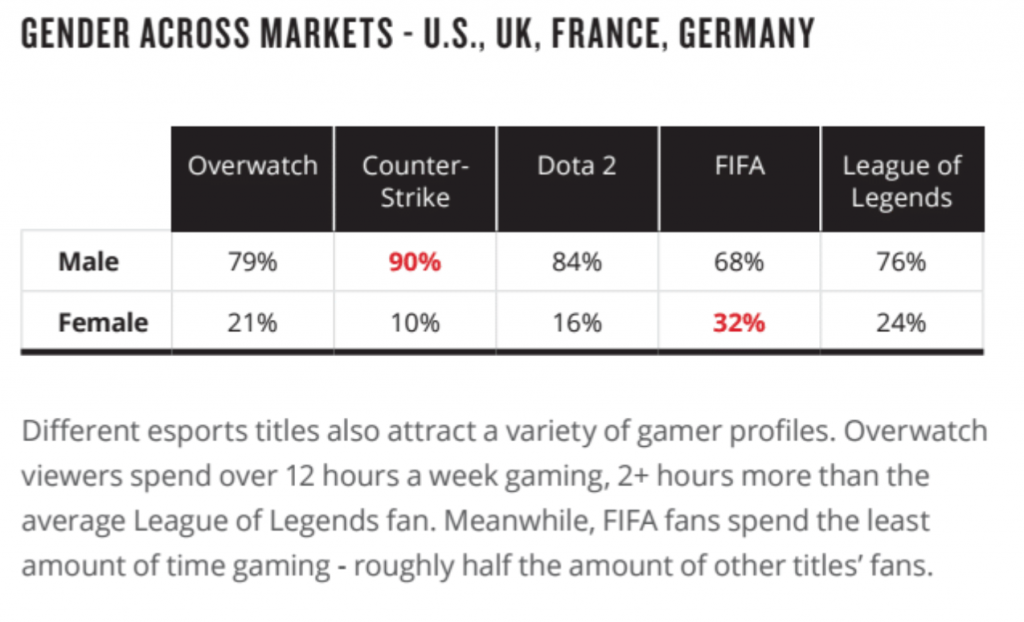 On average, most esports fans follow at least two esports genres, and US fans tend to follow nearly six different titles.
Who are esports fans watching?
Cloud9.
The American team has a significant number of fans in all of the areas surveyed and was the most followed team in the US and UK. Fnatic took the top spot in France and Germany. Longtime console kings OpTic Gaming found strong support for their teams in the UK and US markets, and with the announcement of a Dota2 team and an Overwatch franchise, the American organization may be able to make further inroads in the German and French fandoms as well.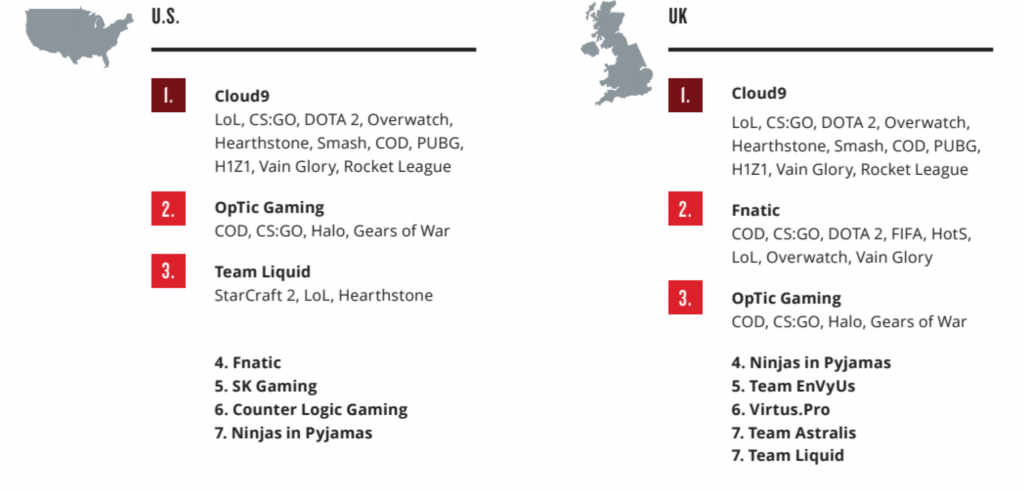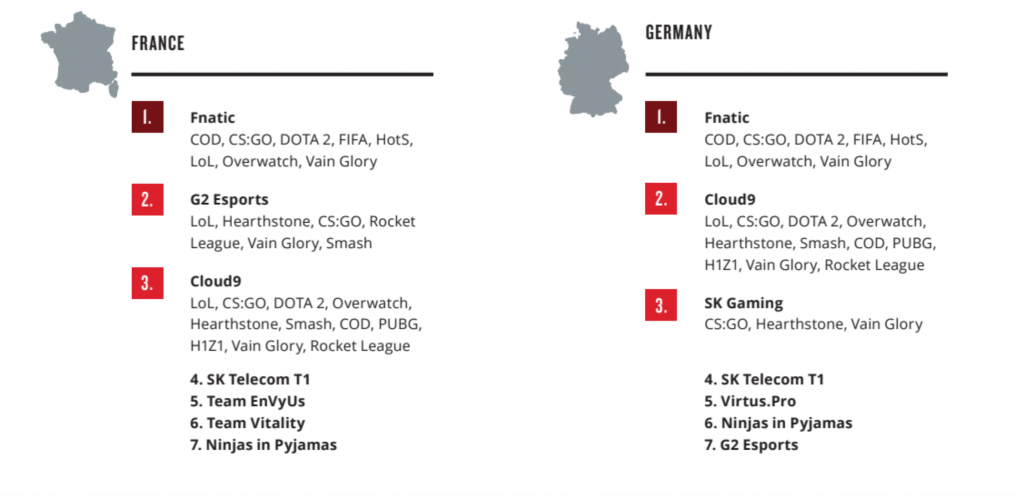 There's a lot to unpack and a lot of data that's sure to help organizations and sponsors as they make decisions about investments going into 2018 and beyond.  You can see the full report for yourself on the Nielsen website.
All infographics courtesy of The Nielsen Company.