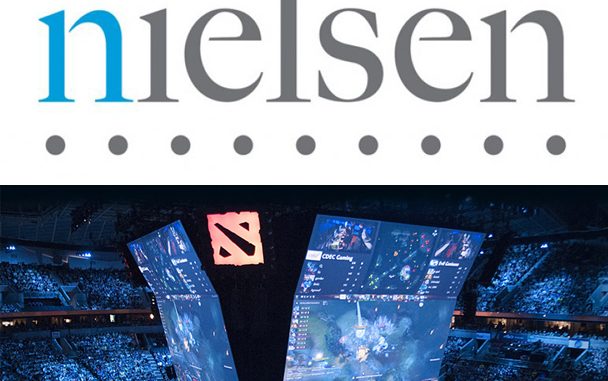 Data and audience monitoring company launches esports-focused branch
According to a press release from the company, Nielsen (NYSE: NLSN) just announced the launch of Nielsen Esports, a new company focused on competitive gaming.  The business aims to help teams and other esports related businesses apprise sponsorship values, gather fan feedback, and provide industry research.
Nielsen's plan looks like a smart move, as there are currently no companies on the scene with the kind infrastructure or experience with audience monitoring and research that Nielsen has provided for media company and ad sellers/buyers.  The comany is an S&P 500 company with operations in over 100 countries, and is able to monitor the media consumption habits of more than 90% of the world's population.
Nearly one in three fans [began] to follow esports within just the past year, according to new Nielsen Esports research. 
Nielsen's entry to esports could help big organizations find even more non-endemic sponsorships and partnerships by sharing their audience data.  Media outlets focused on esports could also have better ways to monitor how their content is consumed, and provide more accurate numbers for advertisers.
Capitalizing on popularity
According to Nielsen Esports research, esports has seen incredible growth over the past few years as giant sponsors have invested in the scene and major game publishers and media companies have also shown a commitment to esports.  The esports fan base is also rapidly expanding with nearly one in three fans beginning to follow esports just within the past year, according to new Nielsen Esports research.
"There's a high demand for reliable, independent measurement of value in esports," said Howard Appelbaum, President, Nielsen Entertainment. "We're excited to enhance our client offerings and provide the industry with solutions that will help guide and optimize investment decisions in this exciting, growing space."
Nielsen Esports plans to announce global fan insights throughout the year, focusing on the US, UK, Germany, France, Japan, South Korea and China in 2017.
Esport24
Nielsen has already developed Esport24, a syndicated sponsorship tracking service for esports tournaments.  The service keeps track of brand exposure time for esports tournaments in the same way Nielsen calculates exposure opportunities for traditional sports rights holders and brands.  The results determine the value of a tournament, team, or brand and can provide important benchmarks for potential sponsors.
The playoff rounds of major 2017 esports tournaments measured by Esport24 to date, yielded anywhere from $75,000 to nearly $17 million insponsorship value, emphasizing the need for standard metrics to help industry players understand the value they are providing, receiving, or missing out on, via brand activations in esports.
According to Nielsen Esports, there's already proof that major brands can benefit from partnerships and sponsorships with esports entities.  A recent valuation for RFRSH Entertainment on behalf of pro CS:GO org Astralis showed Audi received more than ten times its return on sponsorship exposure during the ELEAGUE Finals and DreamHack Las Vegas this year.  Nearly 40% of the brand's return came from non-broadcast exposure via esports social and digital channels.
Advisory Board
Nielsen has created an esports advisory board to provide insight during the audience measurement and valuation process.  Members include representatives from ESL, ESPN, Facebook, FIFA, Major League Gaming/Activision Blizzard, NBA 2K League, The Next Level, Sony PlayStation, Turner, Twitch, Twitter, Unilever and Google YouTube.