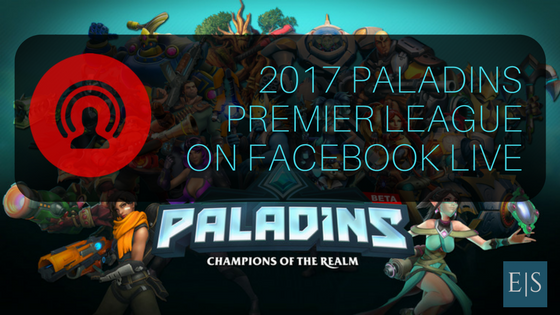 Hi-Rez Studios and WESA announce streaming partnership with social giant
The upcoming Paladins Premier League is finding a broadcasting home outside of the traditional platforms of Twitch and YouTube. Late last week, the World Esports Association (WESA) and Hi-Rez Studios announced they will stream the league on Facebook Live. Organizers say the move is designed to give amateur player a chance to find teams and compete together via Facebook Groups.
The Paladins Premier League consists of 10 member organizations from WESA, a group that has had its share of controversy in the past, but has maintained a presence in the CS:GO scene. The league has committed to paying pro players a minimum salary and teams in the league will adhere to a profit sharing model.
According to Hi-Rez, the demand for a Paladins league is real. Todd Harris, COO and Co-Founder of Hi-Rez Studios said, "We've seen a worldwide appetite to play Paladins competitively, and we're excited to share our team shooter with millions of gamers on Facebook. With Facebook's global reach and community building tools, we expect Paladins esports to continue its explosive growth on both a grassroots community level and at the highest tier of play in the Paladins Premier League."
The first-person fantasy shooter boasts over 15 million players around the world, and as seen in the Call of Duty and CS:GO communities, there are a lot of players outside of the United States who communicate and organize primarily via Facebook instead of Twitter, Twitch or Reddit.
The move to Facebook is another step to boost the esports' visibility. Back in July, Hi-Rez announced the $350,000 Paladin's Global Series (PGS), an open-bracket community tournament series held in seven regions around the world.  Regional PGS champions earn a slot in the World Championships where they will compete against one another along with qualifying Premier League teams.
Players were encouraged to recruit and form teams within the official Paladins Facebook Group, and during the first week over 300 teams signed up to play in the competition. According to Hi-Rez, more than 28,000 people have joined the Paladins Global Series Group since the summer.
Paladins Premier League streams will kick off in Fall 2017 on Facebook.