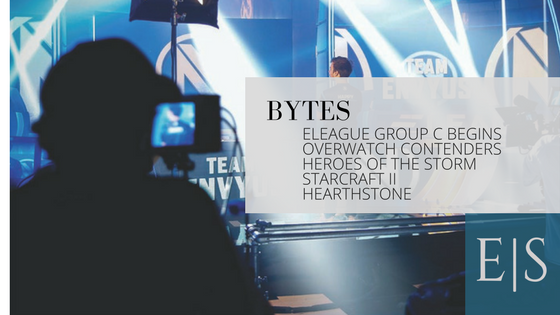 ELEAGUE CS:GO Premier 2017 – Group C
The third weekend of the CS:GO tournament features ELEAGUE Season One Champions and 2017 ELEAGUE Major runners-up Virtus.pro, the longest-standing roster in professional CS:GO competition. Past champions NiP are going to try to get back among the world's elite thanks to a roster swap in which they acquired Fredrik "REZ" Sterner. NiP's former lineup still holds the record for the most consecutive LAN wins (87).
Live coverage of matches between Virtus.pro, Ninjas in Pyjamas, Cloud9 and Team EnVyUs begins on Friday, September 22nd at 6pm EST on Twitch, ELEAGUE.com and YouYube. Live streams of the matches will continue on Saturday at 2pm.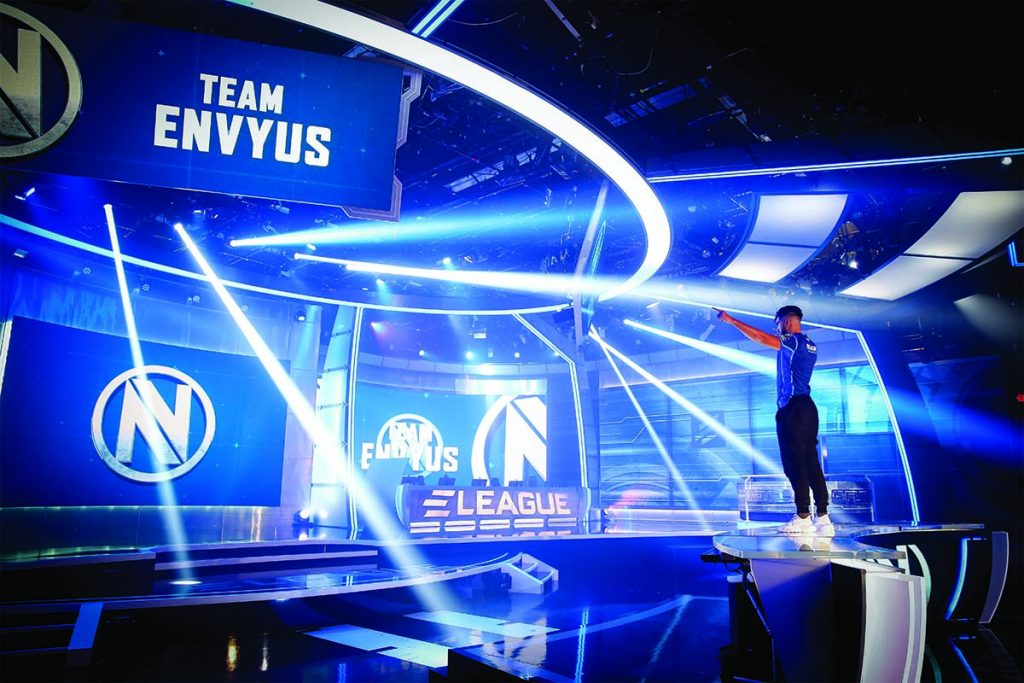 ---
Overwatch Contenders: Week 5  
Heading into the final week of the regular season, Misfits (6-0) and Team EnVyUs (6-0) remain undefeated and currently lead Europe and North America.  Both organizations have recently acquired spots in the big show: the first ever Overwatch League.
EU Matches:
NA Matches:
Europe kicks off the final week of the regular season with 123 taking on Cloud9 on Friday, September 22 starting at 9:00 a.m. (PT). Full schedule: North America | Europe
---
Heroes of the Storm: Week 9 League Play 
In the Heroes Global Championship (HGC), Europe's Team Dignitas (9-4) secured the second seed for the HGC Finals.  The team will join arch rivals Fnatic (12-1) in the competition.
In North America, Roll20 Esports (10-3) and Team Freedom (10-3) also secured their spots at BlizzCon.
Team Dignitas (9-4) took out Team Liquid (6-7), 3-1 granting them the second EU BlizzCon seed where they will join Fnatic (12-1) who qualified last week.
Roll20 esports (10-3) showed no signs of slowing down taking down Gale Force Esports (9-4) with a clean sweep, 3-0. The win secured Roll20's spot in the HGC Finals and forces Gale Force Esports into the Playoffs to contend for the third NA spot. Team Freedom clinches its BlizzCon spot with 3-0 wins over Even in Death (1-12) and Spacestation Gaming (6-7).
In Korea, MVP Black (13-0) continues to dominate League Play taking out Raven (1-12), 3-0, and L-5 (10-3), 3-1. MVP Black's win against L5 forces a two-way tie for the second HGC Finals seed between Tempest (10-3) and L5 (10-3).
Upcoming Week 9 Key Matchups
Europe – Team Liquid vs. Team Expert – Friday, September 22 at 9 a.m. (PT)

Team Liquid (6-7) and Team Expert will need to battle through the Playoffs to earn EU's third spot at the HGC Finals, so this match-up will be a good taste of how that might play out.

North America – Tempo Storm vs. Team Freedom – Saturday, September 23 at 4 p.m. (PT)

Tempo Storm's chance to advance to the HGC Finals are still strong. A match against Team Freedom will likely be the practice Tempo Storm needs if they want to overtake the struggling Gale Force Esports in the Playoffs and secure the third seed in the HGC Finals.

Korea – Tempest vs. Team BlossoM – Friday, September 22 at 2 a.m. (PT)

Of the two teams tied for second, Tempest will have the more challenging match-up versus mid-ranked Team BlossoM (6-7) as L5 will take on bottom-ranked Raven (1-12) on Saturday.
All matches will be broadcast on the Heroes of the Storm Twitch Channel: https://www.twitch.tv/blizzheroes
Current standings: http://us.heroesofthestorm.com/esports/en/standings
Full broadcast schedule: http://us.heroesofthestorm.com/esports/en/schedule
---
Hearthstone Championship Tour – Americas Summer Playoffs
Four players from four countries have earned a spot in the Hearthstone Championship Tour (HCT) Summer Championship thanks to top placings at Americas Summer Playoffs.
HCT Americas Playoffs Results:
1st – Ryan "Purple" Murphy-Root, Canada

Purple, a member of Gamers Origin, went 7-0 in swiss rounds in his 4th appearance in HCT, ending the tournament 10-0 in his matches. His last major wins were the 2015 HWC Americas Championship and DreamHack Winter 2015. In 2017, he was a member of the Canadian Hearthstone Global Games (HGG) team and placed in the top 8 of DreamHack Tours.

2nd – Facundo "Nalguidan" Pruzzo, Argentina

A member of Furious Gaming LA, Nalguidan has been playing Hearthstone competitively for a few years without any major wins. He was a member of the Argentina HGG team.

3rd / 4th – Guillermo "Empanizado" Tolosa Góngora, Mexico, and Riku "YAYtears" Miyao, United States

Empanizado is the first player to qualify from Mexico for a seasonal championship, and relative newcomer to the competitive scene (this is his first appearance in playoffs). He was a member of the Mexico HGG team and placed in the top 4 of Copa America Summer 2017.
This is the second HCT appearance for YAYtears and the first Championship qualification after finishing top 100 legend all three months of the 2017 Summer Season. He and his team competed in the live finals for the Hearthstone Collegiate Championship this past April, but he has no other major HS competitive appearances.
The results set the stage for the HCT Summer Championship on October 13-15 in the new Blizzard Arena in Burbank.
The following players will play for their share of $250,000 and one of four spots to the HCT World Championship in early 2018:
Europe:

Pavel, Amyks, OldBoy, and Orange

Asia-Pacific:

Surrender, cocosasa, Tom60229, uya

China:

Trunks, jiajia, JazonZhou, Omega Zero

Americas:

Purple, Nalguidan, Empanizado, YAYtears
For more information on the HCT Summer Championship, check out the official Hearthstone Esports website:https://us.battle.net/hearthstone/en/blog/21032902
---
INnoVation Wins Global StarCraft II League Season 3 Code S Grand Final
The GSL Season 3 Code S championship came to an epic conclusion as the Terran piloted by INnoVation bested sOs's Protoss, 4-3, in a back-and-forth seven game series.
The result of that match along with the qualifiers of the upcoming GSL Super Tournament means seven of the eight WCS Korea players are locked in for the WCS Global Finals at BlizzCon.
Players:
Stats
INnoVation
TY
soO
Dark
GuMiho
herO
GSL Season 3 Code S Results:
1st – $35,600 USD & 4,000 WCS KR Points
2nd – $13,300 USD & 2,800 WCS KR Points
3rd/4th – $6,685 USD & 1,900 WCS KR Points
Grand Final VOD: https://www.twitch.tv/videos/175136801
---
 World of Warcraft: Mythic Dungeon Invitational Group Stages 
The Mythic Dungeon Invitational kicked off last weekend with a Group Stage for China and Asia Pacific. The top two teams from each region earned their spot in the Playoffs where they will compete for a share of the $100,000 USD prize pool.
This weekend the Americas and European Group Stages will happen on Saturday and Sunday, September 23-24.
Catch all the action on the Warcraft Twitch Channel: https://www.twitch.tv/warcraft