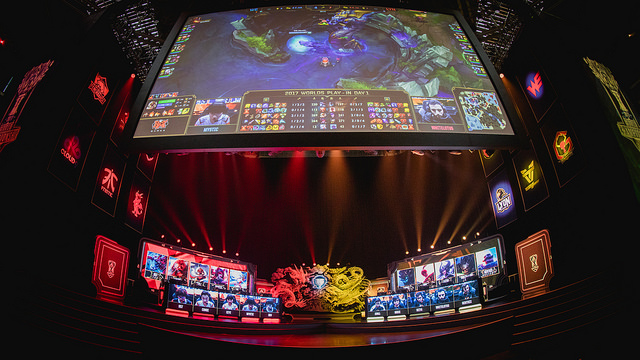 The battle between major and minor regions is underway as the 2017 League of Legends World Championship Play-In Stage kicked off on Friday.
Major region favorites Team WE and Cloud9 dominated their two matches to start off in first place in their respective groups.  The big surprise of the day was Lyon Gaming's upset over Gambit Esports, who many analysts picked as a dark horse to advance into the Group Stage.  Both Lyon and Dire Wolves took convincing wins over their minor region counterparts in the groups, and appear to be the favorites to advance over Gambit and Team oNe Esports.
Group A Standings
| | |
| --- | --- |
| Team WE | 2-0 |
| Lyon Gaming | 1-1 |
| Gambit Esports | 0-2 |
Group B Standings
| | |
| --- | --- |
| Cloud9 | 2-0 |
| Dire Wolves | 1-1 |
| Team oNe Esports | 0-2 |
Game One: Team WE vs. Lyon Gaming
Lyon Gaming came out swinging by taking First Blood over Team WE!
First Blood of #Worlds2017 is picked up by @seiyalol & @LyonGamingLoL! pic.twitter.com/Xl1Lzrf28K

— lolesports (@lolesports) September 23, 2017
Lyon racked up kills to start the match, earning a 7-2 kill lead.  Meanwhile, Team WE maintained a small gold lead by destroying Lyon's turrets.  WE secured Baron Nashor at the 30-minute mark, but only two members managed to remain alive and take the buff.
The two teams continued to skirmish near epic monsters, but WE found small advantages before securing another Baron Nashor as well as Elder Dragon, using the two buffs to roll over Lyon's inhibitors.  The gold lead ballooned to 8k, and while Lyon made a last-ditch effort to fight near Baron, Team WE steamrolled the teamfight before ending the game at 47-minutes to start the day 1-0.
Game Two: Cloud9 vs. Team oNe Esports
C9 has built a reputation of playing through star mid-laner Nicolaj "Jensen" Jensen, and that trend continued as he secured quick first blood after a gank from teammate Jung "Impact" Eon-yeong.
First Blood for @C9Jensen, and @C9Impact makes it out alive afterwards! #Worlds2017 pic.twitter.com/LwySSZdnsQ

— lolesports (@lolesports) September 23, 2017
Now armed with a slight gold lead, Jensen consistently pressured Team oNe's mid-laner Bruno "Brucer" Pereira away from farming minions, amassing a 40-cs lead 16-minutes into the game.  C9 continued to win skirmishes around the map and Team oNe looked flustered on the Worlds stage.  C9 destroyed turret after turret without losing a single turret of their own, before moving to the nexus and ending the game to move up 1-0 in the group.
Game Three: Gambit Esports vs. Lyon Gaming
Lyon Gaming was simply an unstoppable force this game.  Lyon was firing on all cylinders as they found kills across the map to take an early 4-0 kill lead, and Gambit looked outmatched in every lane.
After surprising Gambit's star jungler Danil "Diamondprox" Reshetnikov near the Baron pit for the kill, Lyon would secure an easy Baron Nashor and begin to close the door on Gambit.  Lyon easily dismantled all three inhibitors over the course of a few minutes before cleaning up the Gambit Esport members to end the game and move to 1-1 in the group.
Game Four: Dire Wolves vs. Cloud9
C9 has been known for placing Jensen on high-damage carry mid-laners for a long time, so they surprised both analysts and DW when Jensen entered the game on the tanky Galio.  But the standard C9 game plan was no surprise, as Juan "Contractz" Garcia ganked the mid-lane early for First Blood.
Cloud9 looked like the squad with superior teamwork, winning battles all around the map and converting a key jungle victory into a 24-minute Baron.  C9 stormed the DW base with the Baron buff, pummeling the hapless DW members and taking the 27-minute victory to end their first day at worlds 2-0.
Game Five: Gambit Esports vs. Team WE
Gambit Esports mid-laner Michael "Kira" Garmash surprised Su "Xiye" Han-Wei's Jayce with First Blood – a real shock considering the champion matchup and Xiye's aggressive summoner spells.   But even as Gambit would take an early lead in the match, WE would prove the be the superior strategic team, surprising Gambit on multiple occasions with outnumbered matchups.
The Team WE lead expanded to 17-7, and Gambit was forced into a desperation Baron Nashor attempt. WE was prepared, and Xiang "Condi" Ren-Jie sealed Gambit's fate with a spectacular Baron steal.
.@GambitEsports start the Baron, but Condi steals it away for Team WE! #Worlds2017 pic.twitter.com/awRkEyiwsw

— lolesports (@lolesports) September 23, 2017
Baron Nashor and the huge gold lead was too much for Gambit to overcome, and WE took down the nexus at 29-minutes to finish the day at 2-0.
Game 6: Dire Wolves vs. Team oNe Esports
The game began with a risky invade by Alanderson "4Lan" Meireles that was heavily punished by DW.  It was just one death, but it handed over a load of buffs and benefits to the DW squad that they would use to apply pressure to Team oNe.
DW rampaged across all lanes to take a 16-minute 8-0 kill lead.  As DW continued to increase their lead around the map, a 23-minute Baron Nashor was just too easy for the snowballing DW squad.  A mere 2-minutes later, the DW dismantled the Team oNe nexus and took the 25-minute victory with ease to end the day 1-1.
The 2017 World Championship Play-In Stage Continues on Saturday, Sept. 23rd at 10:00 pm (PT) as Groups A and B decide who will advance to the knockout stage.
Photos courtesy of Riot Games.