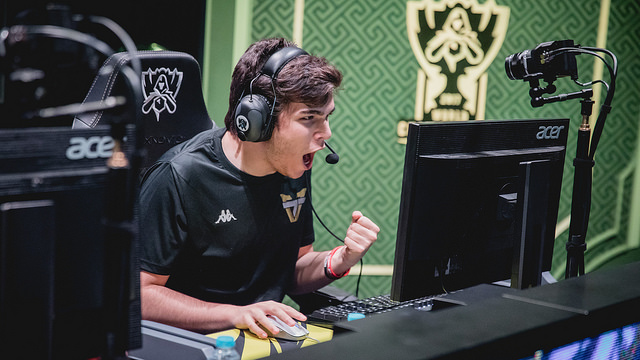 Team WE and Lyon Gaming advance to knockout stage of the 2017 League of Legends World Championship as the #1 and #2 seeds respectively from Group A, while Cloud9 and Team oNe Esports advanced as the #1 and #2 seeds respectively from Group B.  While C9 and WE's dominance were expected, both Lyon and oNe had surprisingly impressive performances.
The big surprise of the day was Lyon Gaming's upset over Gambit Esports, who many analysts picked as a dark horse to advance into the Group Stage.  Lyon displayed a remarkable level of dominance over Gambit, and looks like the strongest team of the "wild-card" regions in the tournament.  Team oNe had a disappointing (and winless) day one, but rallied to defeat the Dire Wolves twice to earn the second seed out of Group B.
Group A Final Standings
| | |
| --- | --- |
| Team WE | 4-0 |
| Lyon Gaming | 1-1 |
| Gambit Esports | 0-4 |
Group B Final Standings
| | |
| --- | --- |
| Cloud9 | 4-0 |
| Team oNe Esports | 2-3 |
| Dire Wolves | 1-4 |
Game One: Team oNe Esports vs. Cloud9
C9's mid-lane and jungle synergy continued against Team oNe as Nicolaj "Jensen" Jensen and Juan "Contractz" Garcia secured the first two kills of the game.
.@Cloud9 start out strong as @C9Jensen & @ContractzLoL pick up the first two kills! #Worlds2017 pic.twitter.com/5OrWKgUtaX

— lolesports (@lolesports) September 24, 2017
Team oNe was outmatched across the map.  C9 stormed through Team oNe members wherever they were found to take a 10-0 kill lead by 20-minutes.  Baron Nashor was secured shortly after, and C9 marched to the Team oNe nexus and ended the blowout at the 22-minute mark to move to 3-0 in the group.
Game Two: Lyon Gaming vs. Team WE
Lyon Gaming struck first once again against WE, earning First Blood and displaying their ability to develop early game leads.  But Lyon had displayed a timidness in their prior match with WE, and that timidness displayed itself again, allowing WE to slow the game down and wait to find advantages through late-game strategic play.
Lyon took an early 2-1 kill lead, but neither team skirmished for the next 15-minutes.  WE earned an uncontested Baron Nashor before attempting to defeat the Elder Dragon, but Lyon's Sebastian "Oddie" Nino made a ridiculous steal in an attempt to keep Lyon in the game.
.@OddieLAN steals the Elder Dragon for @LyonGamingLoL! #Worlds2017 pic.twitter.com/Ag1KNAMrDr

— lolesports (@lolesports) September 24, 2017
But even with Oddie's incredible play, Lyon still played a step behind the experienced WE.  WE capitalized on Lyon's missteps to obtain a 37-minute Baron Nashor, before moving into the Lyon jungle to ace Lyon Gaming and leave the base exposed.  WE destroyed the undefended Lyon nexus at the 40-minute mark to claim a 3-0 record in Group A.
Game Three: Cloud9 vs. Dire Wolves
C9 had been fairly dominant in every game up to this point, but DW surprised everyone by repeatedly punishing C9's bottom lane with well-timed ganks by Shern "Shernfire" Tai.  C9 attempted to counter this with roams by Contractz and top-laner Jung "Impact" Eon-yeong, but DW punished a very over-confident Contractz to start the game with a 5-2 lead.
The @direwolvesgg are on fire in the early game as they take the 5-2 kill lead against @Cloud9! #Worlds2017 pic.twitter.com/7lw0nQpxRy

— lolesports (@lolesports) September 24, 2017
The DW stayed relentless in punishing misplaced C9 members and expanded their kill lead to 9-3, while C9 looked confused and rattled for the first time all tournament.  But the DW aggression backfired, as an unfortunate tower dive left three DW members dead in exchange for just one C9 member.
While DW still maintained a small gold lead, the momentum had completely shifted in C9's favor.  C9's experience in mid-game teamfights shined, and C9 won every skirmish from that point on.  A few fights and a Baron Nashor later, C9 dismantled the DW base to end the game, finish the day 4-0, and advance as the #1 seed from Group B.
Game Four: Lyon Gaming vs. Gambit Esports
Lyon gave up an uncharacteristic First Blood to Gambit jungler Danil "Diamondprox" Reshetnikov, and Diamondprox used this advantage to apply pressure to the Lyon top-lane.  But Lyon mid-laner Ali "Seiya" Bracamontes drafted Galio to set up advantageous battles for Lyon, and he used the global abilities to repeatedly turn fights in Lyon's favor.
Lyon's superior teamfighting created a 12-3 kill lead over Gambit, leaving the Russian team struggling to contest neutral objectives.  A 28-minute Baron Nashor allowed Lyon to begin sieging Gambit inhibitor turrets, and they began closing the door on Gambit.  Lyon AD Carry Matias "WhiteLotus" Musso massacred the Gambit lineup for a game-winning Pentakill inside the Gambit base, and Lyon finished the Gambit nexus to end the group stage 2-2 and advance as the #2 seed of Group A.
The PENTAKILL for @Whitelotuslol! #Worlds2017 pic.twitter.com/1rGxAvfKwT

— lolesports (@lolesports) September 24, 2017
Game Five: Team oNe Esports vs. Dire Wolves
Team oNe needed a victory here to earn a tiebreaker match to advance out of the group.  The two teams fought early and often around the map, but with DW maintaining a lead after every skirmish.  But DW's lead dwindled, and Team oNe slowly ground out control of the map.
A 34-minute Baron Nashor allowed Team oNe to siege down DW inhibitor turrets, and Team oNe established their first lead of the game.  The surging Team oNe moved to pressure the Elder Dragon, forcing DW into a precarious position.  After DW's attempt to defend the Elder Dragon ended disastrously, Team oNe stormed down the middle lane to end the game and force a tiebreaker game with DW.
Game Six: Team WE vs. Gambit Esports
Because this game was ultimately meaningless in terms of group standings, several players picked off-meta champions for the sake of entertainment, including Gambit's Michael "Kira" Garmash drafting solo-queue favorite Yasuo. Unfortunately for Gambit, Team WE continued their high-level play, and WE ended the game in 23-minutes to end the day 4-0.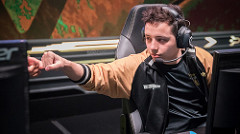 Tiebreaker: Team oNe Esports vs. Dire Wolves
Team oNe began this game firing on all cylinders.  Team oNe's Joao "Marf" Luis quickly roamed to the bottom lane to create a 1-0 lead for Team oNe, and they never relinquished this lead.
Team oNe stayed proactive with their plays, frequently diving and initiating onto the Dire Wolves, and it was clear that Team oNe was simply more eager to win this tiebreaker game.  The playmaking was far from clean, and DW would typically score a return kill on each of these plays.  But Team oNe's initiative continued to earn advantages, and DW was constantly playing on their back foot.
DW became desperate for a change of pace, and they attempted a precarious Baron Nashor while Team oNe's Alvaro "VVvert" Miguel was split-pushing in the bottom lane.  Team oNe dismantled the DW lineup near Baron while VVert took down the majority of the DW base.  The remaining Team oNe members rushed to join VVvert on the DW nexus, and Team oNe ended the 29-minute game to earn the #2 seed in Group B and advance to the knockout stage.
The 2017 World Championship Play-In Stage Continues on Sunday, Sept. 24th at 10:00 pm (PT) as the teams in Groups C and D begin their 2017 World Championship journey.
Photos courtesy of Riot Games.