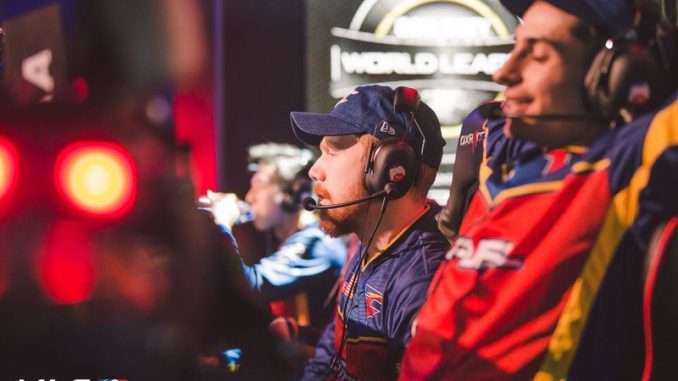 We're trying something a bit different for Stage 2 of the Global Pro League by extending our coverage beyond scorekeeping and offering up some of the more interesting and prominent stories to come from each week of GPL action.  
Want to contribute a thought or discussion topic?  Send it here.
---
| Place | | Team | Wins | Losses | Maps Won | Maps Lost | Map % |
| --- | --- | --- | --- | --- | --- | --- | --- |
| 1 |   | FaZe Clan | 4 | 2 | 15 | 7 | 68.18% |
| 2 |   | Enigma6 Group | 4 | 2 | 13 | 8 | 61.90% |
| 3 |   | Ghost Gaming | 4 | 2 | 13 | 8 | 61.90% |
| 4 |   | Elevate | 0 | 6 | 0 | 18 | 0% |




Ghost Prepares, Scares, and Despairs
CWL newcomers Ghost Gaming took advantage of knowing their group's teams ahead of time and prepared special strats accordingly. Before Call of Duty Championships, it may be wise for more teams to start using their coaches regularly or hire coaches whose only job at the org is to work with the players.
It's also worth noting that Ghost performed team building exercises before the group stage to raise the squad's chemistry.  It all worked at first, and they went into Sunday showing that a new org in the scene doesn't have to be the loudest to make the most noise.
Build. In. Silence.

— Ghost (@GhostGaming_GG) July 8, 2017
The team went into the final day with a 4 – 0 record, but they needed to win maps off of Enigma6 in their first series on Sunday to guarantee qualification, and they fell 0 – 3.  In their second match against FaZe, they looked a shadow of the team they'd been all weekend, and lost 3 – 1, thus ending their first run in the CWL with utter heartbreak.
E6 and FaZe Go the Distance
A pool with FaZe and E6 in it was always going to be interesting, as Enigma 6 matches up pretty well with FaZe when it comes to slaying and skill.  The deciding factor in these kind of matches is usually decision-making and teamwork, both of which are still sore spots for each team.
Despite winning their first series 3 – 0 on Friday, FaZe fell apart with a 90 second lead in the second HP and ended up losing an important match to Enigma6 on Saturday in a 5 game thriller. The win kept E6's playoff dreams alive and put FaZe Clan's chances in doubt with a tough match against Ghost Gaming on Sunday.
? Game 5 Alert! ?@FaZeClan or @Enigma6Group – Who takes this?

Watch at https://t.co/yg6J8iZEDc#CWLPS4 https://t.co/Eqe43GDOY5

— MLG (@MLG) July 8, 2017
FaZe predictably walked over Elevate in their first Sunday match, but E6 applied some pressure on FaZe's qualifying hopes when they delivered the hot 3 – 0 to Ghost on Sunday.  FaZe needed to win their final match against Ghost 3 – 0 or 3 – 1 to qualify for the playoffs, and like the FaZe of old – they pulled off the improbable.
FaZe won their final match 3 – 1 over Ghost, topping Group Blue over Enigma6.  You may remember, the Stage One version of FaZe also was in danger of not making the playoffs, but last moment wins in their group meant they'd progress in the league.
FaZe Isn't Really A New Team
As caster and former coach Mr. X noted during FaZe Clan's match against Elevate, FaZe probably needed a bigger change than just swapping one player for another in the off-season.  The core three (Attach, Enable, and ZooMaa) are still playing the same, and with that lineup, not much is going to improve for the team until they really shake things up:
"A bit of schadenfreude with your esports, sir?" 
In case you've ducked out of the Call of Duty scene for the past month – Clayster was dropped by FaZe and traded to eUnited for Gunless.
Clayster is still living in the Austin, TX FaZe house with his old teammates and his new replacement, but that didn't stop him from being playfully(?) petty in the MLG.tv chat during FaZe Clan's loss to Ghost on Friday:

FaZe player ZooMaa managed to soothe some of the Reddit outrage:

But Clayster wasn't finished.  He was still watching the stream when this segment from the MLG broadcast about the FaZe player trade came up:
Clayster then popped into the Twitch chat to have his say: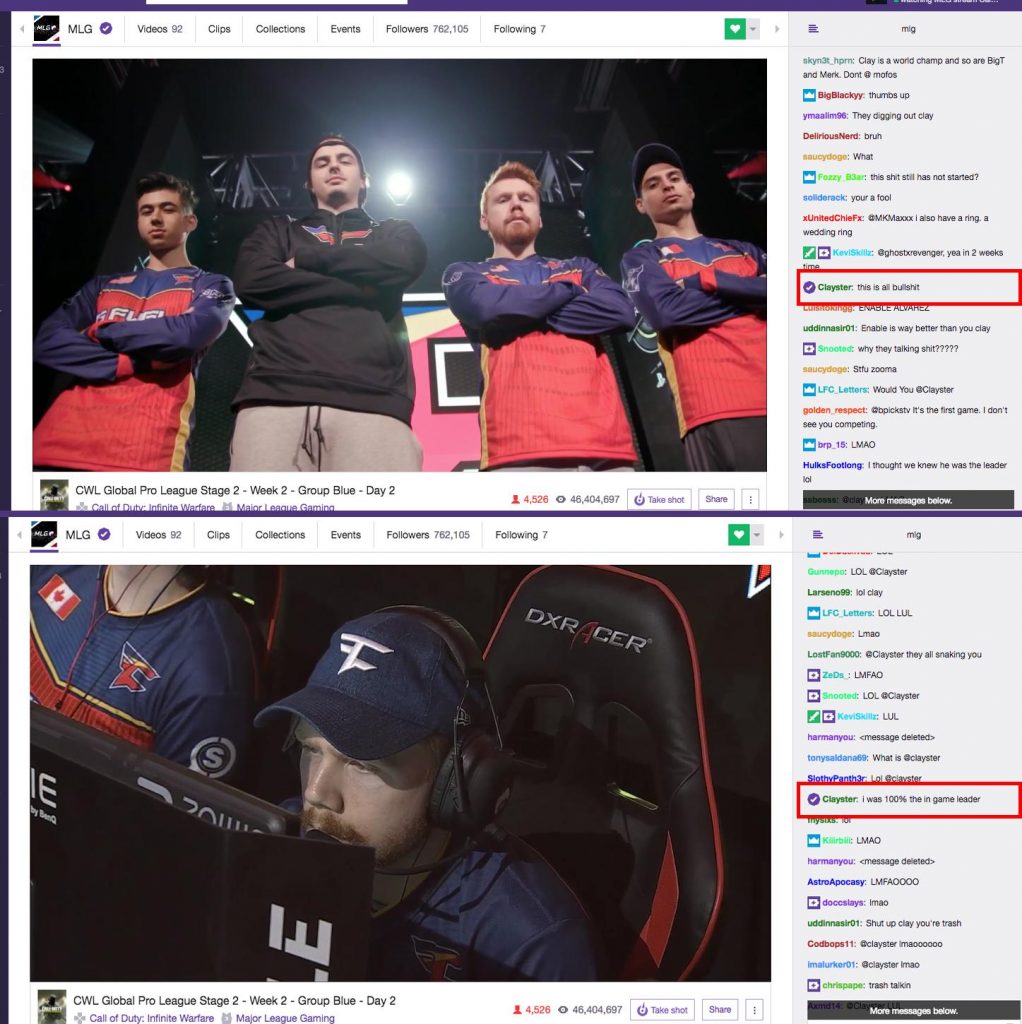 ZooMaa later ventured to Twitch chat to defend himself: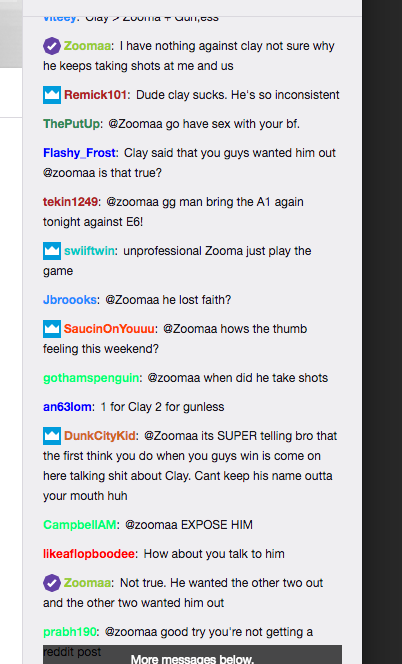 Clay then promised a bit more drama to come during his matches with eUnited next weekend:
SPICY INTERVIEWS COMING UP NEXT WEEKEND

— eU Clayster (@Clayster) July 8, 2017
Despite all of the talk and all of the dramatics, the facts remain: Clay isn't on the team anymore and FaZe Clan still have some serious work to do to look like top contenders.
Elevate Look Low
Elevate continue to struggle, going the entire weekend without winning a map, and quite frankly – looking very much out of place in a group of very competitive North American teams.  With the way they played over the weekend, it's very hard to believe this team is one of the top 16 in the world.  Their 0 – 18 record for Group Blue surpasses Cloud9's dismal 5 – 17 record in Stage One of the Global Pro League.
Elevate has been hovering near the bottom of professional Call of Duty rankings for months now, but the team always seemed to find a way to claw back into competition.  This time around Elevate were overmatched in their group and will face relegation.
Going into Call of Duty Championships, the team can't make any personnel changes, so they'll need to practice and develop better strategies to be truly competitive on the world's stage.
Photo courtesy of MLG