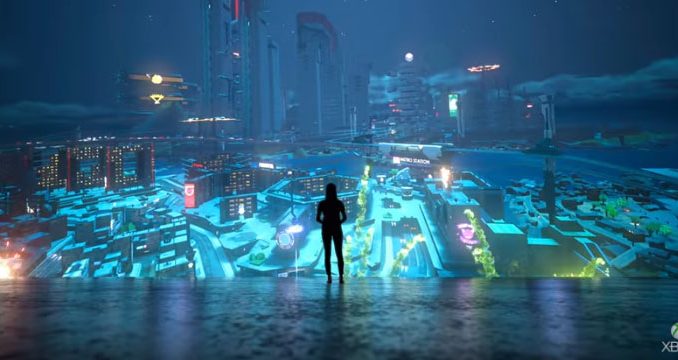 Microsoft's 2017 E3 presentation was esports-light but all about the  "POWER", "EXCLUSIVITY", and "4K" that comes along with their newest console.
The company opted to show little gameplay during this year's presentation, instead relying on a variety of presenters, animations, and even Jethro Tull, noted shoutcaster, to sell their games and hardware.
The Console
First up was the revelation of the newest Xbox console, the XBox One X.  The much-hyped console formerly known as "Scorpio" is touted for its smaller body (an improvement on the One), and the inclusion of the "powerful" "monster" Scorpio engine, which delivers a 4k gaming experience (like its predecessor, the XBox One S) and 6 Teraflops of graphical processing power.  The console is compatible with Xbox One games and accessories.
The new XBox One X console will be $499 and it's coming on November 7th of 2017.  The X Box One S is currently $289 and is currently available in stores.
XBox One Backwards Compatibility Expansion
The XBox One will be backwards compatible with original XBox games – a feature many fans have been asking for since the company included support for Xbox 360 games.  There are few details about the new feature right now, and Xbox boss Phil Spencer could only say the functionality would be added later this year and that games would "look and play better" on the newer console.
The Games
Next up, Microsoft announced they would debut over 40 games during the presentation, including 22 exclusive titles.  Many of those announced are MMO or fantasy genre games that will take advantage of the improved graphics on the new console.  A few of the featured titles are games that are either already esports or have the potential to become them due to their primary or secondary game mode (player versus player).
PLAYER UNKNOWN'S BATTLEGROUNDS
The biggest "get" for XBox appears to be the console exclusive release of PUBG.  The game has sold millions of copies and had big money tournaments while in beta.  The survival genre has taken off in recent years, and PUBG's choice of XBox as their console platform of choice is a big boon for Microsoft.
The Darwin Project
Another survival game that is clearly looking in the direction of esports is The Darwin Project, a battle royale game where players are placed in a snowy, terrifying arena with various external threats (animals, natural disasters) while also trying to avoid their fellow humans who are also trying to kill them with a variety of primitive weapons.  Players appear to be able to hide themselves and also can see through walls (possibly with items picked up in the arena).
To illustrate the game's potential as an esport shoutcaster Jethro Tull was brought onstage to cast over the pre-recorded game play in the "Show Director Mode".  This mode allows a player to watch the other players via an overhead drone and players can attack others with airstrikes or find players that are camping.
Dragonball Fighter Z
Fighting game Dragonball Fighter Z from developer Guilty Gear is a 2D game with visuals that call back to the Naruto: Ultimate Storm games.  Animation-level graphics with some sweeping camera movement make this fighting game look a bit different than other DBZ games out there.
The game will launch on XBox One in early 2018.
Crackdown 3
A game that could possibly find a home as an esport is the Terry Crews-hyped Crackdown 3, which is an open world game that features a diverse cast of super-agents fighting to take back their city.  There are good multiplayer aspects of the game, and the realistic (albeit superhuman) movement looks like something a veteran FPS player could have some fun with in a competitive setting.